South Korea is one of the most developed countries in the e-commerce market in the world. The International Monetary Fund predicts that by 2026, the size of South Korea's e-commerce market may lead the Japanese market by about 12%. In the "2019 Ease of Doing Business Ranking" previously released by the World Bank, South Korea ranked fifth among a total of 189 countries in the list, while the United States ranked sixth and the United Kingdom ranked eighth. During the epidemic control period, the economy was shut down and physical stores were closed, and those who were forced to change their consumption habits had a taste of the "freshness" of online shopping, especially older consumers, driving South Korea's already high Internet penetration rate to a record high.
South Korea's GDP forecast for full-year 2022 is $190.8 billion, rising to $2,316 billion by 2027. South Korea's current total population is about 51.7 million, but under the influence of a low birth rate, an increase in average life expectancy and a shortage of foreign labor, the change in the total population has shown a downward trend, and it may usher in a cliff-like decline by 2070.


In 2020, South Korea's Internet penetration rate is 97%. The solid economic foundation and strong economic recovery policies have successfully helped South Korea to escape the global economic downturn under the influence of the epidemic. According to data from the Bank of Korea, South Korea's economy will grow by 4.1% in 2021, the fastest in 11 years, and higher than the previous forecast of 4%. But the June 2022 Composite Consumer Confidence Index (CCSI), a measure of consumer optimism about the economy's performance, was 96.4, down 6.2% from May.
Korean e-commerce market overview
South Korea is the sixth-largest e-commerce market in the world, with a projected revenue of $118 billion for the full year 2022, after China, the United States, Japan, Germany and the United Kingdom. With the deepening of economic globalization, disputes between Russia and Ukraine have gradually spread to South Korea. Under the background that the supply chain cycle has been further lengthened and commodity prices have risen sharply under high inflation, the domestic market of South Korea has begun to "walk forward with a heavy load". "The journey.

South Korea's online retail sales accounted for 32% of total retail sales, second only to China (46%) and the United Kingdom (36%). Countries with developed e-commerce industries such as Indonesia (20%) and the United States (16%) were left behind by it. Not a small gap.

By category, fashion products account for the bulk of the Korean e-commerce market revenue, with an estimated revenue of $41 billion in 2025, followed by electronics ($27 billion), beauty & health & personal care & home care ($19 billion), Toys & Hobbies & DIY ($17 billion).


South Korean e-commerce prospects
South Korean e-commerce revenue is expected to maintain an annual growth rate of 4% in the next few years, while global revenue is forecast to increase by 10% during the same period, and will increase by 12% in 2025. The proportion of online shopping in South Korea is expected to remain relatively stable at 39% in 2025, up from 37% in 2022.


Analysts expect that with the expansion of the middle class and the continuation of online shopping habits after the epidemic, the e-commerce market in East and Southeast Asia still has room to rise. The Korean people's demand for food and beverage products is the primary reason for the rapid growth of local e-commerce. It is expected that the e-commerce revenue of food and beverage will exceed 20 billion US dollars by 2025, and the market penetration rate will reach 25% and 26% respectively. , up from 21% and 23% this year.

Nowadays, there is no country in the world that is not burdened by rising prices. In South Korea, where the e-commerce market is highly developed and "invoked", people do enjoy benefits through online shopping, which is also the key reason behind the increase in e-commerce penetration rate year after year.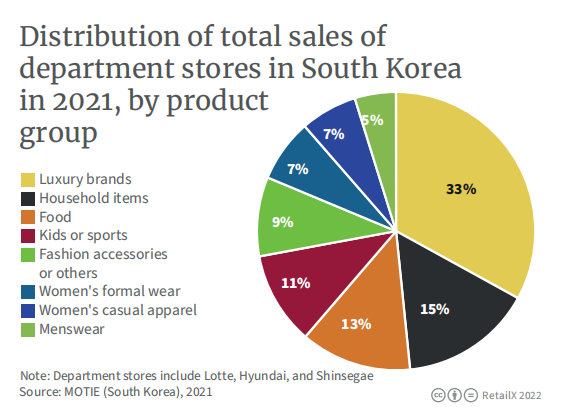 Focus on local market trends in Korea
· The luxury market is booming
Under the advocacy of the media's packaging, the high-end luxury market has gradually become a fragrant pastry in South Korea. In 2022, luxury market revenue is expected to reach $6.39 billion and is expected to grow at an annual rate of 4.83% through 2027. South Korea's relatively high disposable income means that most people can afford luxury goods. In 2020, Koreans over the age of 60 have the highest single-use luxury goods spending of all age groups, reaching an average of about 413,154 won.
· Celibacy on the rise
Since 2017, the term celibacy (honjok) has gradually become popular in South Korea, which refers to the growing number of people who choose to live alone. The rise of this idea further exacerbates the problem of an aging population. In 2020, the proportion of single-person households in South Korea reached 31.7%, a record high. The main composition of the single group is over 20 years old and over 40 years old. Most of these people love to spend money and are willing to spend money.
· Single food culture prevails
According to a survey launched by Rakuten Insight in 2021, 45% of the Koreans surveyed using food delivery apps to place an order will spend between 20,000 and 30,000 won, and 38% will spend between 10,000 and 20,000 won.
· Brands go overseas
Korean cosmetics such as Innisfree and Sulwhasoo, as well as electronic products under Samsung and LG, which sell well all over the world, have laid a good foundation for Korean brands to go abroad. The advantage of overseas shopping is that you can buy your favorite overseas products at a relatively low price, but the price is that you need to pay high shipping costs. According to the International Trade Association, South Korea's cross-border trade volume will increase from $2 billion in 2017 to $4.5 billion in 2022.
For a long time, language barriers, single delivery methods and long routes have been the main obstacles for overseas consumers to buy Korean products. In order to eliminate this resistance, many retailers have begun to provide direct mail and foreign language customer service consulting services, but most foreign language services are only limited to English. and Chinese.

(The picture on the left shows the online traffic sources of the largest 100 retailers in South Korea. Korean consumers account for the vast majority, and consumers in China and the United States account for 12.4% and 8.5% respectively; the picture on the right shows cross-border e-commerce in Asian countries in 2021. In terms of development, South Korea has achieved second place after China)
Earlier this year, Lotte Duty Free launched its first e-commerce platform for overseas countries such as Singapore, Malaysia, Thailand, the United States, Japan and China, with products mainly from South Korea. Consumers in these areas can qualify for free shipping if they settle for more than $70; Shilla Duty Free and Alibaba's Cainiao provide point-to-point logistics services; in April 2022, SSG.com Cross-border services of food categories… It can be seen that the Korean e-commerce platform's ambition to expand outwards.
· Settlement habits
In 2021, South Korea will have one of the highest penetration rates of credit cards in the Asia-Pacific region, but other more convenient payment methods are catching up, including Kakao Pay.

Kakao Pay is a mobile payment platform under the Kakao Group. With Kakao Talk, a WeChat-like APP, it became popular in South Korea in a short period of time. Consumer platforms that now support Kakao Pay settlement include Apple Store, Google Play, Netflix and Spotify. Analysts predict that Kakao Pay's users will grow by the millions in the next few years.
Data shows that in 2021, mobile consumption will account for 72% of the total online shopping transaction value in South Korea.

When asked why they use the app to shop, 74% of respondents answered "an urgent need for an item", and 41% answered "whatever it is."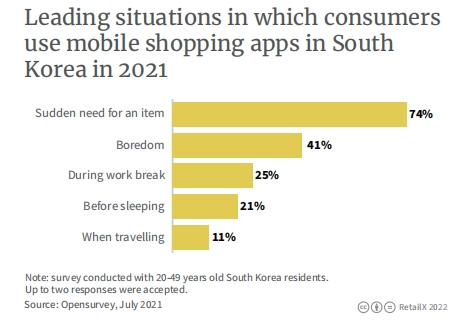 Respondents aged 20-49 who have used Naver Shopping, Coupang, and Gmarket in the past three months (the statistical time is the first three months of receiving the questions) accounted for 63%, 60%, and 25%, respectively.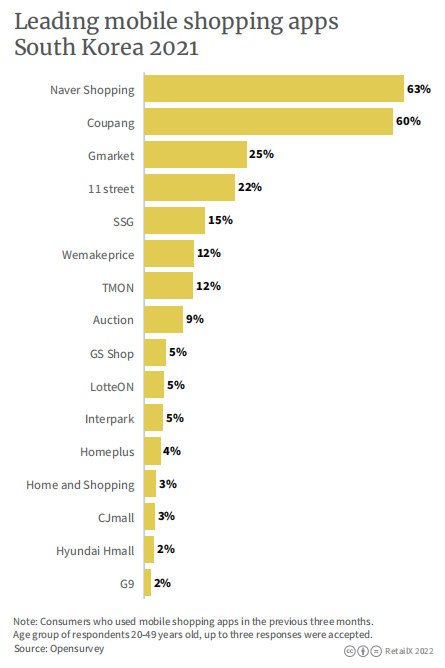 · Consumer distribution
The penetration rate of e-commerce in South Korea is high, expected to be 77% in 2022, and it is expected to rise to 83% by 2025.
There will be about 40 million online shoppers in South Korea in 2022, and it is expected to grow to 43 million by 2025. In 2021, users in the age group of 45-54 will account for 25%, ranking first among all age groups. Surprisingly, the age group of 18-24 will account for the least, only 12%.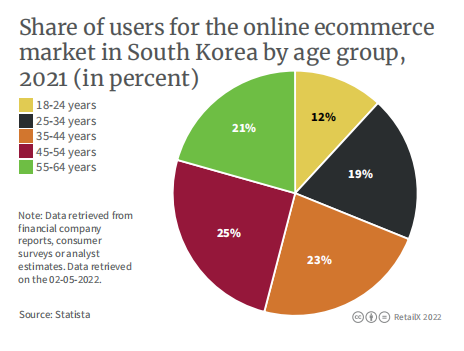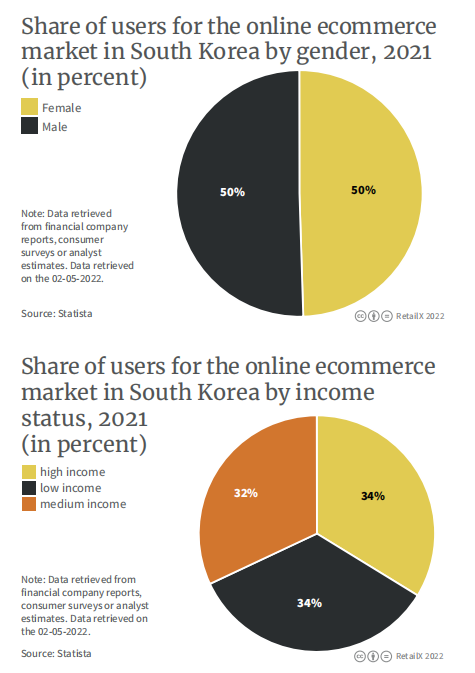 The reasons for online shopping are "good quality and low price" and "convenience" accounted for 44% and 33% respectively, while service and reliability accounted for very few.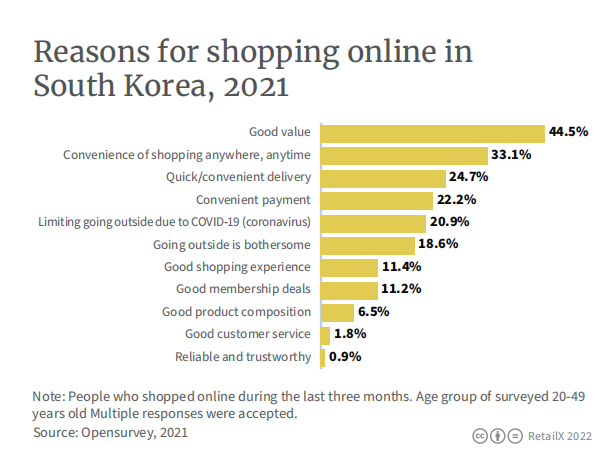 Beauty & Health & Personal Care and Home Care still account for the largest share, followed by beverages and electronics.

(User penetration rate of various categories from 2017 to 2025)

· platform
In September 2021, the number of visitors to Coupang will reach about 6.27 million, ranking first among the major e-commerce platforms in South Korea. It was followed by Gmarket with 6.2 million.
Founded in 2010, Coupang's sales revenue in 2021 will reach 203,600 won. The Korea Times recently reported that Coupang's paying members are close to 10 million, surpassing Shinsegae's 6 million. According to Export2Asia, 70% of South Koreans live within a 10-minute drive from the Coupang logistics center. Coupang logistics capacity, especially the last mile delivery capacity, is almost at the "ceiling" level in South Korea.
Although Coupang's main target is local users in South Korea, it has now expanded to international markets including Singapore, Japan and Taiwan, and its global expansion plan is still in progress.

· Changes in consumption habits before and after the epidemic
Research by RetailX shows that before the pandemic, 45% of respondents aged 16 to 24 were shopping both online and in-store when purchasing non-grocery products, preferring online shopping (28%) or a brick-and-mortar preference The proportion of store consumption (accounting for 27%) is the same. A similar trend can be seen in slightly older age groups, with 47% of respondents aged 25 to 34, 46% of respondents aged 35 to 44 opting for a hybrid shopping model; 33% of respondents aged 55 and over Respondents said they were more inclined to shop in brick-and-mortar stores before the epidemic, and only 20% of consumers in this age group chose to shop online. Among all age groups surveyed, the proportion of choosing mixed shopping is basically the same, accounting for 45% and above.
When asked if the pandemic has affected their shopping habits, 10% of respondents aged 16 to 24 said they still stick to in-store purchases, while 43% said they switched from in-store shopping to online-only shopping , 47% of respondents prefer a mixed shopping model.
A similar trend can be seen among the 25 to 34-year-old group, with only 8% of respondents insisting on shopping in brick-and-mortar stores, 44% switching from brick-and-mortar to online shopping, and 49% opting for a mix of shopping. Respondents aged 35 to 44 showed similar preferences.
The change was most pronounced in older age groups, with 57% of respondents aged 45 to 54 reporting a dabbling in both brick-and-mortar and online shopping. In the age group 55 and older, that rose to 63 percent. This shows that most of the people who are deeply affected by the epidemic and change their shopping habits are middle-aged and elderly people.