The size of the European e-commerce market will surpass that of the United States, and French consumers will be stable in online shopping
The European e-commerce report released by the European E-commerce Association pointed out that the total amount of e-commerce in Europe will grow to 718 billion euros in 2021, a growth rate of 13%. In 2022, the turnover is expected to reach 797 billion euros, with a growth rate of 11%.
European e-commerce shopping continues to grow, and by 2024, the European e-commerce market is expected to surpass the United States. According to the latest online shopping consumer survey released by Eurostat, in 2021, 90% of European users have used the Internet, and 74% of European Internet users have made online purchases.
Among European internet users, 74% of men shop online, slightly higher than women, and 25-34 year olds are more active than other age groups.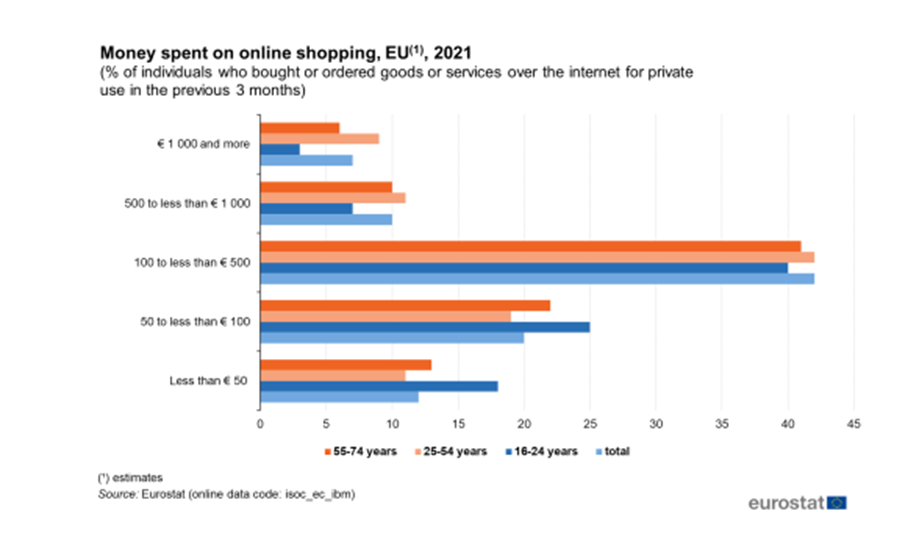 European online shoppers love to buy clothes (including sportswear), shoes or accessories, communication equipment, home appliances, furniture, home accessories or garden products, cosmetics, beauty or health products, sporting goods, children's toys or child care products.
In terms of the value of the e-commerce industry, France, Germany, and the United Kingdom are the "Big Three" in Europe, occupying a large share of the European e-commerce industry. Moreover, French consumers' online shopping habits are more stable than other European countries.
According to a report released by the French National Association of European E-Commerce, online sales in France will exceed 129 billion euros in 2021, a year-on-year increase of 15.1%. E-commerce sales accounted for 14.1% of the overall retail sales, up from 13.4% in 2020. The number of active sellers also increased by 11%. The number of online sales website transaction orders exceeded 2.1 billion, and the average order amount was 60 EUR.
At a time when the world is facing inflation, the euro zone inflation rate has reached a record level since 1997. In order to slow down the inflationary shock, the French government has taken a number of measures to curb price increases. INSEE's recent economic report shows that France's purchasing power is resisting soaring prices. Although French purchasing power fell in the first two quarters of this year, it will rebound in the last quarter.
Economists estimate that French purchasing power will increase by 2023 and inflation will moderate in January. Furthermore, because of its nuclear power, France is the least affected country in Europe by the energy crisis.
Thus, in a period of slowing economic activity, France is a relatively resilient European country.
In 2021, the sales of beauty products in the French market will increase significantly, with sales increasing by 9% to 2.689 billion euros. In this category, the fastest-growing product is home fragrance; consumers are also keen to buy high-end fragrances and concentrated fragrances; sales of care products increased by 5% and volume increased by 17%; color cosmetics sales increased by 5% compared to 2020 %, consumers focused their purchases on the eye and nails segment; sales of hair care products increased by 43% over the previous year.
In addition, fashion clothing and furniture decoration products also ushered in continuous growth in France, with an increase of about 6% and 18% respectively, and the sales of fast-moving consumer goods increased by 6% year-on-year.
It is worth noting that France is closely connected to the three major economic hinterlands of Northern Europe, Eastern Europe and Southern Europe, and has the ability to lead the fashion trend in the whole Europe and even the world. If a certain product sells well in France, it will greatly boost sales in other markets.
Average monthly sales of 130,000 euros
In the past, the French e-commerce market was often ignored by cross-border sellers, but in recent years, the market has grown strongly and has gradually become a popular market for sellers to nuggets.
In 2021, the total number of French e-commerce websites will reach 177,000. Compared with traditional e-commerce, third-party platforms are more popular with consumers. Among them, Rakuten France is the top ten treasure platform in France. The average number of page views has reached 17 million, the daily transaction volume has exceeded 300,000 orders, and it has more than 12 million members. It is mainly engaged in 3C, HIFI, Fashion and home furnishing categories. It is Rakuten's largest e-commerce platform in Europe. The platform's hot-selling products cover a wide range, including 3C electronics, home appliances, decoration, stationery, entertainment products, second-hand refurbished products, etc.
Please leave your comment or share your idea when you already sell in Rakuten France.