Online sales reach 68 billion US dollars, toys and 3C are the most popular

According to Adobe data, from 2020 to 2022, the online retail sales of the three major shopping festivals in the United States, Thanksgiving, Black Friday and Cyber Monday, will show an overall growth trend.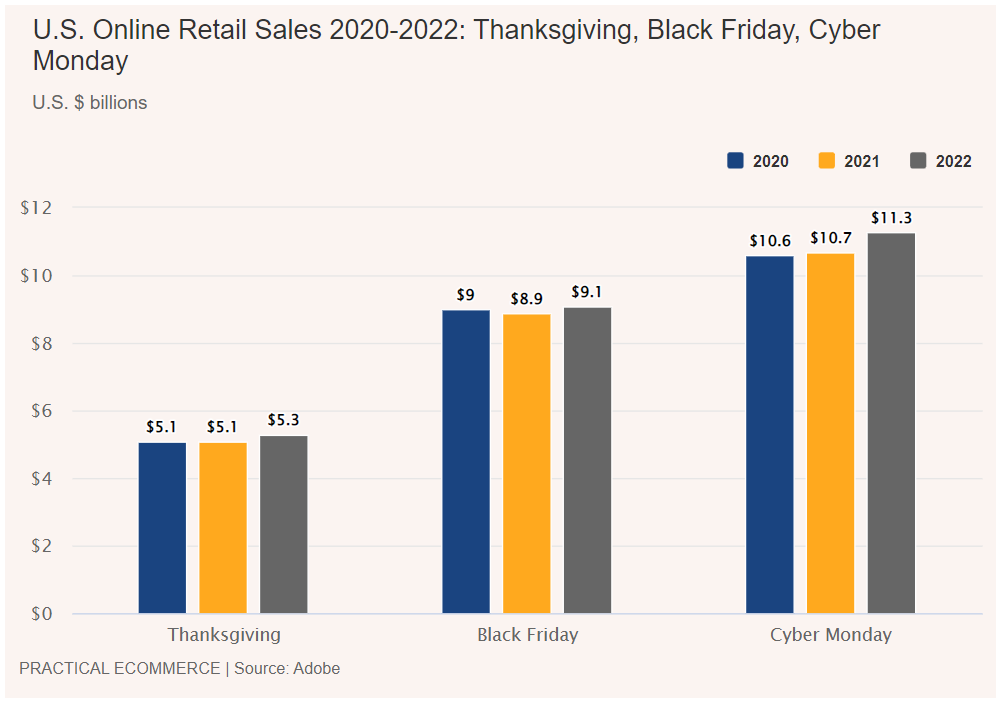 • Thanksgiving
Adobe Analytics data shows that American consumers spent a record $5.3 billion online on Thanksgiving Day, a 3% increase from last year. Merchants lure consumers with deep discounts on toys and electronics. Mobile shopping drove 55% of online sales for the festival, up 8.3% year-on-year.
• Black Friday
Adobe Analytics reported that U.S. Black Friday online revenue hit a record $9.12 billion, a 2.3% year-on-year increase from 2021. Analysts also said that merchants' concerns about consumers' desire to restrain consumption are completely unnecessary. Electronics sales are strong, with products like the Apple Watch and Airpods, smart speakers and televisions popular with consumers.
At the same time, toys are also a category with relatively strong growth, with an increase of 285% year-on-year, including Fortnite, Roblox, Bluey, Funko Pop! The sales performance of brand products such as Disney Encanto and Disney is relatively outstanding.
Shopify, the e-commerce platform of many direct-to-consumer startups, reported that its merchants generated $3.4 billion in revenue on Black Friday, up 21% from a year earlier.
Mastercard Spending Pulse reported that U.S. offline sales rose 12% on Friday from a year earlier, while online sales rose 14%.
• Cyber Monday
Adobe Analytics said online sales on Cyber Monday in the U.S. reached $11.3 billion, 5.8% higher than in 2021 and 25% higher than this year's Black Friday online sales. This also makes Cyber Monday an online shopping festival with relatively superior sales performance in 2022.
Retailers in categories like toys, computers and electronics offered deep discounts. Top-selling products on Cyber Monday included Pokémon cards, Lego bricks, Hot Wheels, Disney Encanto, LOL surprise dolls, Cocomelon, and Hatchimals. Game consoles that have sold well include PlayStation 5, Nintendo Switch and Xbox Series X, among others.
• Cyber Week
According to Salesforce data, the global online holiday sales of Cyber Week (Thanksgiving Day to Cyber Monday) reached 281 billion U.S. dollars, an increase of 2% year-on-year in 2021, and online sales in the US market reached 68 billion U.S. dollars, a year-on-year increase of 2021. An increase of 9%. Many merchants offered introductory discounts in early November, and the average discount rate increased during Cyber Week.
According to Salesforce data, the categories with higher discount rates globally are clothing, cosmetics and skin care products, as well as luxury clothing and bags.
Adobe reported that during Cyber Week, U.S. consumers spent $35.27 billion online, 4% higher than in 2021. Toys are popular throughout the period, with discounts of up to 33% off MSRP.
The National Retail Federation said that during Cyber Week, 122.7 million U.S. consumers made holiday purchases in physical stores, a 17% increase from last year, while 130.2 million consumers made online purchases, a 2% increase from 2021.