In recent news, the memory chip industry is again making waves with a significant price hike of up to 20%. Leading memory giants have signed agreements with smartphone manufacturers, including Xiaomi, OPPO, and Google, to supply DRAM and NAND flash memory chips at prices 10% to 20% higher than existing contracts. This sudden surge in memory prices has sparked discussions about supply and demand dynamics in the tech industry.
The Driving Forces Behind the Price Increase
1. Anticipated Increase in Smartphone Sales: Smartphone manufacturers are among the key players who have agreed to accept higher prices. They expect a surge in smartphone sales, especially in international markets. Manufacturers are preparing for increased demand as more consumers seek to upgrade their devices.
2. Counteracting Rising Production Costs: Memory giants like Samsung also plan to supply memory chips to their in-house mobile device manufacturing divisions at higher prices. This strategy responds to the upward trend in mobile chip prices, ensuring a balance between production costs and profit margins.
3. Upstream Influence: Upstream NAND Flash manufacturers, including Samsung, SK Hynix, and Kioxia, have already begun raising prices for wafer contracts. Lower-than-normal inventory levels among middlemen and downstream system module manufacturers have triggered a buying spree, causing prices to rise. Products such as consumer SSDs, storage cards, and mobile-related components like eMMC and eMCP have seen comprehensive price increases.
4. Supply Chain Dynamics: Given the current low inventory levels for certain storage products, the average price increase is in the single digits. However, due to some storage products' relatively low stock levels, price increases in the double digits may be seen in the fourth quarter.
5. Ongoing Trend: TrendForce reports that Korean memory chip manufacturers have decided to raise prices for their latest chips, and this price hike may continue into the fourth quarter. The rebound in NAND Flash wafer contract prices in August, coupled with an increase in production reductions, is expected to boost demand, effectively supporting a 0-5% increase in NAND Flash wafer contract prices in September.
6. Increased Orders: Industry insiders reveal that NAND flash memory customers are no longer cutting orders but increasing them.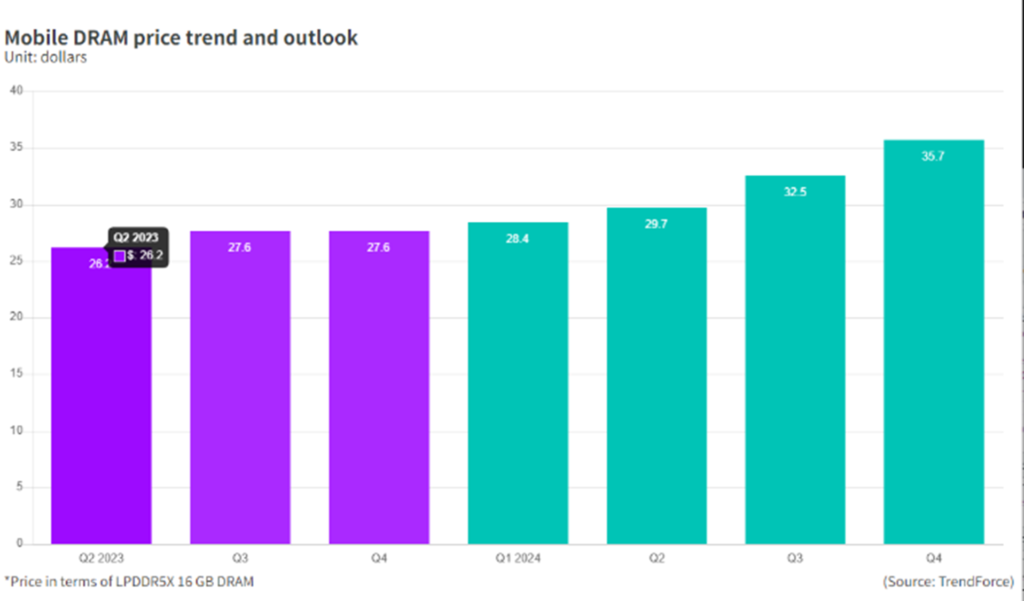 The Impact of Production Reduction
Samsung, in particular, has intensified its reduction in NAND flash memory production and is expected to reduce production by 50% by the end of 2023. The company had already cut NAND flash production by 20% in the year's first half and accelerated the reduction by approximately 40% in the second half.
Other suppliers are expected to expand production reductions in the fourth quarter to accelerate inventory clearance. Omdia predicts that by the second half of 2024, Samsung's monthly production of DRAM will further decrease from current levels.
Industry experts point out that memory chip manufacturers are reducing actual capital expenditures and wafer input quantities even more than their annual plans earlier this year, with reductions exceeding 50%. In this context, the decline in DRAM and NAND flash memory supply could exceed 10% this year.
With leading companies implementing production cuts, the memory market's turning point is on the horizon. As memory factories adjust production to meet changing demands, inventory levels stabilize, and prices show signs of a turning point. As we approach the peak season for market stockpiling, the overall pace of shipments is accelerating, hinting at a potential recovery in the memory cycle.
In conclusion, the recent surge in memory chip prices is driven by increased demand from smartphone manufacturers, efforts to counter rising production costs and dynamics in the upstream supply chain. These price hikes will continue into the fourth quarter, impacting various tech industry sectors. As the memory market adapts to changing conditions, the industry may be on the cusp of a significant shift in the memory cycle. Stay tuned for further developments in this ever-evolving landscape.