1. The market of overseas Internet users is close to 4 billion. According to We are social's statistics on global users, the number of Internet users in the world is nearly 5 billion. Excluding the number of Chinese Internet users, the number of overseas Internet users is close to 4 billion. The products with the highest global social media users are active users of Facebook, YouTube and Whatsapp. The scale reached 2.9 billion, 2.5 billion and 2 billion respectively (Statista).
In terms of active users, YouTube Shorts MAU exceeded 1.5 billion (June 2022); TikTok MAU exceeded 1 billion (2021); Kuaishou overseas MAU exceeded 150 million (April 2021), with an average daily usage time of nearly 60 minutes ( June 2022).
The number of users of major social media platforms in the world (millions) and the penetration rate of global Internet users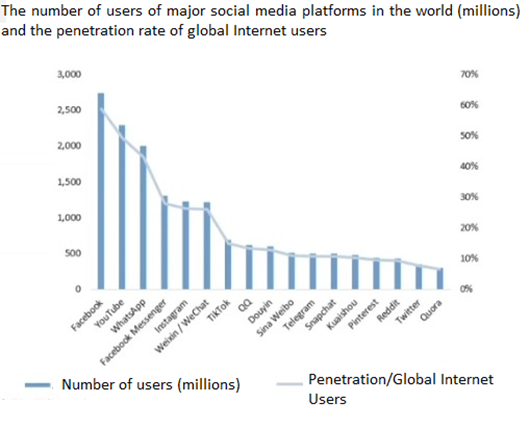 3. Short video is growing rapidly overseas, but the maturity and penetration rate are still relatively low. According to Statista data, TikTok's global population penetration rate is about 16%, and its penetration rate in the Middle East and Southeast Asia exceeds 50%. In comparison, YouTube's global population penetration rate is about 38%.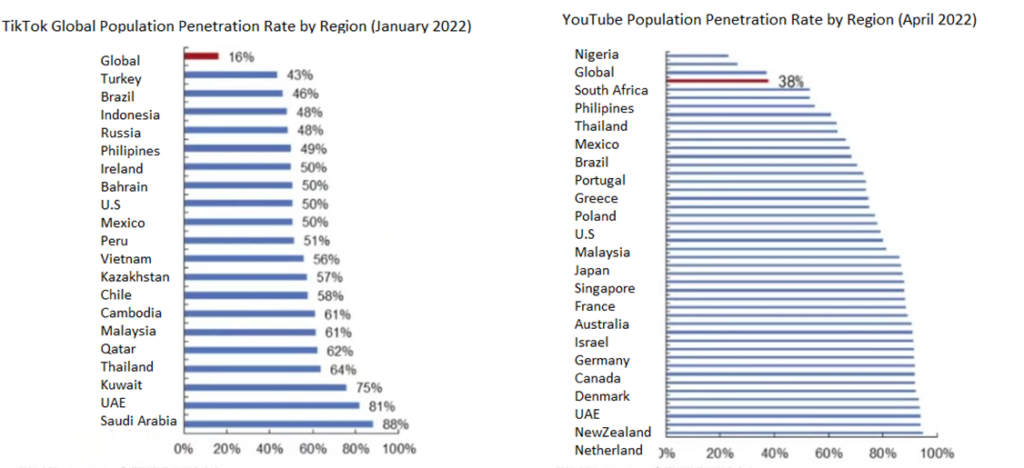 Looking at the global user distribution represented by Meta, users in the Asia-Pacific region account for the largest proportion. Facebook accounts for 44% of users in Asia-Pacific and continues to increase, with MAU reaching 1.3 billion, which is the main source of user growth. The number of users in Europe, America and North America is about 260 million, accounting for 9%, and the number of users in Europe is about 400 million, accounting for 14%, accounting for The ratio has narrowed, and the number of users in other regions of the world represented by Latin America and Africa has reached 960 million. In comparison, TikTok ranked first in entertainment app downloads and revenue in major markets such as the United States, Japan, and Australia in HQ1 in 2022 (data from Sensor Tower); Kuaishou Overseas focuses on operations in Latin America, Southeast Asia and other local regions .

Calculating the revenue/MAU indicators of Meta regions, the indicator is as high as $50.2 in North America, $15.6 in Europe, and $3.3 in other regions.
4. Discussion on business model and business space
Advertising monetization is the main pillar of short videos, supplemented by tipping fees and live broadcast e-commerce commission rates as the second and third income. Compared with China, the commercialization of overseas short videos is still at an early stage.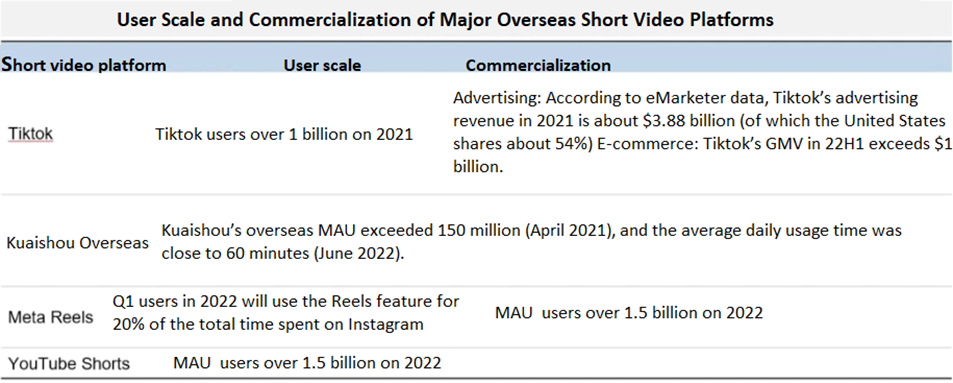 2. The proportion of short video advertisements in the Internet advertising market is increasing year by year. In China, it will account for about 23% in 2021. Overseas, it is currently in the early stage of advertising commercialization. With the rise of short video product traffic and the replacement of traditional media advertising by video feed advertisements that more effectively measure the delivery effect, the share of overall short video advertising in the Internet advertising market has increased year by year. In 2020, the short video advertising market will account for about 20% of the Internet advertising market, and it is expected to increase to 23% in 2021. In China, ByteDance will surpass Alibaba in advertising revenue in 2021, becoming the largest advertising platform, and Kuaishou advertising revenue will grow rapidly, reaching 42.7 billion yuan in 2021.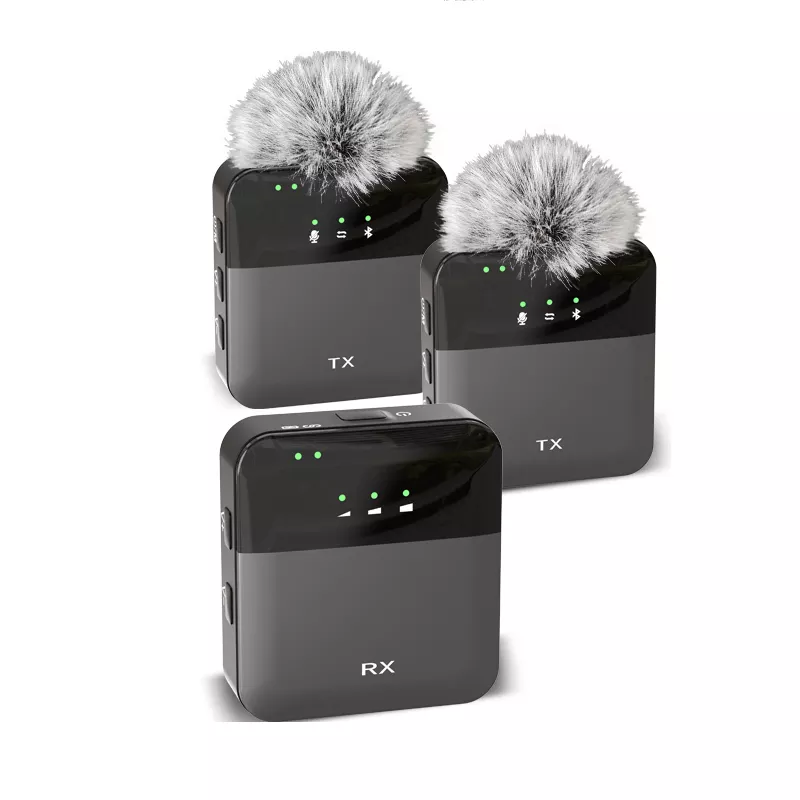 3. The overseas digital advertising market structure is relatively stable and concentrated, and short video advertisements may affect the structure. Google, Meta, and Amazon are among the top 3, with advertising revenue of $209.5 billion, $114.9 billion, and $31.2 billion in 2021, respectively. According to eMarketer data, Tik Tok's advertising revenue in 2021 is about $3.88 billion (of which the United States contributes about 54%), and it is estimated to reach $11.6 billion in 2022.
4. Live streaming e-commerce is growing rapidly. In 2020, the transaction volume of live broadcast e-commerce will reach 1.2 trillion, and the penetration rate of the total online goods and services will reach 10%. It is estimated that the overall e-commerce live broadcast transaction volume may exceed 2 trillion in 2021, accounting for 18% of the e-commerce market penetration rate.
The monetization rate of traditional e-commerce is currently close to 4%. The advertising monetization rate of Pinduoduo is higher than that of Alibaba, but the commission rate is lower than the latter. The e-commerce monetization rate of the platform includes two parts: (1) advertising fees, that is, the advertising income that merchants are willing to pay for product diversion; (2) commission income from transaction flow. Comparing Alibaba's commission rate and Pinduoduo's, they are basically close to 4%. Alibaba's market monetization rate in fiscal year 2022 will reach 3.8%. According to the disclosure of revenue in fiscal year 2020, 2.7% The monetization rate of transaction value comes from hand advertisement bidding, and the 0.9% monetization rate of transaction value comes from rake. Pinduoduo's market monetization rate is 3.6%, of which advertising accounts for the majority, that is, 3.0% of the transaction value monetization rate is advertising revenue, and 0.6% of the transaction value is the commission income. .