Swiss e-commerce market overview
Switzerland tops the 2021 Global E-Commerce Index Ranking published by the United Nations
Conference on Trade and Development (UNCTAD). Total e-commerce revenue in Switzerland is expected to reach 24 billion euros by 2025. In 2021, the total number of online shoppers in Switzerland will be around 6 million. In terms of revenue, the fashion category ranks first among the major categories, and is expected to increase to 7 billion euros by 2025. The furniture category ranks second, with revenues expected to increase to 5 billion euros in 2025.


Focus on local market trends in Switzerland
· Consumers
In 2017, only 11% of respondents preferred online shopping. In 2022, this proportion is expected to rise to 22%, and this proportion will continue to rise in the future, and it is expected to increase to 27% in 2025. On the premise that the population structure and total population of Switzerland do not fluctuate greatly, the total number of online shopping population will increase year after year.
The total number of users of electronic products has risen from 3 million to 5 million in the past five years, and is expected to reach 6 million by 2025. The number of online shoppers in the fashion category is expected to rise from 3 million in 2017 to 5 million in 2025. Most other categories are expected to gain an additional 1 million online shoppers over the next three years.
From the perspective of age group, about 70% of online shoppers are in the age range of 25-54 years old, and the proportions of the three age ranges of 25-34 years old, 35-44 years old and 45-54 years old are very close. The two age groups of 18-24 and 55-64 have the smallest proportions.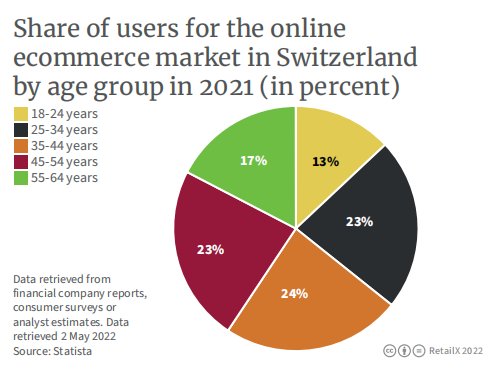 In terms of shopping habits, netizens in the UK and Switzerland are very similar. The differences are mainly concentrated in online ordering and offline pickup. 46% of British people have this shopping habit, while in Switzerland, this The proportion is only 37%; the two countries also show a high similarity in terms of online shopping equipment. The UK has a higher proportion of smartphones, tablets, smart TVs and smart speakers, while Switzerland is more prominent in desktop computers. The proportion of usage is 9% higher than that of the UK.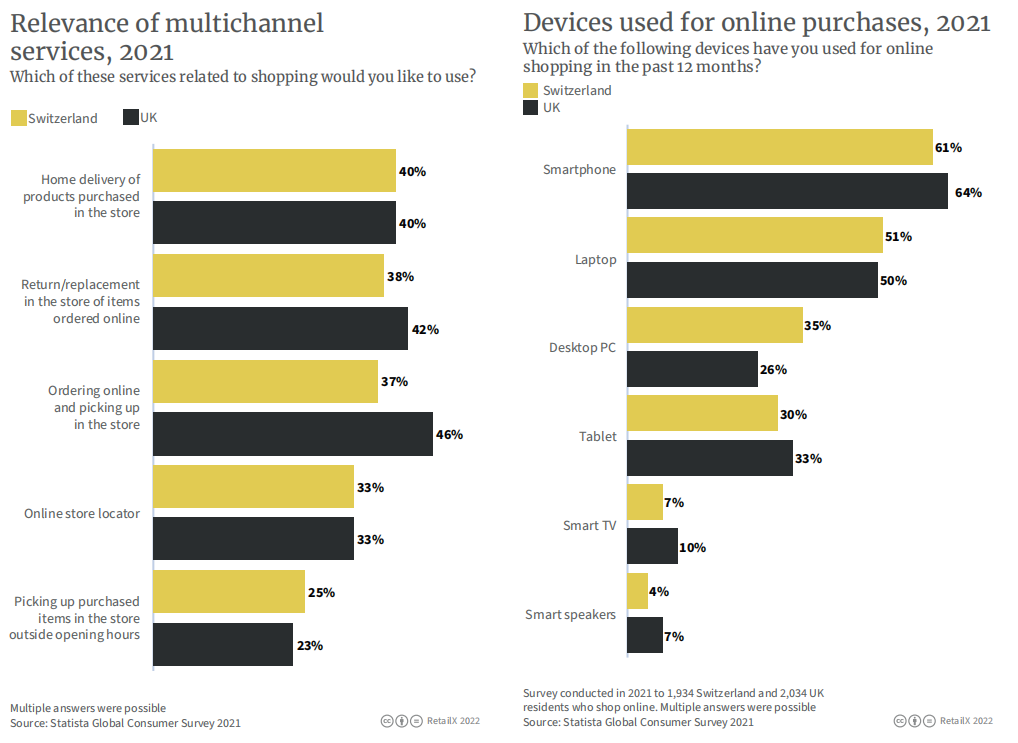 · Sea rush
Germany, Switzerland's largest trading partner, is also the origin of 40% of the overseas shopping products of the Swiss. Switzerland's second largest trading partner is the United States, followed by the United Kingdom, China and France. However, the relationship between China and the United States is one of mutual quality when traced to the source of the goods. China's 26 percent share is more than triple the U.S.'s 7 percent. According to a blog post published in 2020, 80% of Swiss who shop online have at least one overseas shopping experience. Most of the Swiss interviewed said that most of the products purchased on overseas shopping are products that are difficult to find in Switzerland.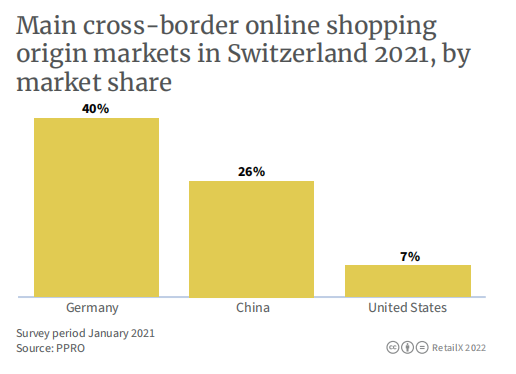 From a geographical point of view, Switzerland is located in the middle of Europe and borders Germany in the north. Swiss people often go to Germany for shopping because German products are more affordable and tax rebates are available. Especially around Christmas, the Swiss will take advantage of the holiday to "shopping" in Germany, and the rise of online shopping has greatly simplified this process. Now, the Swiss can buy local products without leaving home. Rare stuff".
As early as 2016, Swiss manufacturers were worried that local high-quality domestic products would be "sucked to death" by these foreign objects. Although the Swiss have national feelings for domestic products, and they also know that the quality of overseas shopping products is far inferior to domestic products, even counterfeit OEM products, but perhaps due to the impact of the economic downturn, Switzerland, which is convinced by the cost-effectiveness, chooses overseas shopping. The number of people is increasing year by year.
In principle, Swiss are required to pay customs duties and Swiss VAT on products ordered from abroad. However, the Swiss authorities also pointed out that duties and VAT below CHF 5 are not invoiced, so orders up to CHF 200 (including packaging and delivery fees) are exempt from duties and VAT.
·Pay
A report by the European Payments Council shows that the Swiss prefer to use cash as a means of payment because of the protection of personal privacy. However, with the emergence of more convenient payment methods such as electronic wallets and bank transfers, the use of cash in Switzerland is on a downward trend. Interestingly, statistics show that the circulation of cash in the market actually increased in the early days of the outbreak in 2020, which means that the Swiss are still obsessed with cash and use it as a way to save in times of crisis.
At present, Switzerland has no plans to introduce digital currency, but in terms of payment methods, the survey of intentions shows that only 2% of Swiss people prefer cash payment.
In Switzerland, bank transfers account for 56%, credit or debit card payments at 25%, followed by e-wallets (including apps such as Paypal, Apple Pay and Google Pay) at 16%. The Swiss have the habit of financial management. Websites or blogs like "The Poor Swiss" will learn how to make money, such as which credit cards can get cash back after using them, and which platforms only support settlement in euros or dollars. It is more cost-effective to pay with credit cards.
In addition to the lack of economic benefits for consumers, there is another reason for the low utilization rate of electronic wallets. The SWITCH-CERT reports that in August 2017 alone, officials forcibly shut down 4,500 fake websites ending in the Swiss .ch domain name that lured clicks with deep discounts or freebies, but either The goods are not on the right board, or the quality is extremely poor and has no use value at all, and it is suspected of fraud. After the outbreak of the epidemic, the problem of phishing websites has reappeared. Out of fear of fraudulent behavior, some consumers still choose cash on delivery.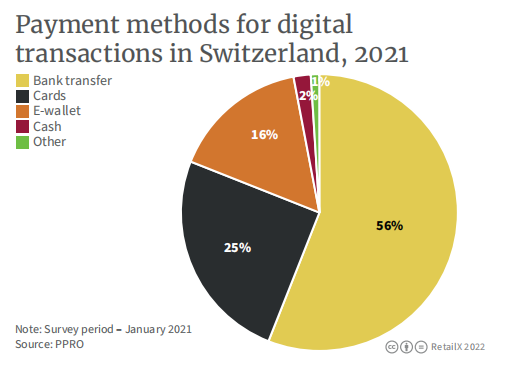 ·Consumer habits
As early as 2015, Switzerland was regarded by data research institutions as one of the countries with the largest e-commerce market in Europe in the future. Nearly ten years later, data released by Dynamic Parcel Distribution in April 2022 shows that the Swiss consumption habits have changed a lot due to the epidemic. The number of online shopping per capita in Switzerland has been steadily increasing since 2017. The forecast for 2022 is 2,343 euros, rising to 3,753 euros in 2025.

As can be seen from the figure below, the consumption of popular online shopping categories in 2021 is mainly driven by the three age groups of 25-34, 35-44, and 45-54. Among them, consumers aged 35-44 spend the most on sports & outdoor products, accounting for 30%, and consumers aged 18-24 spend the least on food & beverages, accounting for only 7%.

Data from multiple channels shows that the Swiss still have a soft spot for computer-based online shopping, and the transaction volume even doubles that of mobile devices. In the future, the proportion of online shopping on mobile devices will increase year by year, and it is expected to increase to 35% by 2025.

Respondents in Switzerland and the United Kingdom had slightly different concerns when asked which categories they would pay particular attention to price reductions. The Swiss are more concerned about lowering the prices of shoes, clothing and cleaning products, while the British are more concerned with stationery and hobby products. According to the survey, in the eyes of the Swiss, the price is second to the place of origin.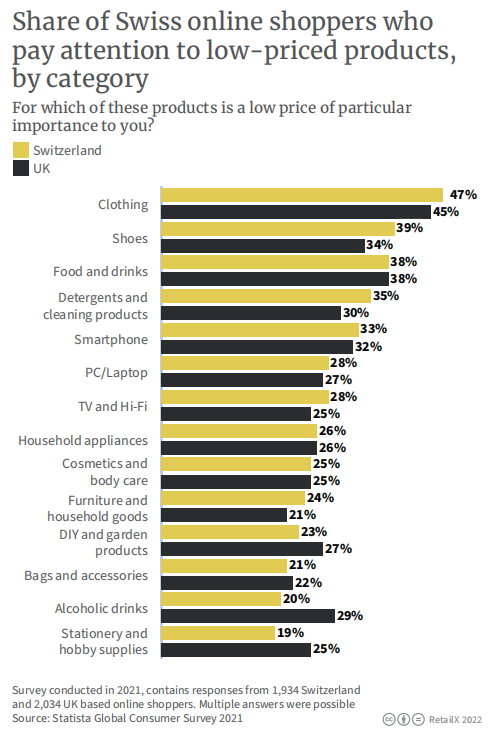 Overall e-commerce penetration in Switzerland is expected to decline slightly between 2023 and 2025, from 73% to 71%. However, the e-commerce penetration rate of individual categories has increased. For example, the penetration rate of electronic products is expected to rise to 66% by 2025, and the e-commerce penetration rate of fashion, toys & hobbies & DIY categories will also achieve strong by 2025. growth to more than 50%.


·logistics
Overall, the return rate for online shopping in Switzerland is lower than in the UK. In 2021, 45% of respondents in Switzerland said they did not have any returns, compared with 54% in the UK. It can be seen from the data chart that the return rate of shoes and clothing and bags is relatively high, especially the proportion of shoes and clothing.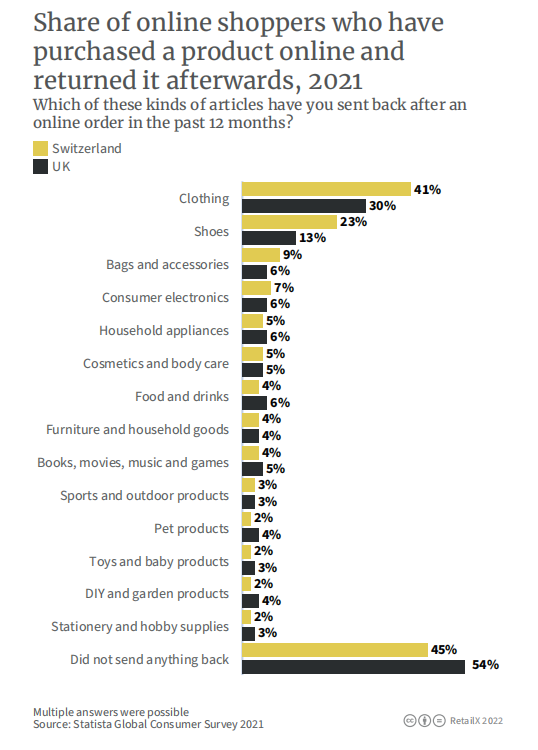 According to the data, the parcel transportation volume of Swiss Post showed a steady upward trend from 2017 to 2019, and it rose sharply in 2019, and this trend has continued in the next few years.

In 2020, Swiss Post's logistics services covered 400,000 households in 1,788 towns, mostly in rural areas.
In Switzerland, sending items by parcel is a typically efficient process. Swiss Post enables users to print labels at home and pay for postage when the item is delivered to the local post office. Users can enjoy a 15% discount when using the "Domestic Package Label" service online or at the My Post 24 terminal. In addition, there are dedicated service lanes for bulky goods, permitted dangerous goods, furniture and electrical equipment, and products shipped from farms. Accepted payment methods include PostFinance cards and Swiss payment app TWINT.
Swiss Post's ongoing Cargo sous terrain (CST) project aims to transport goods through a system of underground hubs, opening up the logistics network of major cities such as Geneva, Bern, Basel and Zurich.
·Sustainable economy
In addition to agricultural resources and freshwater reserves, Switzerland's own resources can be described as scarce. Marcel Meyer of Deloitte Switzerland said in 2021 that the future development of Switzerland needs to be tied to the concept of sustainability, and companies should uphold the long-term philosophy of coexisting and co-governing with the earth. Similar to neighboring Austria and Germany, the consumption of sustainable products in Switzerland is continuing to rise, but there is still a long way to go in terms of product packaging and iteration of logistics methods.
Consumer research in Switzerland shows that 53% of respondents are ready to send back reusable packaging, while only 9% say they are not prepared to compromise on sustainability.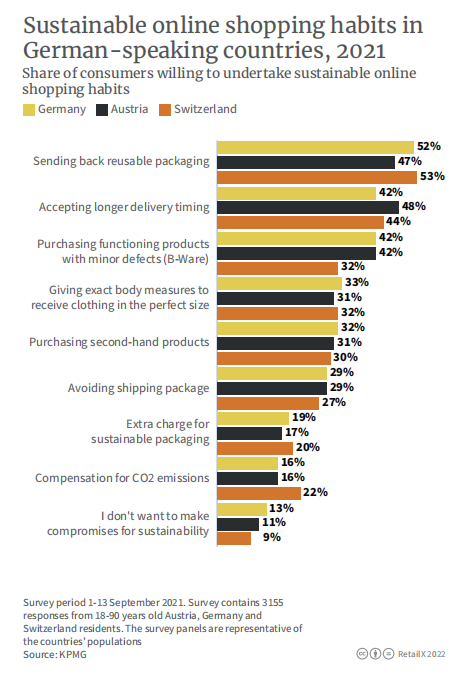 ·Local Top 100 Retailers
The top 100 retailers in Switzerland did not show a concentration similar to that in other countries. The retailers in Switzerland only accounted for 39%, and the retailers in Germany and the United States accounted for 24% and 11% respectively. In addition, from the perspective of traffic, the traffic of retailers in Switzerland accounted for 56.4%, followed by the United States and Germany. In the list of most frequently visited Swiss retailer websites, the United States and Germany are also ranked high.