Description
Universal Computer PC Laptop Monitor Stand Monitor Stand Riser LCD Studio with USB3.0 Hub Support Data Transfer and Charging
Why did we choose this computer monitor stand, or What are the benefits of the Ergonomic Computer Riser?
[Multiple 4 USB Ports]Equipped with 1xUSB3.0 port and 3xUSB2.0 ports, the GCC monitor riser maximizes the connectivity of your PC laptop. The monitor stand has 4 USB ports, provides data transmission and charging features, can expand the problem of insufficient computer USB interface, and is pretty convenient for you to get data access to your hard devices, mobile phones,iPad, Kindle etc.

[Ergonomic Design]This monitor riser lifts your monitor to a higher position, making you change your posture properly and healthily, reducing neck and eye pressure. Adopt an ergonomic design, elevate your computer monitor to a suitable viewing height, develop a right sitting position, reduce eye strain, relieve sore neck, and improve daily productivity.

[

Effective Monitor Raiser]- Ergonomically designed, this Computer Stand raises your monitor for maximum comfort; by getting the right screen viewing distance, you can avoid tension headaches or eye and neck fatigue, protect your cervical spine, and decompress your waist.

[Durable and Solid] – High-quality ABS plastic, environmentally friendly, durable, high-strength material. With its stable structure, it can support monitors weighing up to 55 lbs. The base adopts the design of an anti-skid pad, which can enhance the stability effect and provide safety protection for the display.

[Space-saving] More space is available on the desk using the GCC monitor stand riser. You can put frequently used stuff under the monitor riser to save more space on your desktop.

[Warranty] GCC offers a 1-year warranty; you can contact us if you have any problems.
Why do you need a monitor stand riser?
First of all, the most important function of the computer monitor lifting board is to protect your cervical spine.
Secondly, the computer monitor riser can accommodate scattered items on the desktop, such as a mouse and keyboard.
Third, the USB port with the monitor stand also supports data transmission, connecting hard disk devices and charging mobile phones and other devices.
Is the Universal Computer PC Laptop Monitor better than a detachable monitor cart?
The price is much cheaper than the cart.
There are many usage scenarios and functions. No matter whether it is at home or in the office, there is no need to worry. Cart is only suitable for larger office environments.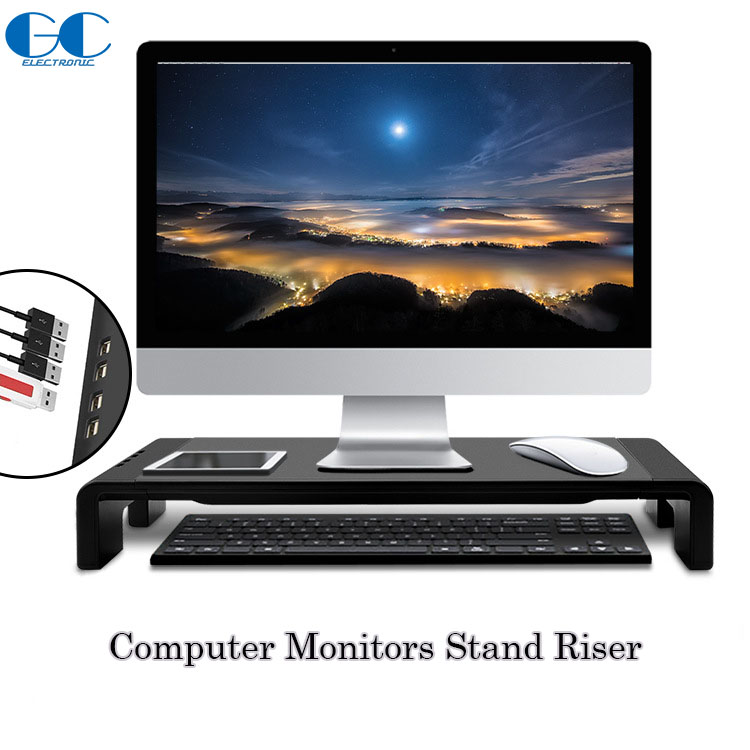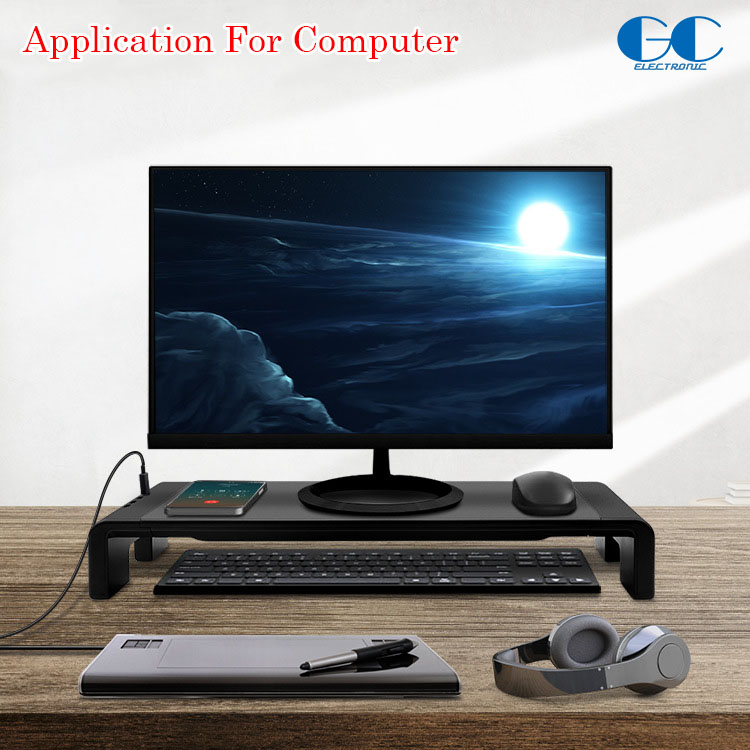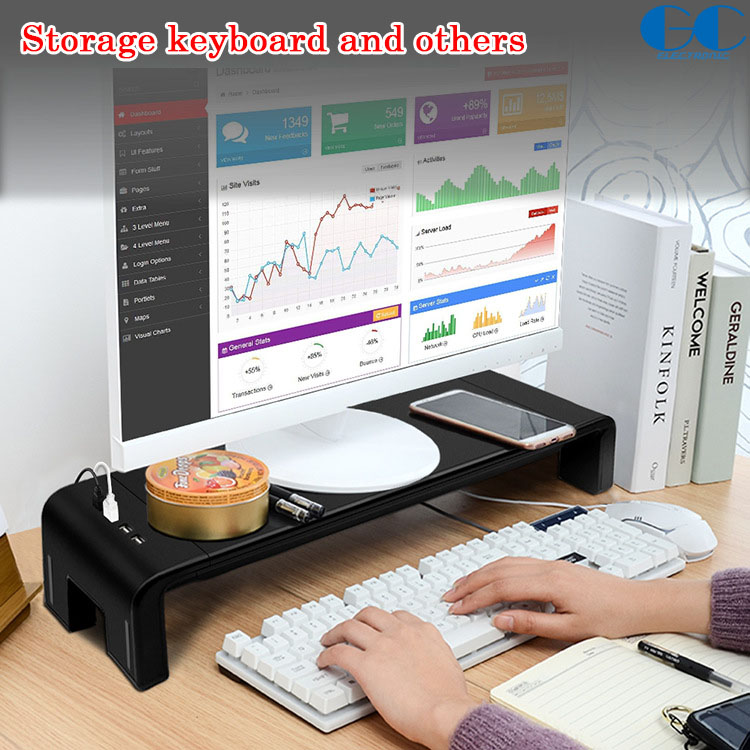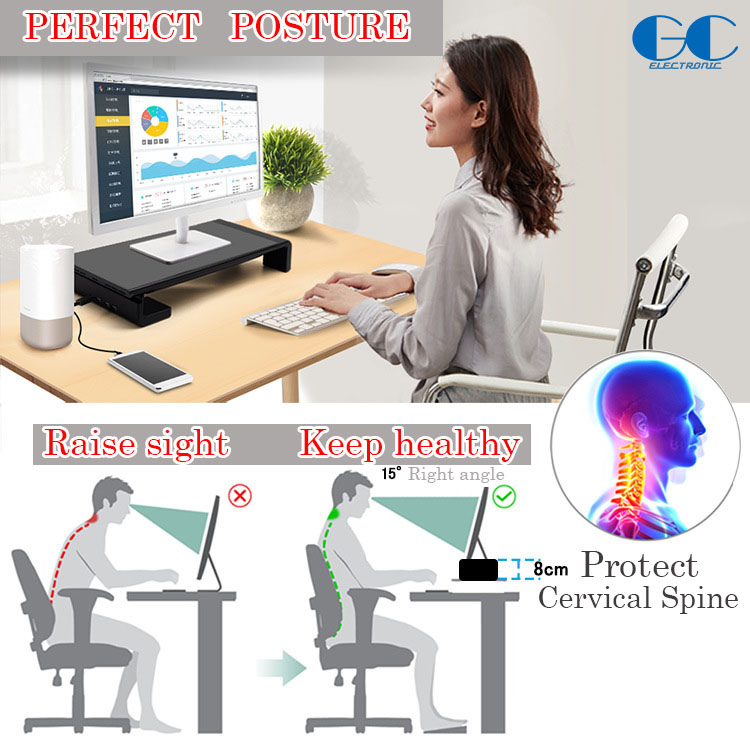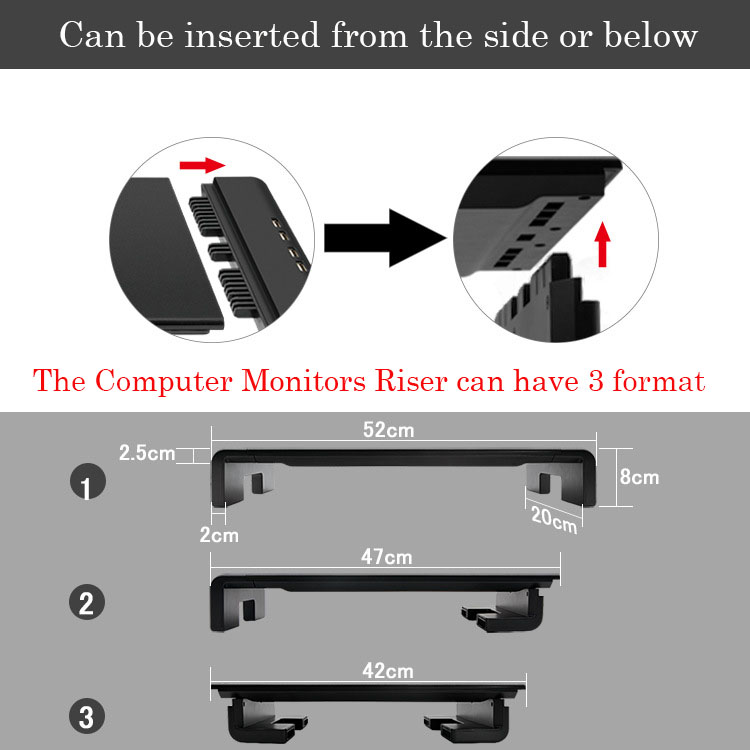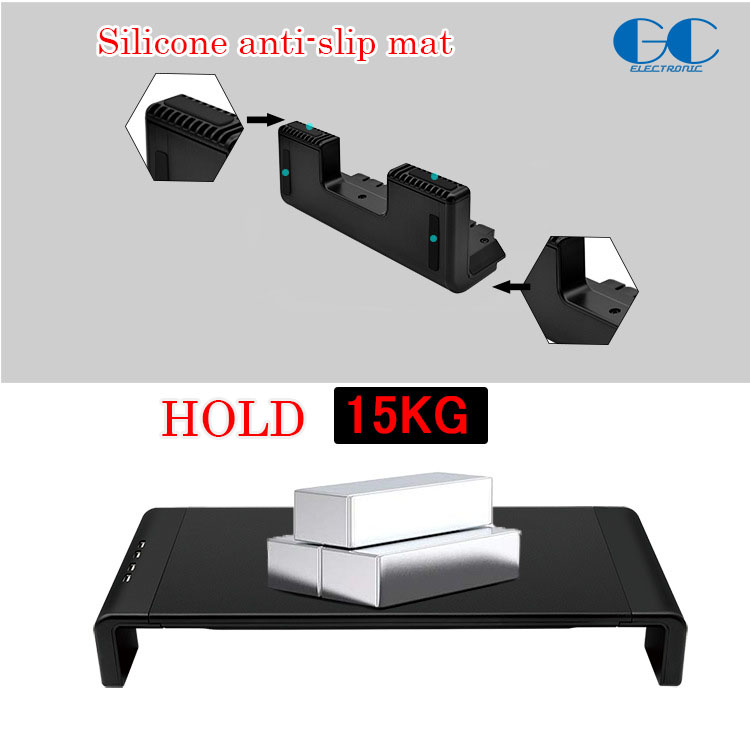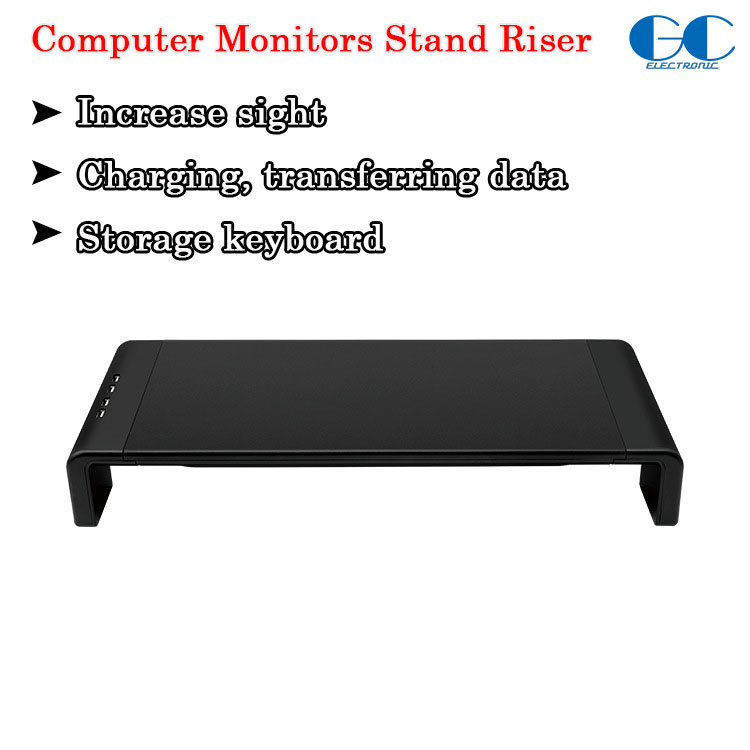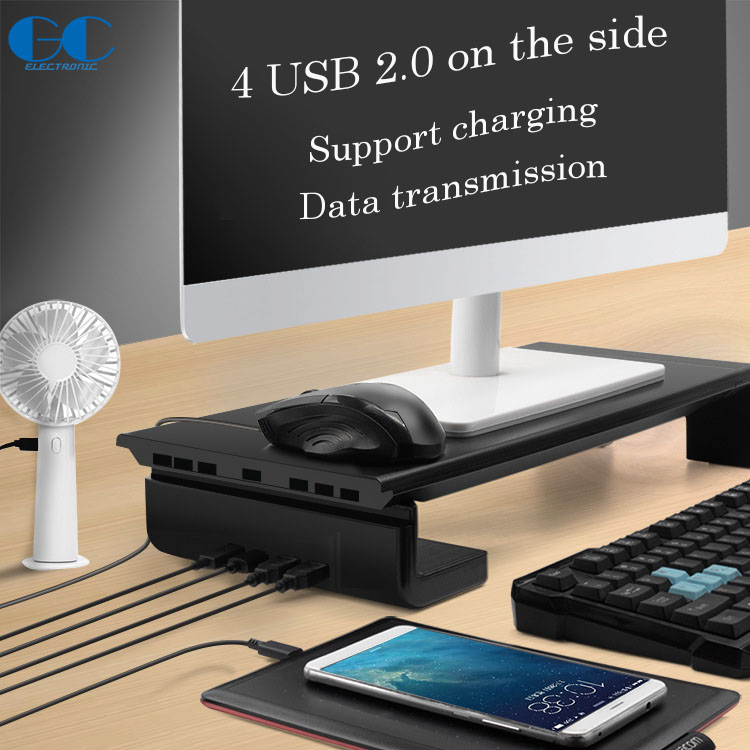 Introducing our Universal Computer PC Laptop Monitor Stand, a sleek and functional accessory designed to enhance your workspace and streamline your daily tasks. This monitor stand is a testament to our commitment to providing high-quality and innovative solutions for modern professionals seeking comfort and productivity in their work environment. With its detachable design and built-in USB 3.0 hub, this stand offers both convenience and efficiency, making it an essential addition to any office or home setup.
Q1. What sets the Universal Computer PC Laptop Monitor Stand apart from other stands on the market?
Our Universal Monitor Stand boasts a unique blend of style and functionality. It is engineered to accommodate various monitor sizes and laptops, providing a stable and ergonomic viewing experience. The built-in USB 3.0 hub is an added advantage, allowing you to transfer data and charge devices seamlessly.
Q2. Is this monitor stand compatible with all computer monitors and laptops?
Absolutely! The Universal Monitor Stand is designed to accommodate most computer monitors and laptops, making it a versatile and practical solution for all users.
Q3. How does the detachable design of the monitor stand benefit users?
The detachable design offers flexibility and allows users to easily adjust their monitors' or laptops' height and angle, promoting better posture and reducing strain on the neck and eyes.
Q4. Can I use the USB 3.0 hub for data transfer and charging simultaneously?
The USB 3.0 hub provides fast data transfer capabilities while supporting device charging, making it a convenient and time-saving feature.
Q5. Is the monitor stand easy to assemble and disassemble?
Absolutely! The monitor stand is designed for effortless assembly and disassembly, allowing you to set it up quickly and customize your workspace.
Q6. Can this stand to accommodate multiple monitors or laptops?
While the Universal Monitor Stand is primarily designed for single monitors or laptops, its durable and stable construction can easily handle various setups.
Q7. Does the monitor stand have any cable management features?
The monitor stand features discreet cable management slots that help keep your workspace tidy and organized, preventing cable clutter.
Q8. How does the monitor stand enhance ergonomics and comfort?
The monitor stand raises your monitor or laptop to eye level, promoting better posture and reducing strain on your neck and back during prolonged use.
Q9. Is the monitor stand sturdy and stable?
Definitely! Our Universal Monitor Stand is crafted from premium materials, ensuring durability and stability to support your valuable equipment.
Q10. Can this monitor stand be used in home offices and professional workspaces alike?
Absolutely! Whether you work from home or in a professional office, the Universal Monitor Stand is designed to complement any workspace with its modern and minimalist design.
Experience your workspace's ultimate comfort and efficiency with our Universal Computer PC Laptop Monitor Stand. Upgrade your monitor or laptop setup and enjoy the benefits of improved ergonomics, cable management, and the added convenience of the built-in USB 3.0 hub. Elevate your work experience and achieve new productivity levels with this essential accessory for modern professionals.