Description
4 Port USB C to USB 3.0 Standard A Hub with Individual LED Power Switches for Macbook, Huawei Matebook, and more
Product Description
Selling points for 4 Port USB3.0 HUB with separate switch
4 Port USB3.0 HUB with separate switch
Logo can be printed
With mini size
With a fuse to protect all devices
Compliant with usb revision 3.0
Driver support: Windows 2K/*P/vista/WIN7.Linux.MAV OS 10.0+
Maximum Data Transfer rate:usb 3.0:5g bps/usb2.0:480m bps
Product description for 4 Port USB3.0 HUB with separate switch
| | |
| --- | --- |
| Item name | 4 Port USB3.0 HUB with separate switch |
| Model No. | LJ-308 |
| Product Size(CM) | 11*4.3*2.1 |
| N.W(g) | 75 |
| Package Size(CM) | 21*14*3 |
| G.W(g) | 115 |
| Color | Black, White |
| Interface type |  USB3.0*4 |
| port | 4 |
4port usb3.0 hub Features:
.Turns a single USB port into 4ports USB 3.0
.4ports Usb 3.0 with super speed 5Gbps
.Power status with LEDs design
.With a fuse to protect all devices, more safety to use
.Features with DC 5Vpower jack
.Compatible with USB2.0 specification
.Works seamlessly with all your USB 3.0 and USB 2.0 devices
.Automatic self-power status monitoring
.Lowers power consumption for longer battery life
Packaging & Delivery
Packaging Details
USB 3.0 4 Ports Hub Speed 5Gbps for PC laptop with on/off switch black and White
Unit in neutral blister packing:21*14*3cm
100pcs/CTN; G.W:12KG
Carton size:62.5*43*29.5cm
Delivery Time: 5-7days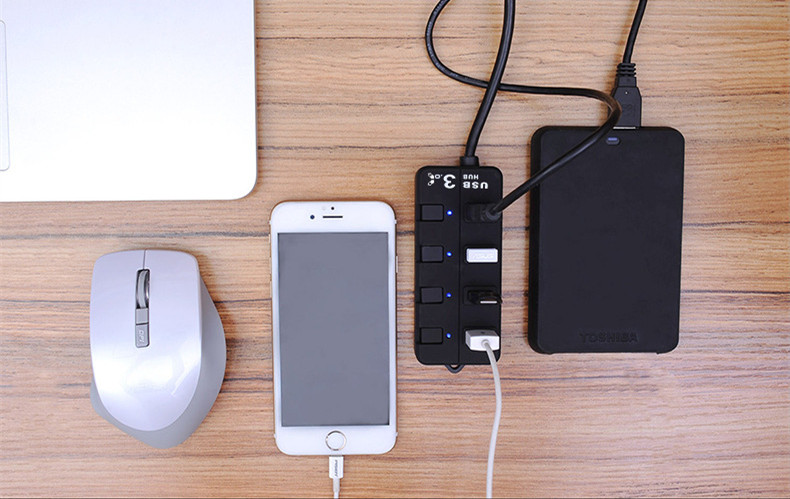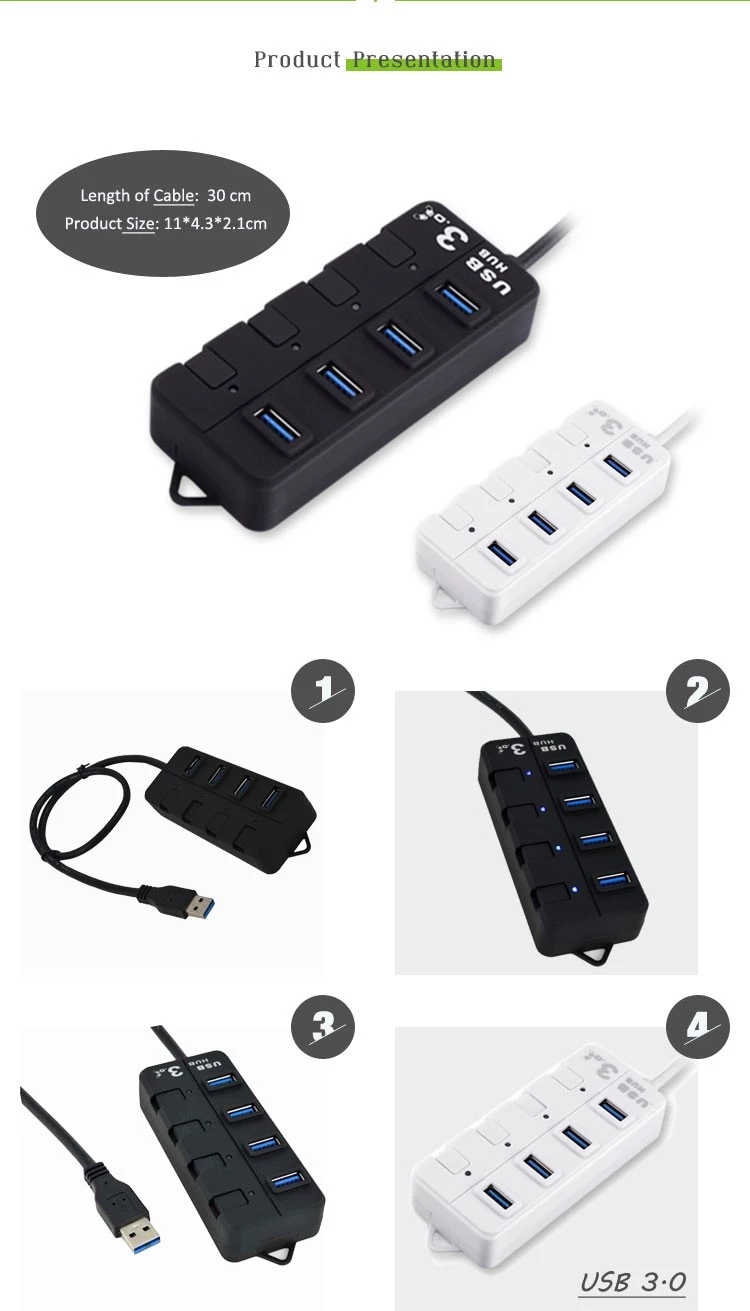 Q1. What is the 4-Port USB C to USB 3.0 Standard A Hub, and how can it enhance my device's connectivity?
The 4-Port USB C to USB 3.0 Standard A Hub is a cutting-edge hub adapter designed to expand the connectivity options of your devices. With USB-C compatibility and four USB 3.0 standard A ports, this hub lets you connect multiple peripherals and accessories to your MacBook, Huawei Matebook, and other USB-C-enabled devices simultaneously. It simplifies your digital life by offering a versatile and efficient way to transfer data, charge devices, and power up various USB devices.
Q2. How does the 4-Port USB C to USB 3.0 Hub ensure seamless data transfer and device charging?
Each of the four USB 3.0 ports on this hub delivers high-speed data transfer rates, allowing you to transfer large files and multimedia content in seconds. Moreover, these ports are also backward compatible with USB 2.0 devices, ensuring seamless connectivity with your existing gadgets.
Additionally, each port's individual LED power switches offer the convenience of turning off specific ports when not in use. This helps save power and optimizes the performance of your connected devices, making it an energy-efficient solution.
Q3. Is the 4-Port USB C to USB 3.0 Hub compatible with my MacBook and Huawei Matebook?
Absolutely! The 4 Port USB C to USB 3.0 Hub is designed to be universally compatible with USB-C-enabled devices, including MacBook, Huawei Matebook, and other laptops or tablets that support USB-C connectivity. It ensures seamless and reliable integration with your devices, expanding their capabilities and functionality.
Q4. Is the hub lightweight and portable for easy travel?
Certainly! This USB hub is sleek and compact, making it highly portable and travel-friendly. Its lightweight construction allows you to carry it effortlessly in your bag or pocket, making it an essential travel accessory for users on the move.
Q5. How does the individual LED power switch benefit users?
The individual LED power switches allow users to control each port independently. You can turn off ports that are not in use to conserve power and manage connected devices efficiently. This feature enhances user convenience and ensures a hassle-free experience with the hub.
In conclusion, the 4-Port USB C to USB 3.0 Standard A Hub is the perfect companion for your MacBook, Huawei Matebook, and other USB-C devices, allowing you to expand connectivity, transfer data, and charge devices effortlessly. With its individual LED power switches, lightweight design, and high-speed USB 3.0 performance, this hub provides a reliable and user-friendly solution for your everyday tech needs. Embrace the power of seamless connectivity and experience the convenience of this top-quality USB hub!