Description
Pull-Out Humidifier with LED Night Light, Portable Mini Humidifier, Humidifiers for Bedroom, Cool Mist Humidifier for Babies, Top Fill Ultrasonic Air Humidifier, USB Personal Desktop Home Car Air Humidifier Portable Desktop Purifier For Dry Skin Home Bedroom Diffuser Ultrasonic Cool Mist LED Mini Usb Car Air Humidifier  Creative Gift Ultrasonic Cool Air Humidifier Mist
| | |
| --- | --- |
| Item | Air Home Humidifier |
| Certificate | CE, ROHS, FCC, design patent |
| Material | ABS+PP+silicone |
| Tank capacity | 200ML |
| Voltage | 5V |
| Power | 2W |
| Mist output | 30-40 ml/h |
| Working current | 200-400mAh |
| Using time | 5hrs (mode 1), 8hrs (mode 2) |
| Package size | 14*8*8cm |
| Product weight | 0.25kg |
Product Detail:
Ultra-quiet;
Water tank adjustable;
7 changeable LED night lights;
Steps of using:
The noise of humidifier purifier is less than 36dB, which will not bother you when resting;
The home humidifier is operated by one button;
Short press once to turn on the mist humidifier;
Short press twice to change to another spraying mode;
Short press three times to turn off the humidifier machine;
Long press once to turn on the LED light;
Long press twice to fix the colour you like;
Long press three times to turn off the light;
Creative Gift Ultrasonic Cool Air Humidifier Mist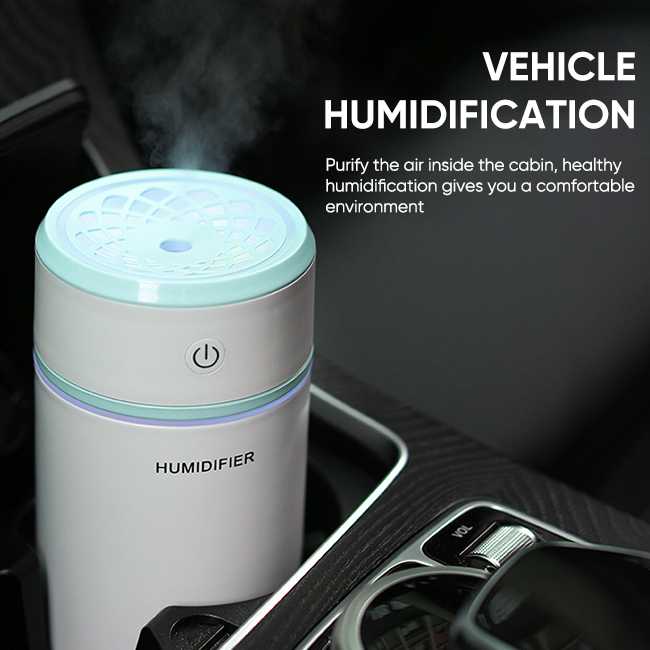 Introducing our innovative Pull-Out Humidifier with LED Night Light, a perfect companion to enhance the air quality in your living spaces while adding a soothing ambience to your surroundings.
Q1. What makes this humidifier stand out from others?
Our Pull-Out Humidifier boasts a unique pull-out design, making refilling and cleaning a breeze. With its top-fill feature, you can conveniently add water without disassembling the unit, ensuring a hassle-free user experience.
Q2. How does the LED night light feature work?
The built-in LED night light provides a gentle and calming glow, creating a relaxing atmosphere for your bedroom or any space needing serenity. You can choose from various colours and brightness levels to suit your preferences.
Q3. Is this humidifier suitable for bedroom use?
Absolutely! Our Humidifier for Bedroom is designed to promote better sleep and overall well-being. The whisper-quiet operation ensures a peaceful environment for adults and babies, allowing you to wake up refreshed.
Q4. Can this cool mist humidifier be used for babies?
Yes, it can! The Cool Mist Humidifier for Babies offers your little ones a safe and comfortable environment. The gentle mist helps alleviate dry skin and congestion, creating a nurturing space for your baby's well-being.
Q5. How does ultrasonic technology work in this humidifier?
The Top Fill Ultrasonic Air Humidifier utilizes advanced ultrasonic technology to break down water into fine mist particles dispersed into the air for optimal humidity. This technology ensures quiet and efficient operation.
Q6. Is this humidifier portable for on-the-go use?
Absolutely! Our USB Personal Desktop Home Car Air Humidifier is designed to be portable. Powered by USB, it can be used in various settings, such as your home, office, car, and even during travel.
Q7. Does this humidifier act as an air purifier too?
While the Portable Desktop Purifier doesn't function primarily as an air purifier, it helps improve air quality by adding moisture to dry indoor environments. Humidification can benefit your skin, respiratory system, and overall comfort.
Q8. Can this humidifier be used in dry climates?
This Ultrasonic Cool Mist LED Mini USB Car Air Humidifier is particularly beneficial in dry climates. It can help combat dryness caused by low humidity levels, relieving dry skin, irritated throat, and dry nasal passages.
Transform your living spaces into a cosy oasis with our Pull-Out Humidifier with LED Night Light. Experience the soothing benefits of cool mist and the calming glow of the LED night light. Elevate your comfort and order yours today!