Description
Private Design 1080P Full HD External Webcam  for Laptop PC Computer Camera With Built-in HD Microphone Light Correction USB Camera For Zoom  Live Video Office Work
What are the benefits of choosing the Private Design 1080P Full HD External Webcam ?
[Full HD 1080P webcam]
Using 1080p FHD two-channel MP CMOS, the webcam generates exceptionally clear video with a resolution of 1920 x 1080 at 30fps. The 3.6 mm glass lens provides clear images at a fixed distance and is optimized for the range of 19.6 inches to 13 feet, making it ideal for indoor use.
[USB webcam with privacy protection cover]
When the webcam is not in use, the privacy protection cover will block the lens. It is perfect for helping anyone from individuals to large companies to provide security and peace of mind. It also helps protect the lens from dust and debris to ensure that your video stays clear for the life of the camera.
[Built-in noise reduction microphone]
The built-in noise reduction microphone can reduce environmental noise and improve video sound quality. Very suitable for Zoom / Facetime / video call / OBS / Twitch / Facebook / YouTube / meeting / game / streaming / recording / online school.
[Plug and Play]
The fixed focal length lens shoots high-definition video with an ultra-wide angle of up to 110 degrees, which is very suitable for presentations. The convenient foldable design allows you to easily take it anywhere. Just plug it in and you can start using it! The mounting clip can be placed on any monitor/laptop/smart TV/tripod/or any flat surface.
[Wide compatibility]
Compatible with USB 2.0, no additional drivers are required. It can be used on any compatible device in about a minute or less. Compatible with Mac OS X 10.7 and higher / Windows 7, 8, &10 / Android 4.0 or higher / Linux 2.6.24 / Chrome OS 29.0.1547 / Ubuntu 10.04 or higher.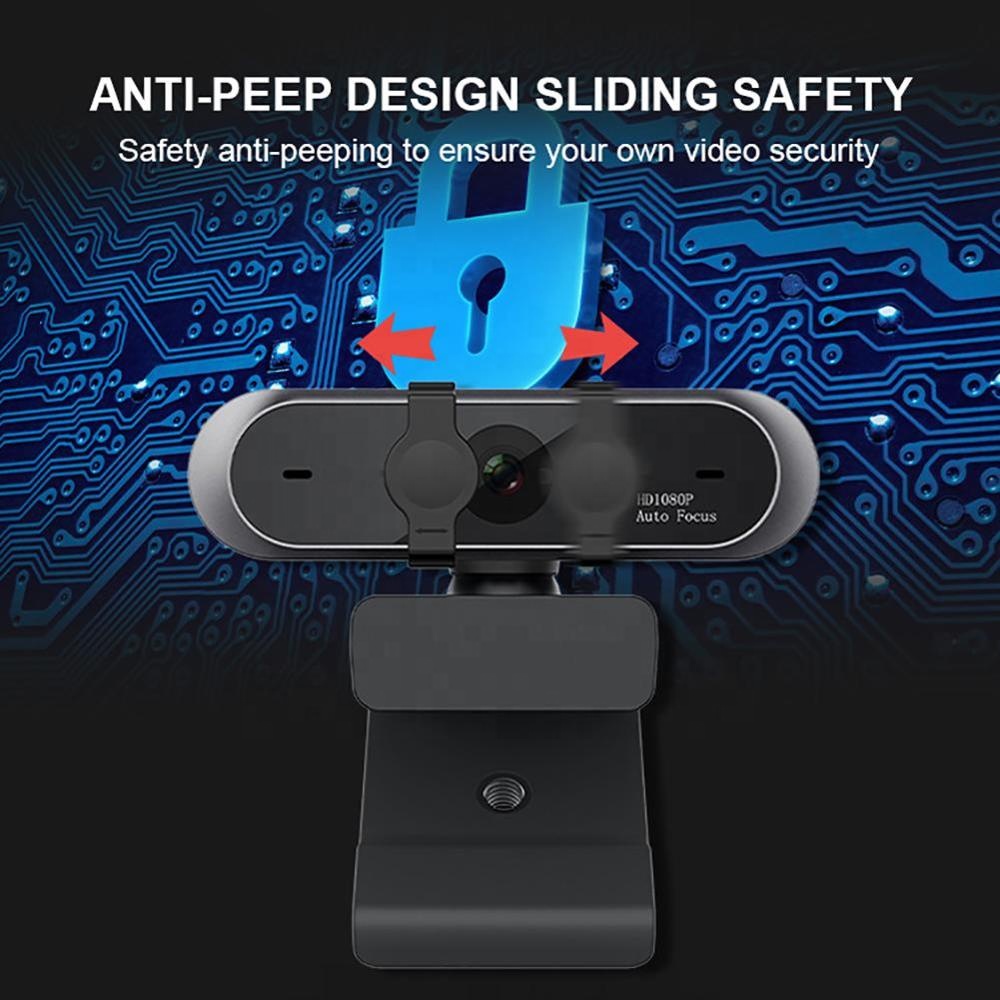 Highlights
Built-in microphone, your voice can be heard clearly in 10 meters.
Great quality and exquisite appearance.
The head can be rotated freely up and down 45 degrees, and the angle can be easily adjusted.
Specialized optical lens, high precision.
Designed for both laptop and desktop.
Auto white balance, auto color correction.
Manual adjustable focal length.
Supports Windows 2000 / XP / window7 / win8 / window10 / Vista 32-bit etc. Support CC2000, web conferencing, ICQ, MSN, Yahoo
Messenger and Skype
WebCamera with HD Microphone 1080P HD Auto-focusing 360 degrees Webcam