Description
4 in 1 Travel Mug with QI Fast Charger/Wireless Charging Station Wireless Charger Mug Heating Cup Warmer Constant Temperature
Feature:
– 2-in-1 coffee cup, a warming cup, and a wireless charger function.
– Non-traditional heating method, resistance to safety, durable insulation.
– Constant temperature design at 55°C, ready to drink a warm drink, healthy and safe.
– The lid is made of wheat straw bio-based polymer material, non-slip and wear-resistant, environmentally friendly.
– The best gift for your friend or family, even your lover, to cheer her on a birthday, Valentine's Day, anniversary days, etc.
Specification:
– Power input: 12V/2A
– Power output: 5V/2A MAX
– Heating output: 15W
– Transmission distance: ≤ 6mm
– Charging efficiency: ≤ 80%
– Base size: 11*0.6cm/4.33*0.24inch(D*T)
– Cable length: 100cm/3.3ft
– Cup capacity: 350ml
– Constant temperature: 55°
– Cup size: 8.3*8.3*8.7cm/3.27*3.27*3.43inch(Upper.D*Bottom.D*H)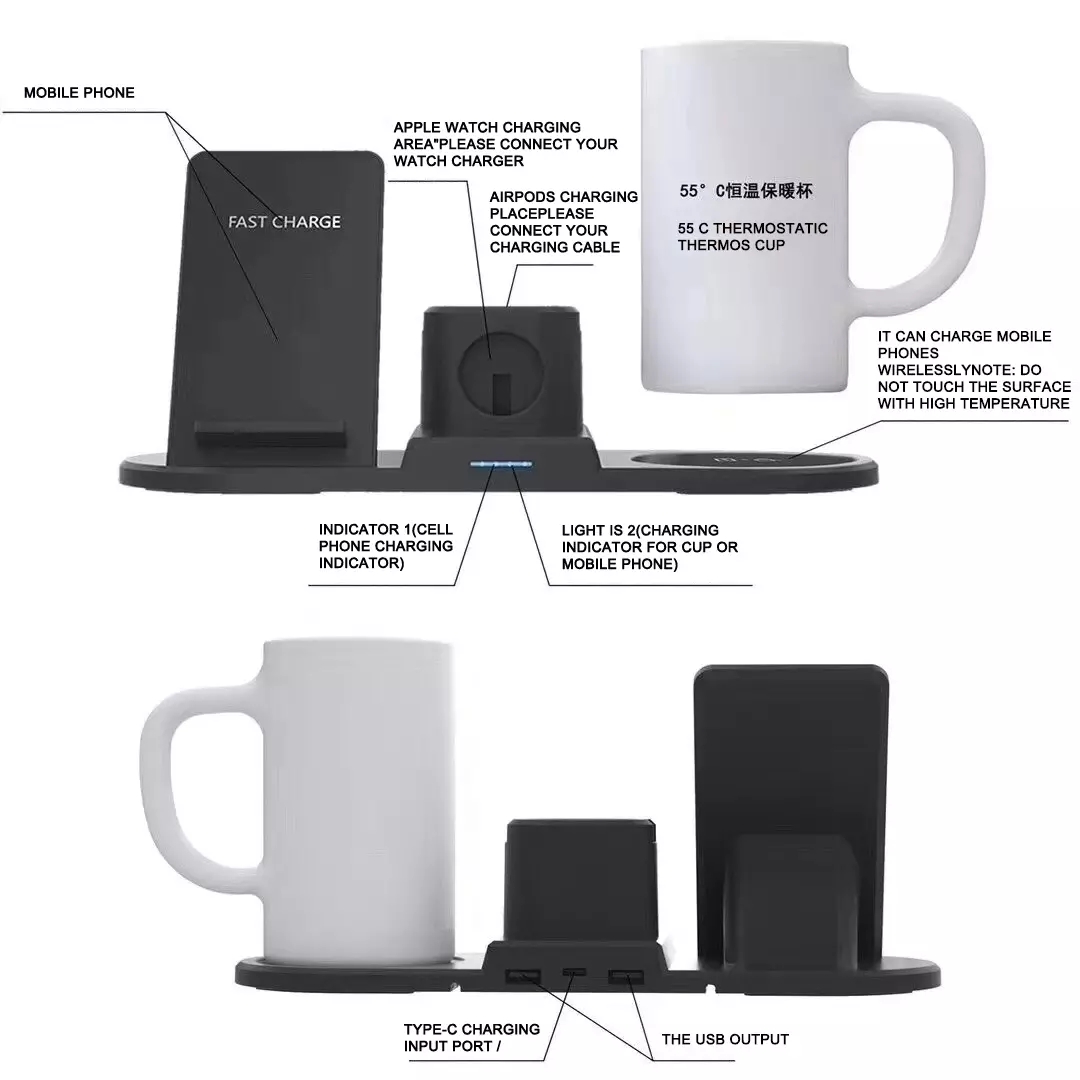 Introduction: Welcome to our 4 in 1 Travel Mug, a revolutionary product designed to enhance your daily life and keep your beverages at the perfect temperature while providing wireless charging capabilities for your devices. Whether you're a busy professional, a travel enthusiast, or simply someone who appreciates convenience and functionality, this travel mug is tailored to meet your needs. Let's explore the features and benefits of this innovative product that combines the joy of sipping your favorite drink with the ease of wireless charging.
1. What is the 4-in-1 Travel Mug with QI Fast Charger/Wireless Charging Station? The 4 in 1 Travel Mug is a versatile, portable solution combining four essential functions into a single device. It is a travel mug, a QI fast wireless charger, a wireless charging station, and a heating cup warmer with constant temperature control.
2. What are the Key Features? a. Travel Mug Functionality: This travel mug is designed to keep your hot beverages warm and your cold beverages refreshing during your daily commute.
b. QI Fast Wireless Charger: Say goodbye to messy cables and enjoy the convenience of wireless charging for your compatible devices. The built-in QI fast wireless charger ensures efficient charging on the go.
c. Wireless Charging Station: This mug can charge your devices wirelessly and doubles as a wireless charging station when connected to a power source, allowing you to charge multiple devices simultaneously.
d. Heating Cup Warmer: With a built-in heating element and constant temperature control, the travel mug can keep your drinks at the perfect temperature, providing a delightful sipping experience.
3. How to Use the 4-in-1 Travel Mug? Using the 4-in-1 Travel Mug is straightforward. Fill the mug with your favorite hot or cold beverage, secure the lid, and start your journey. The mug's wireless charging function can be activated by placing your compatible device on the charging surface. The heating cup warmer function can be controlled by a simple touch, allowing you to enjoy your drink at your preferred temperature.
4. Who is the Travel Mug for? This travel mug is ideal for:
On-the-go professionals who want to enjoy their beverages while keeping their devices charged.
Travel enthusiasts who require a multi-functional mug for their journeys.
Anyone who values convenience, versatility, and high-quality craftsmanship in their daily essentials.
Conclusion: Embrace the convenience of our 4 in 1 Travel Mug with QI Fast Charger/Wireless Charging Station. This travel companion is more than just a mug; it's a portable charging station, a wireless charger, and a heating cup warmer all rolled into one. Perfect for individuals who lead an active lifestyle, this travel mug ensures your drinks stay at the perfect temperature while providing seamless wireless charging for your devices. Elevate your daily experiences with this innovative 4 in 1 Travel Mug and enjoy a delightful blend of practicality and style wherever you go.