Description
Kids Karaoke Microphone for Children, Kids Microphone with Bluetooth Speaker, Wireless Karaoke Microphone, Karaoke Singing Machine Toy for Adult Home Party Music Singing Playing, Christmas Birthday Gifts for Girl Toys
Playing mode:

Blue tooth / TF card / Aux in

Speaker output:

40mm 4Ω, 3W & 5W

Blue tooth version:

V 5.0

Frequency Response:

2.4-2.48GHZ

Receive sensitivety(TYP):

 -90db

Signal-to-Noise Ratio:

≥80dB

Distortion:

≤5%

Frequency response:

120Hz-18KHz

Charging Voltage:

5V/1A

Power Bank Output:

5V/2A

Charge Time:

≤3 hours

Playing Time

6 – 8 hours (60% volume)

Battery capacity:

1200mah

Bluetooth distance:

≤10 meters

Colour:

Gold / Silver / Black/blue/ red /pink/purple

Product size:

Φ80*245mm

Net weight:

330g
Features:
1. Especially designed for singing fans. It is microphone-shaped, which looks novel and elegant. Our product supports listening to music, practising singing, and recording songs. You can adjust the microphone's volume by pressing the buttons on the speaker. 
2. Compatible with most singing apps on your phone.
3. Smart noise reduction. The high-density net can filter electromagnetic interference, making your sound clear without noise.
4. HIFI sound quality. The speaker gives you a stereo subwoofer with powerful sound effects. Letting you enjoy the music.
5. Large battery capacity. Built-in 1200 mAh Li-battery enables you to sing anytime and anywhere. You don't need to worry about power; the speaker supports 6-8 hours of play with 60% volume.
6. Three playing mode shifting. Our product supports TF Card playing and automatically reads the audio format. Also, it can connect your phone by or with an AUX line.
7. High quality. We use ABS and UV processes as our material. It is sturdy and has a long life span.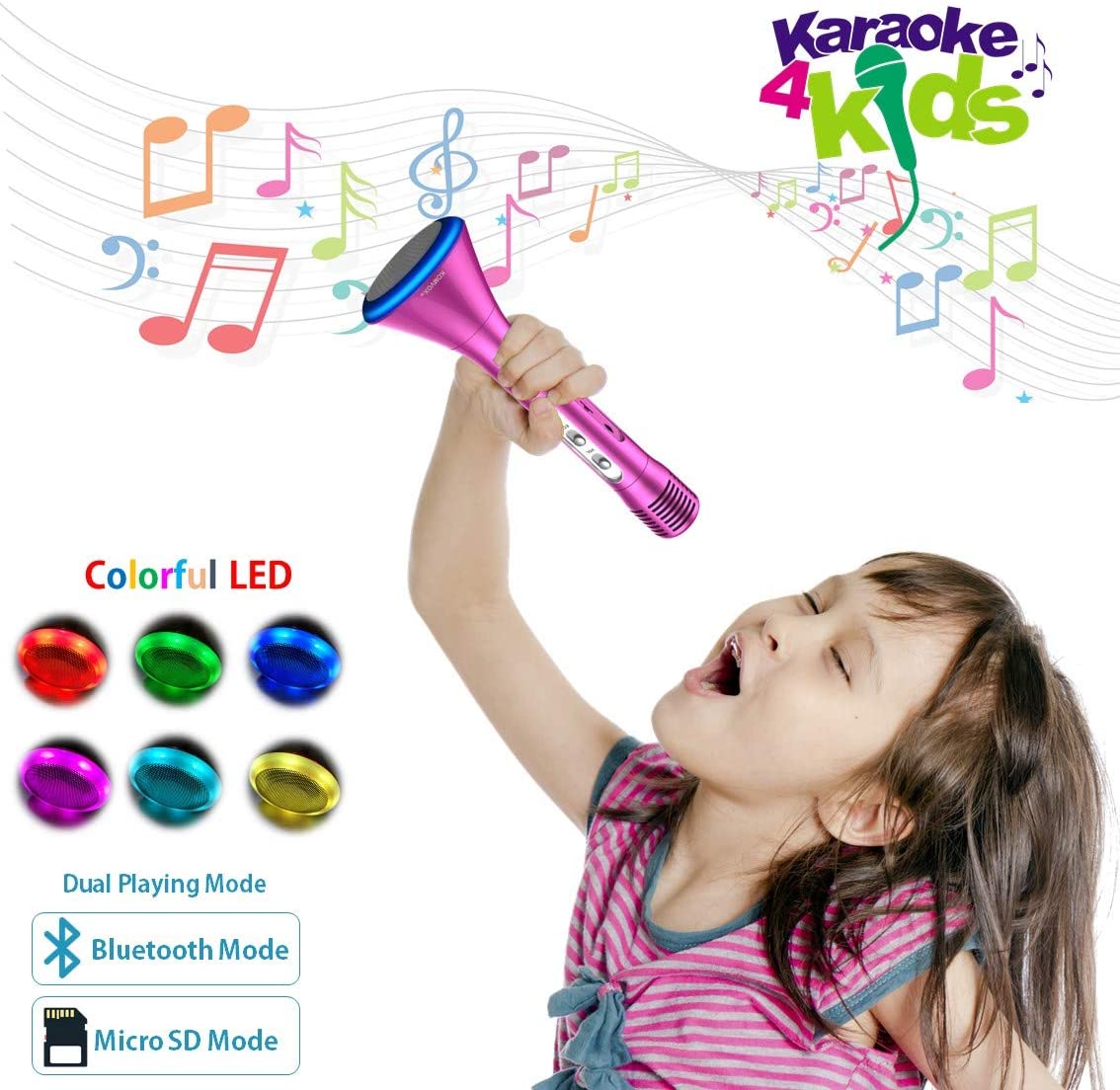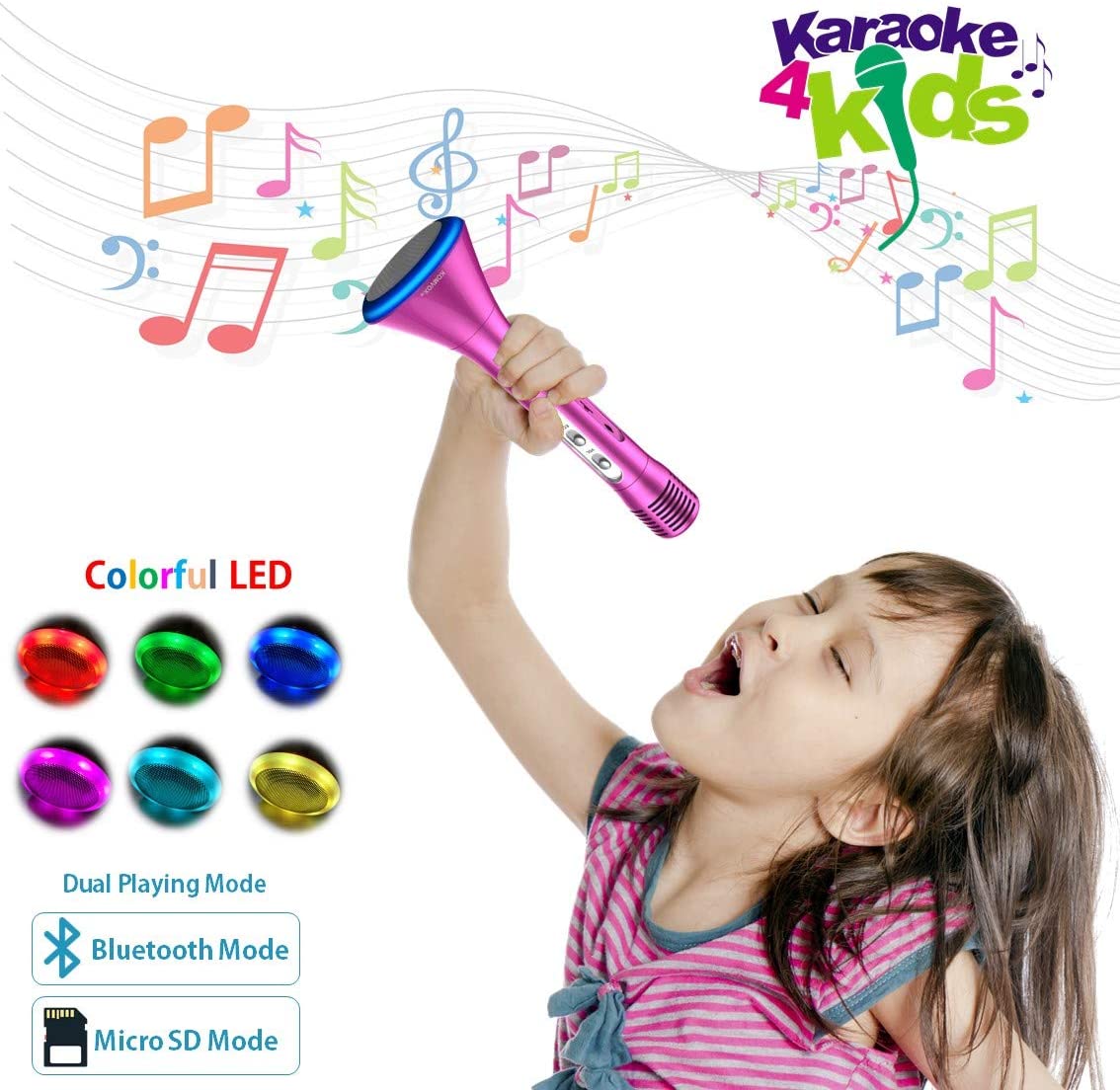 Introducing our Kids Karaoke Microphone, the perfect musical toy to ignite your child's passion for singing and music. This interactive microphone has a built-in Bluetooth speaker, enabling wireless connectivity to your favourite songs. It's a wonderful Karaoke Singing Machine Toy that will bring endless joy and entertainment to kids and adults alike. Make your child's Christmas or birthday special with this delightful gift that encourages creativity and musical expression.
Q1. What is the Kids Karaoke Microphone, and how does it work?
Our Kids Karaoke Microphone is a fun and engaging toy that allows children to sing along to their favourite songs while holding a microphone. It features a built-in Bluetooth speaker connected to a compatible device, such as a smartphone or tablet, to play music wirelessly.
Q2. Can adults also use this Karaoke Microphone for home parties?
Absolutely! The Kids Karaoke Microphone is not just for kids. Adults can join in the fun and use it for home parties or gatherings to create a lively and enjoyable atmosphere.
Q3. Does the microphone require any special setup or installation?
No, it's incredibly easy to use. Simply turn on the microphone, pair it with a Bluetooth-enabled device, play your favourite songs, and start singing!
Q4. Can the Kids Karaoke Microphone be used without a Bluetooth connection?
Yes, the microphone can also be used without Bluetooth by the built-in speaker to amplify the user's voice.
Q5. Is it a suitable gift for Christmas or birthdays?
Absolutely! Our Kids Karaoke Microphone makes an ideal gift for Christmas or birthdays, providing hours of entertainment and fostering a love for music and performance.
Q6. Is it safe for children to use?
Yes, the Kids Karaoke Microphone is designed with safety in mind. It is made from child-friendly materials and meets all safety standards.
Q7. Does the microphone require batteries?
Yes, the Kids Karaoke Microphone is powered by rechargeable batteries for convenience and portability.
Q8. Can kids use the microphone for solo performances or duets?
Certainly! Kids can enjoy solo performances or invite friends and family for delightful duets.
Q9. How does this toy promote creativity in children?
The Kids Karaoke Microphone encourages children to express themselves creatively through singing and music, boosting their confidence and self-expression.
Q10. Is the Kid's Karaoke Microphone suitable for group play?
Absolutely! The microphone is perfect for group play, fostering cooperation and creativity among children during playtime.
Unleash the musical star in your child with our Kids Karaoke Microphone. Let their voices soar as they sing along to their favourite tunes and create cherished memories with family and friends. Whether it's a Christmas gathering, a birthday party, or a fun-filled afternoon, this Karaoke Singing Machine Toy will highlight every musical adventure. Encourage their love for music, enhance their creativity, and make their special occasions even more memorable with this delightful gift.