Description
High lumen 3200-5600K 160led lamp Photographic Lighting led video light camera photo light 160 LED Video Camera Light Lamp for Canon Nikon 
Product Description
Specification:
Brand new version WanSen W160-LED light, used for wedding shooting, small studio video shooting and other video light supplies.
WanSen W160 LED light use a rubber cover casing; it feels very good.
WanSen W160 LED light can take Sony F550, F570, F770, F970, and 5pcs AA batteries.
Using a dimmer to control the LED light intensity, the power also can be supplied by a video camera you use.
A metal body-built advanced hot shoe adapter for adjusting different angles you want.
This is the smart LED light but with high power of strong white light. Lower hot when using it.
Power: 12W
Illumination: 1280Lux
Colour Temperature: 5600K/3200K
Beam Angle: 60 Degrees
LED light size:132x85x56mm
Net Weight: 180g
Power supply: F550, F570, F770, F970, AA battery, DC power supply.
Holder: Strong metal body ball holder.
Bottom screw: 3/8'' screw
Package including:
1 x w160 video light
1 x white filter
1 x yellow filter
1 x User Manual
1 x camera hot shoe
Feature:
Features 160 LED lights for optimum illumination and diffuser.
Rotate the switch for on/ off and brightness step-less adjustment.
Matched with two filters (a white filter to soften the light; a yellow filter to reduce colour temperature), suitable for different environments.
Designed with the Standard hot shoe plug so that it can be installed on the DV or DSLR and DC with a standard hot shoe (Except for Sony).
One touch battery check with 4 level indicator: press the test button, 4-LED On means battery full, 1-LED On means battery low.
It can be used in video taking for light setup or supplement.
Compact design, high power, good durability, and low heat output.
Multiple Power Options (not included): for Panas*onic CGR-D16S;for Panas*onic D series (D08S, D16S, D28S, D54S); for So*ny NP-FH70, NP-FM55H, NP-F550; for So*ny FP series (FP50, FP70, FP90); FM series (FM50, FM55H, FM500H, QM71D, QM91D); F series (F550, F570, F770, F960, F970); FV series (FV50, FV70, FV90);  FH series (FH50, FH60, FH70, FH90, FH100) rechargeable battery and 6 * AA Battery.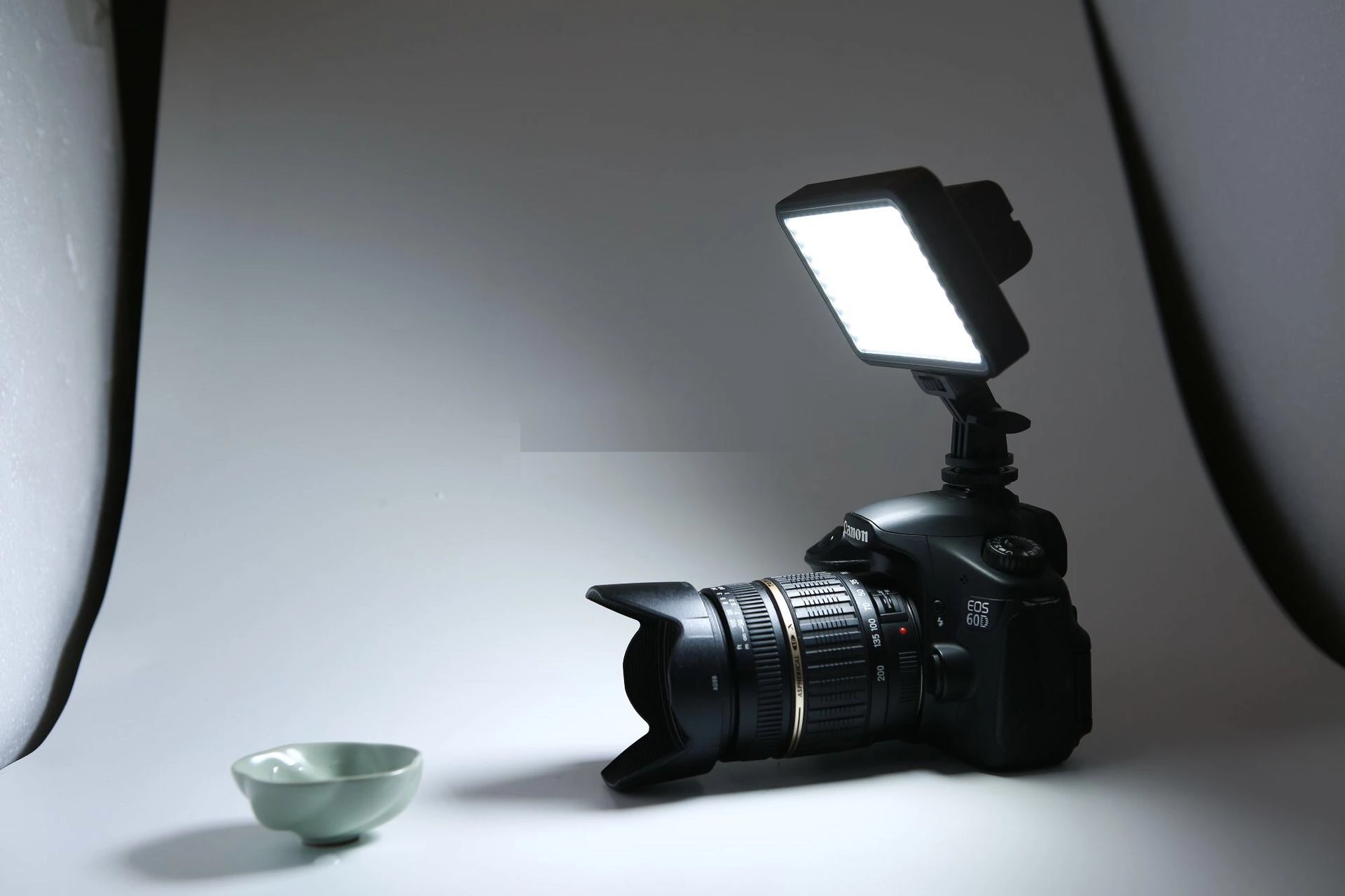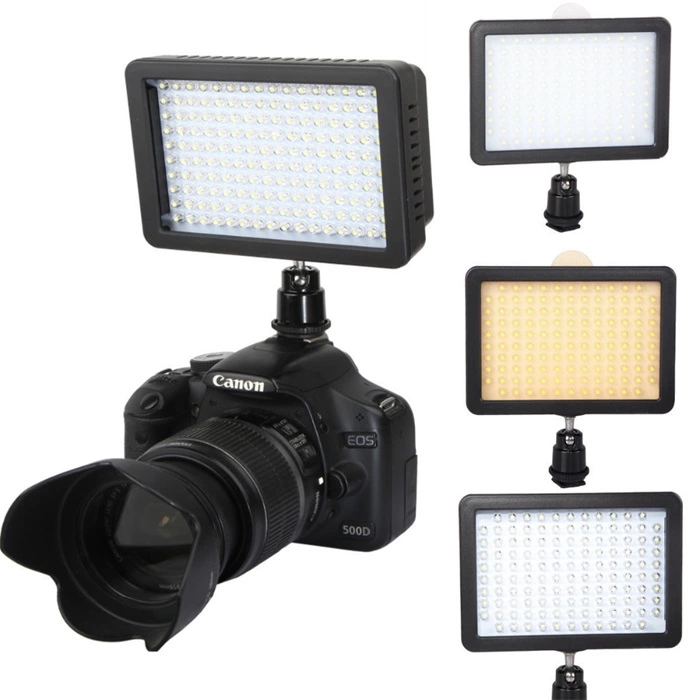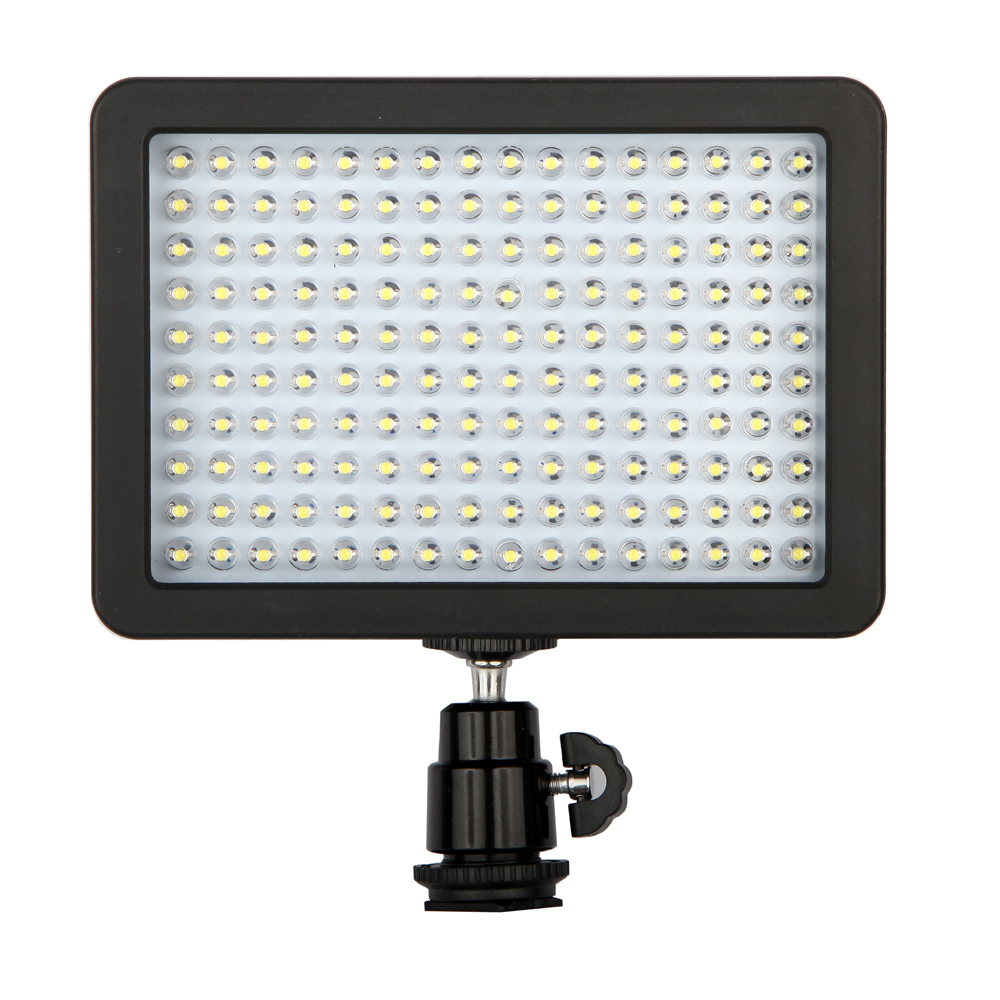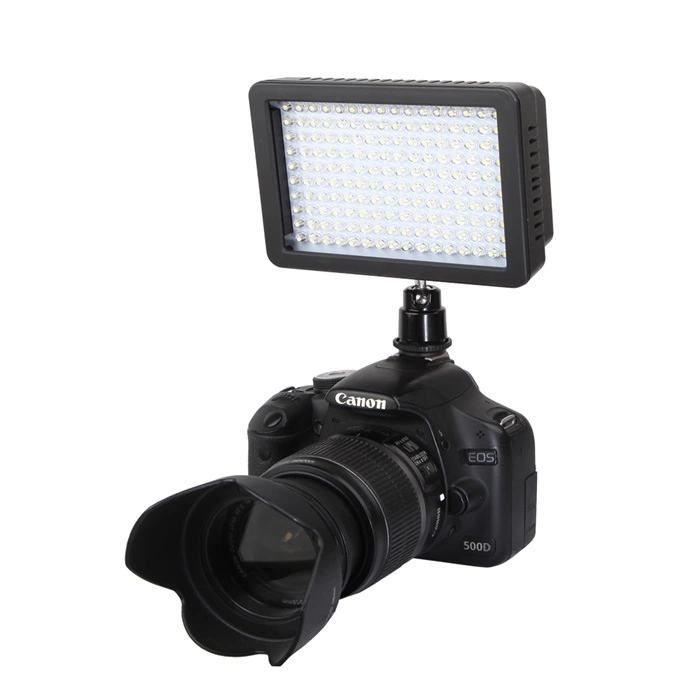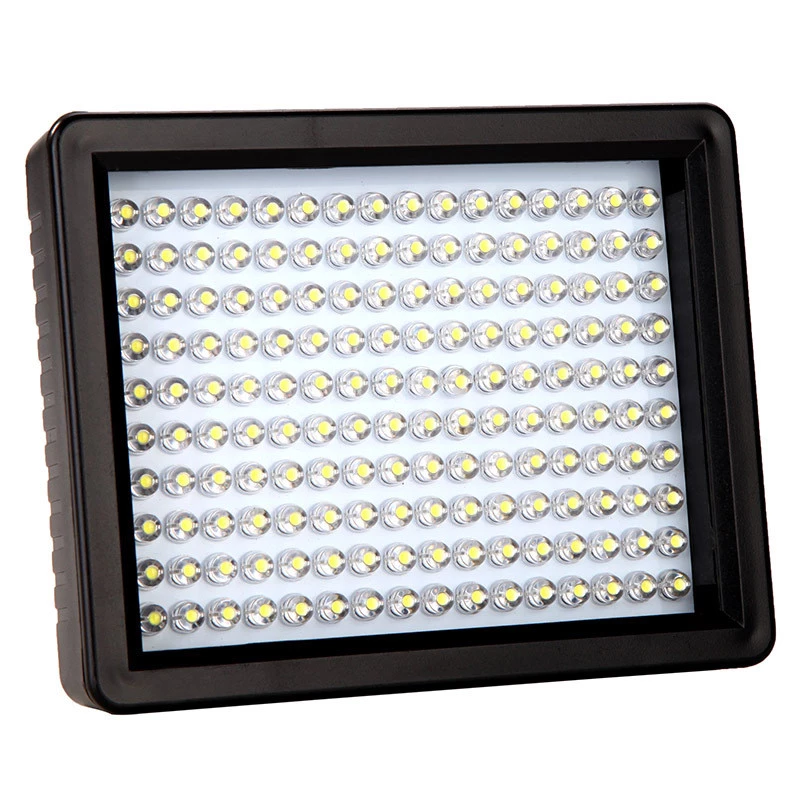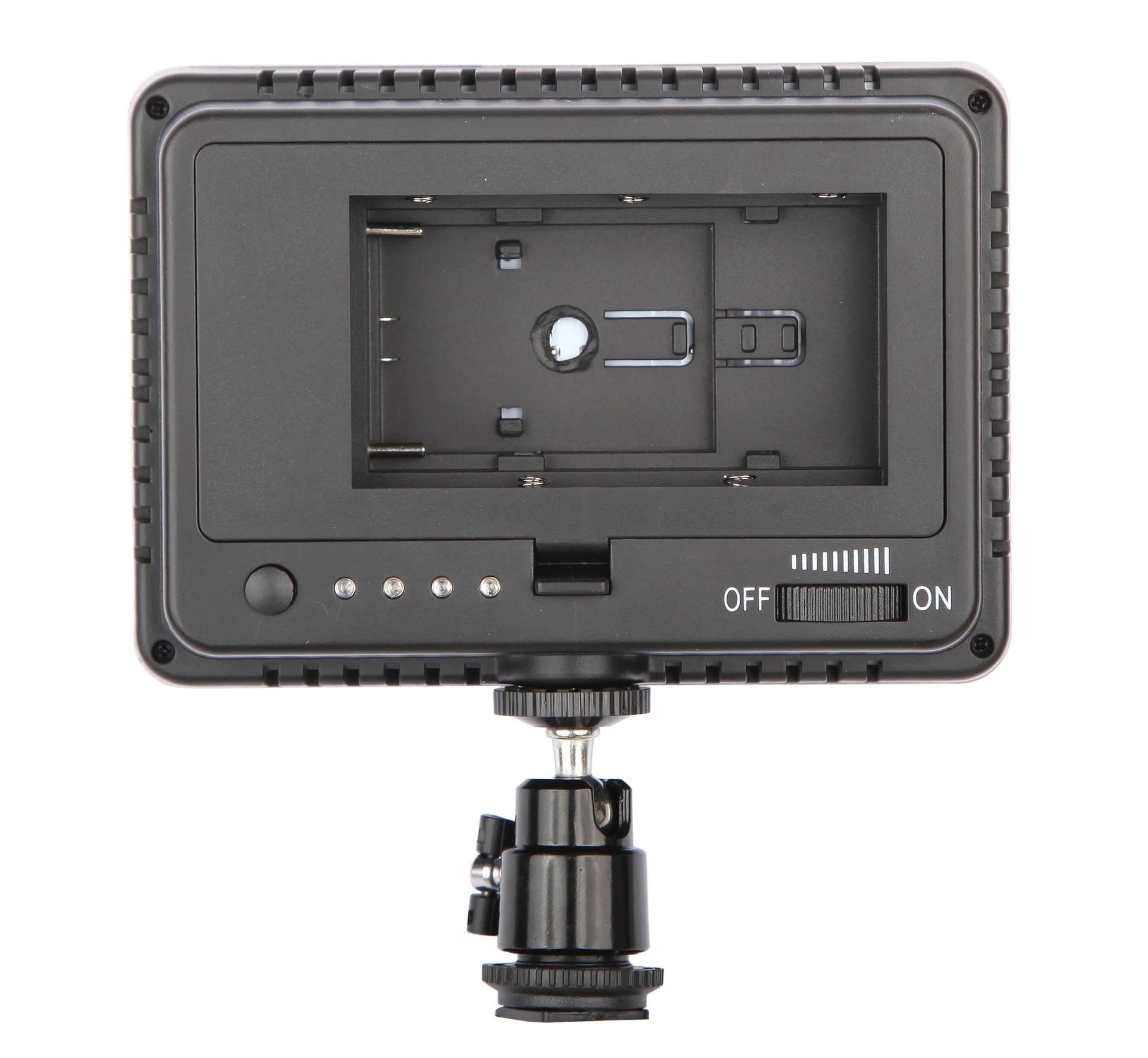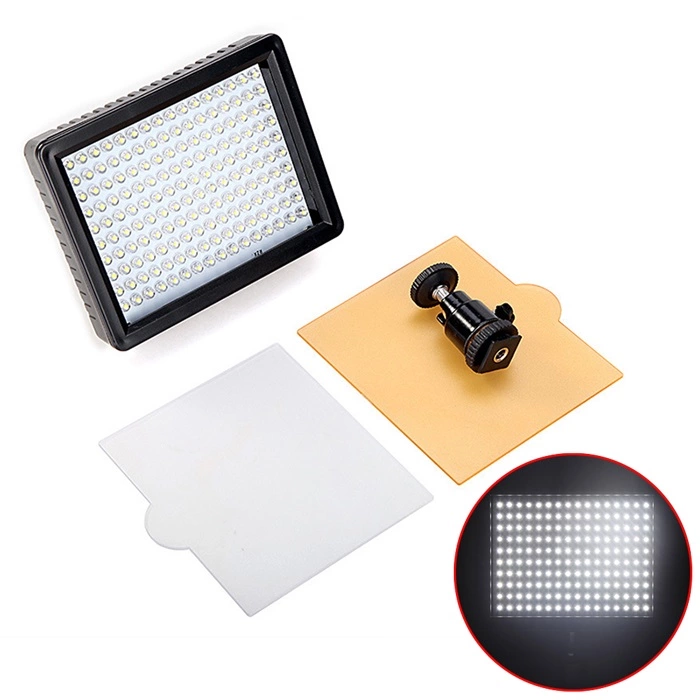 Q1. What is the High Lumen 160 LED Photographic Lighting, and how does it enhance my photography and video recording?
The High Lumen 160 LED Photographic Lighting is a cutting-edge lighting solution designed to elevate your photography and video recording to professional levels. With its high lumen output and adjustable colour temperature ranging from 3200K to 5600K, this LED video light provides exceptional brightness and versatility for various shooting conditions. Whether capturing stunning portraits or shooting captivating videos, this lighting device ensures that every detail is illuminated with precision and clarity.
Q2. How does the 160 LED Video Camera Light Lamp benefit my visual content creation?
The 160 LED Video Camera Light Lamp offers many benefits for visual content creation. It creates a well-balanced and natural lighting setup that minimizes shadows and highlights, resulting in a flawless and polished visual aesthetic. Whether you are a professional photographer or a content creator on social media, this LED video light helps you capture striking images and videos that truly stand out.
Q3. Is the Photographic Lighting compatible with Canon and Nikon cameras?
Absolutely! Photographic Lighting is compatible with many cameras, including popular brands like Canon and Nikon. Its versatile design allows seamless integration with DSLR, mirrorless, and camcorders, making it the perfect lighting companion for photographers and videographers of all levels.
Q4. How do I adjust the colour temperature of the LED Video Light?
Adjusting the colour temperature of the LED Video Light is effortless. The lighting device has intuitive controls that allow you to toggle between warm and cool lighting options. Simply use the control panel to select your desired colour temperature, ranging from warm and daylight to cool, and watch as your visual content transforms with the perfect lighting ambience.
Q5. Can the 160 LED Photographic Lighting be used for outdoor photography and video shooting?
Absolutely! The 160 LED Photographic Lighting is designed to be versatile and portable, making it suitable for both indoor and outdoor use. Whether conducting photo shoots in a studio setting or capturing outdoor scenes, this LED video light ensures consistent lighting quality and enhances your subjects even in challenging lighting conditions.
Q6. Does the High Lumen LED Video Light offer adjustable brightness levels?
Yes, it does! The High Lumen LED Video Light provides adjustable brightness levels, allowing you to customize the intensity of the lighting according to your creative vision. Whether you require a soft, subtle glow or a powerful, well-lit scene, this LED video light caters to your specific needs, ensuring your visual content is presented at its best.
Unlock the potential of your visual creativity with the High Lumen 160 LED Photographic Lighting. Elevate your photography and video recording with professional-grade lighting that transforms ordinary visuals into extraordinary masterpieces. Whether capturing professional portraits or shooting captivating videos, this LED video light is your key to brilliance and visual excellence.