Description
Desktop Mini Tripod Stand for Camera/Phone/Webcam, Universal Extendable Tripod Stand Compatible with Webcam /iPhone/Android/Camera, Phone Stand Holder for Vlogging, Live Streaming, Zoom Meeting
About this item
【Adjustable Height and Angle】The  tripod stand is designed with three adjustable height levels. You can extend the height from 3-13 inches. The tripod head ball joint allows 360-degree rotation and up to a 90-degree tilt.

【Stable and Durable】Made of highly-durable ABS plastic designed with non-slip rubber pads to ensure the tripod remains stable, this tripod offers maximum stability for your devices. It helps you to take stunning photos from anywhere.

【Compact and Lightweight】Weighing in at just 0.24 lb. with a foldable height of 6.4 inches, this tripod is easy to carry when travelling, hiking, or camping, allowing you to take photos of the whole family and capture those precious moments.

【1/4″ Extension Interface】The tripod uses a standard 1/4-inch mounting screw. This fits most digital cameras, DSLRs, GoPros, webcams, and camcorders. The smartphone clamp/clip with a 1/4-inch mounting hole is included; you can mount a smartphone or other device for multiple shooting needs.

【Inside the Box】Package includes: 1 x Tripod, 1 x Phone Holder, 1 x Rotation Platform. While durable, the tripod is not intended for overly heavy camera setups; please use caution when utilizing larger devices 
| | | | |
| --- | --- | --- | --- |
| Compatibility |  Webcams, Cameras, GoPros, camcorders, Phones, etc | Webcams, Cameras, GoPros, camcorders, etc |  Webcams, Cameras, GoPros, camcorders, etc |
| Adjustable | ✓ | ✓ | ✓ |
| Extend Height | 3-13 inches | 5-6.7 inches | 5-6.7 inches |
| Package Quantity | 1 Pack | 1 Pack | 2 Pack |
| Weight | 0.24 lb | 0.08 lb | 0.16 lb |
| Colour | Black | Silver | Silver |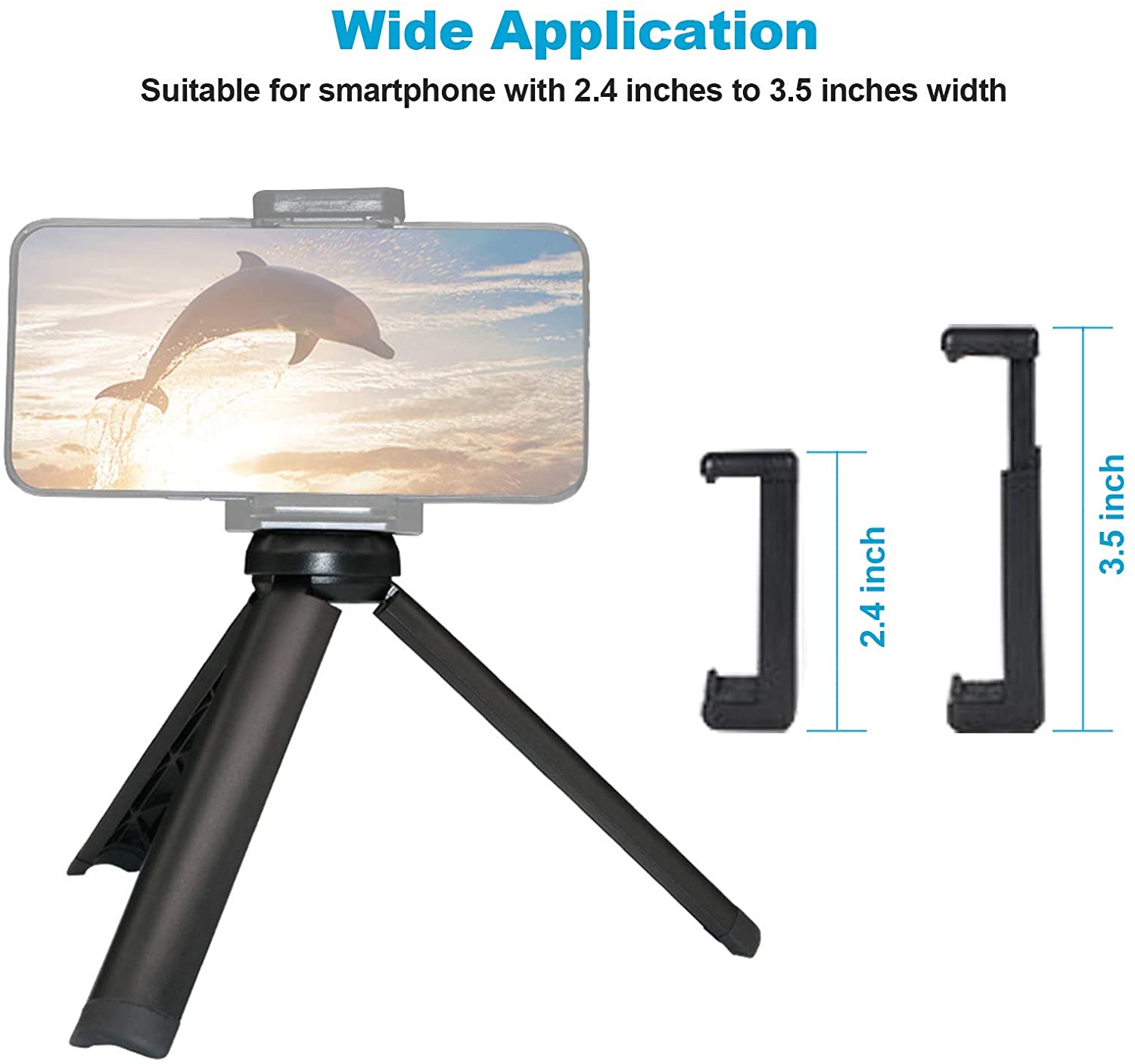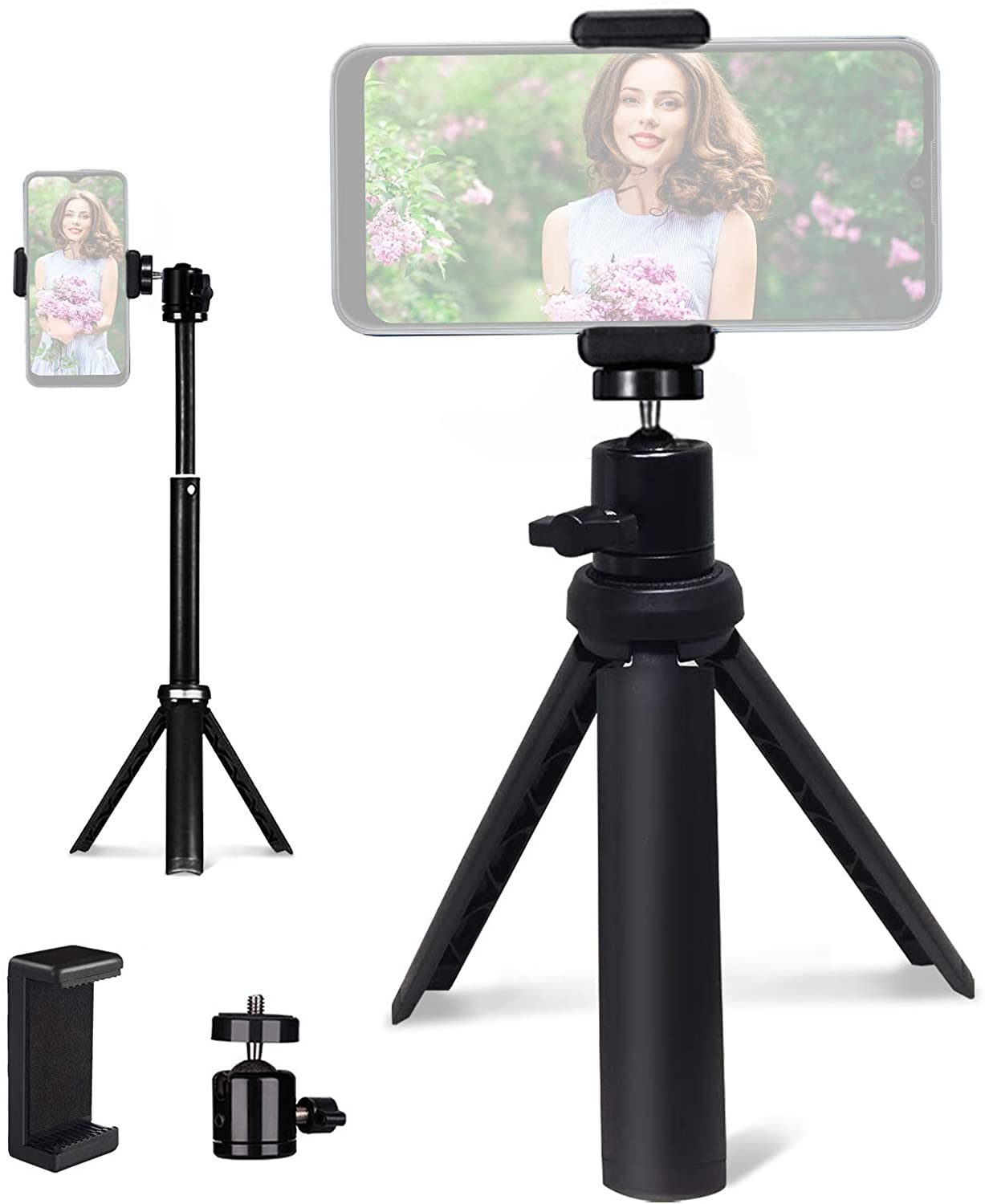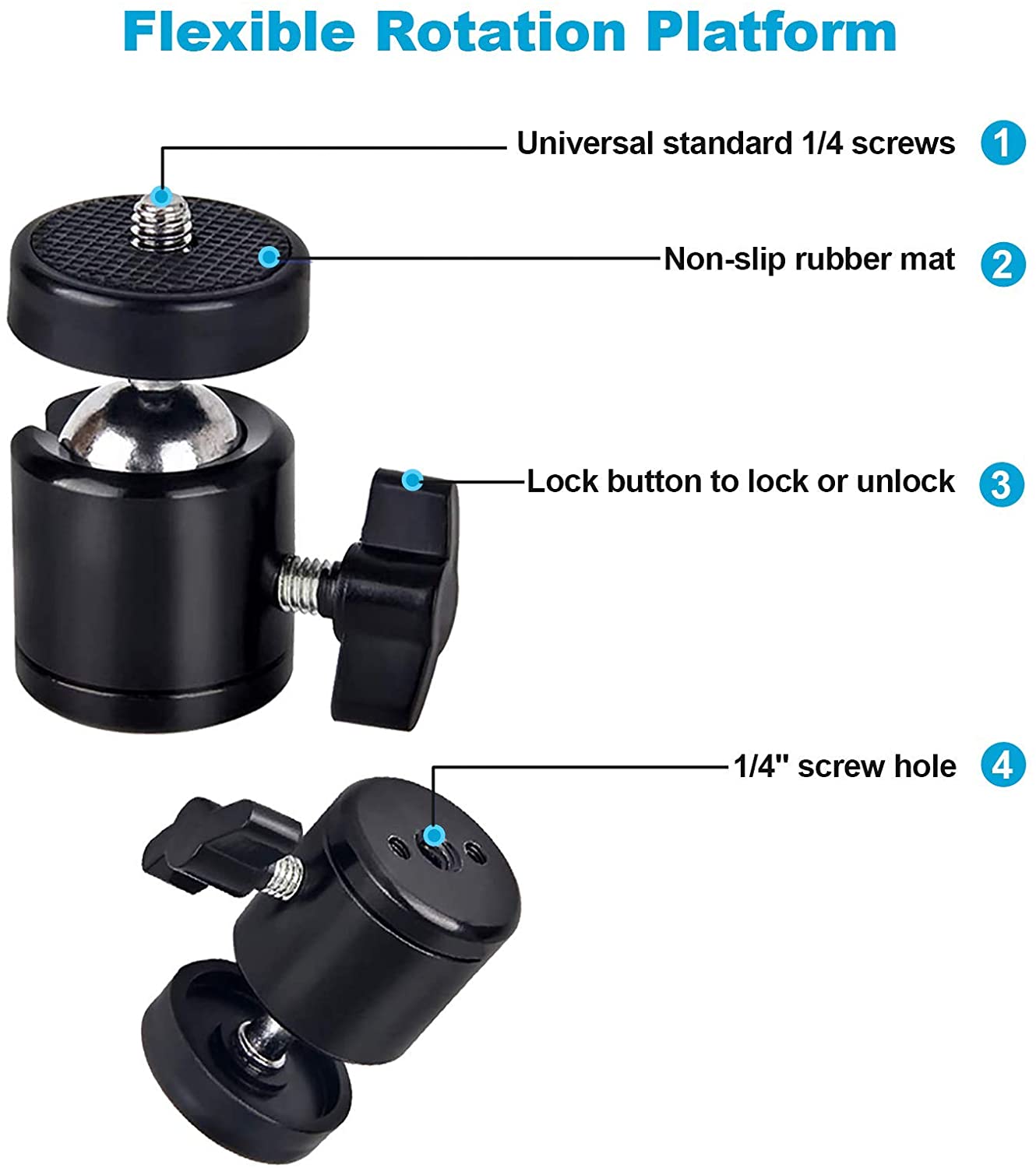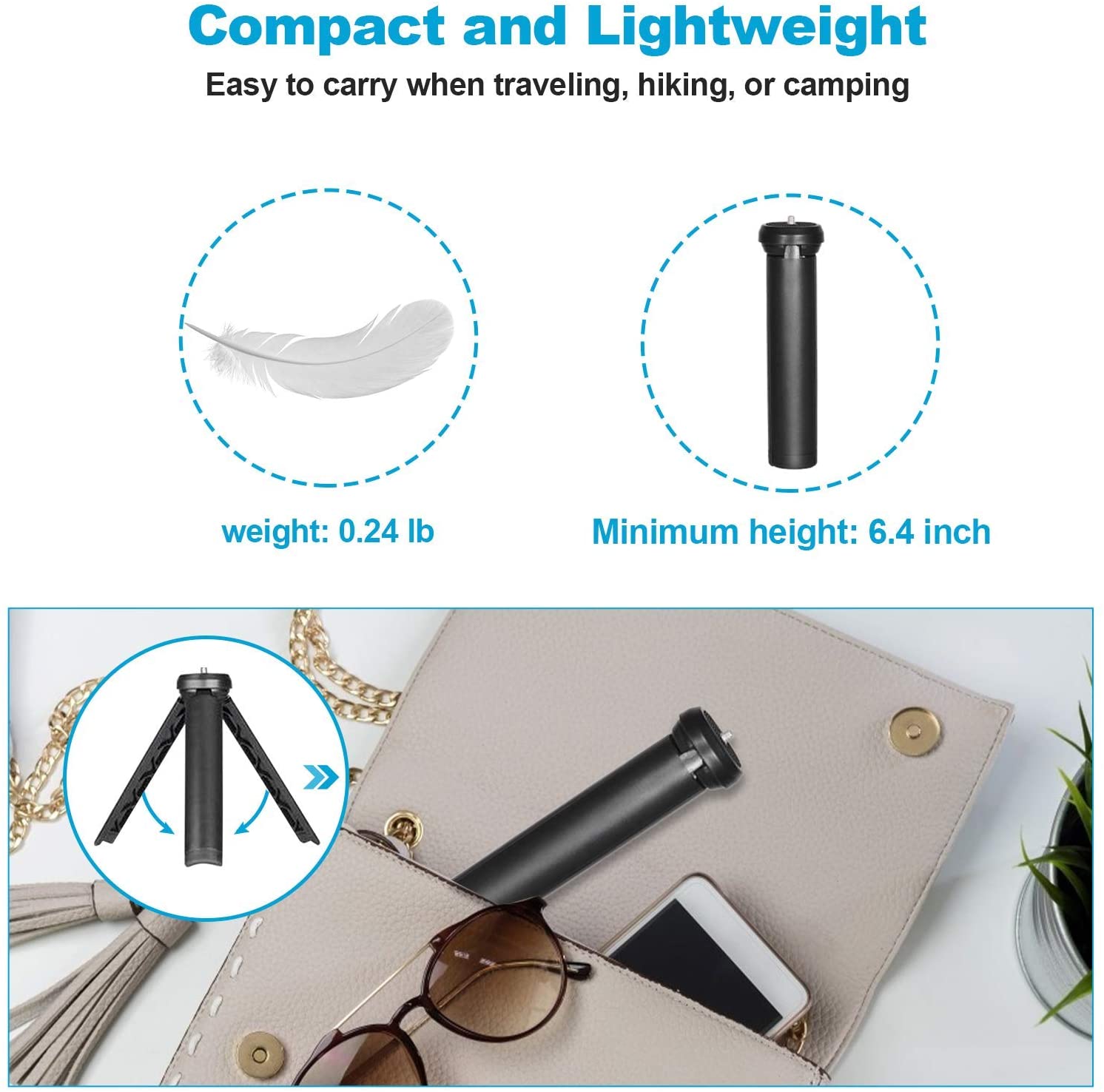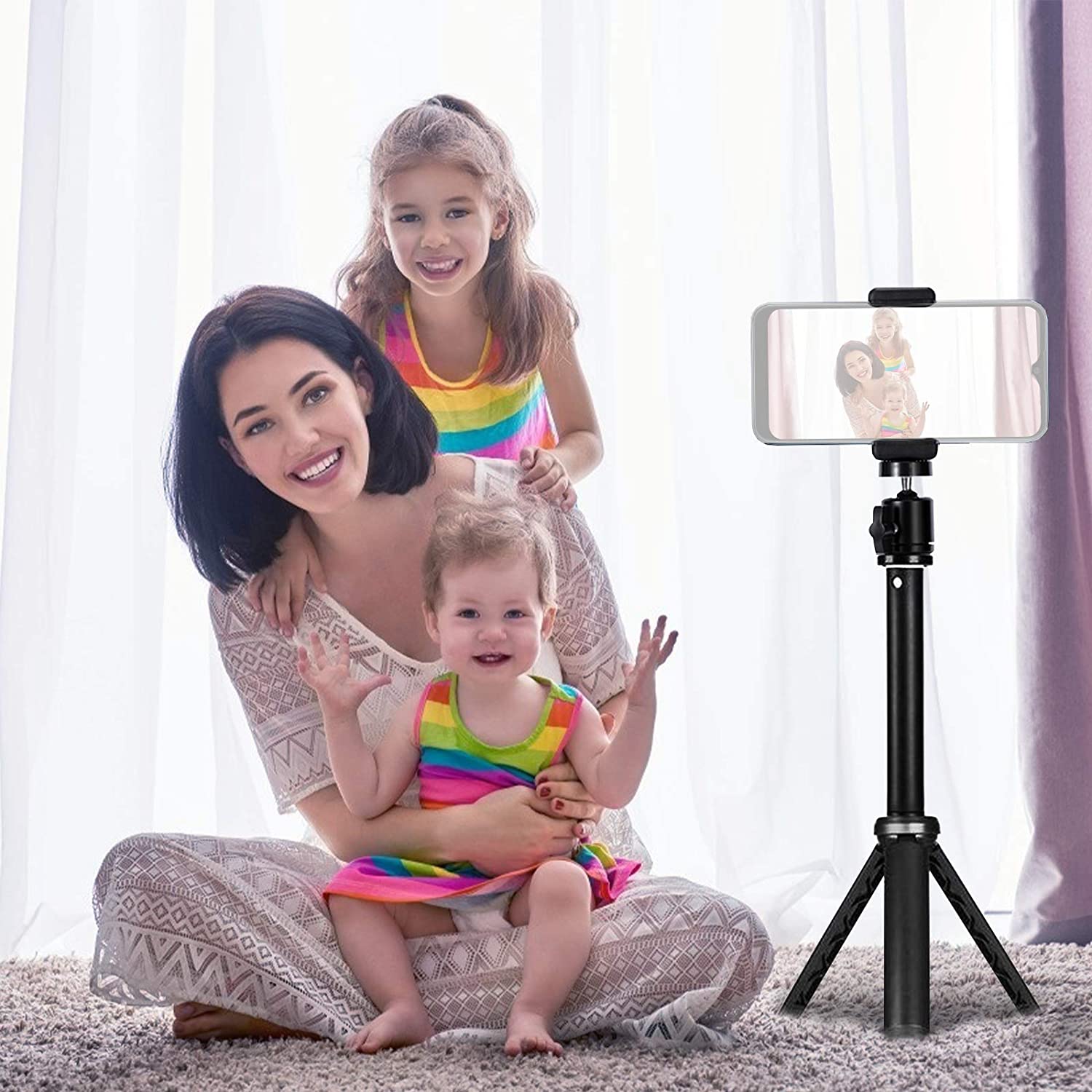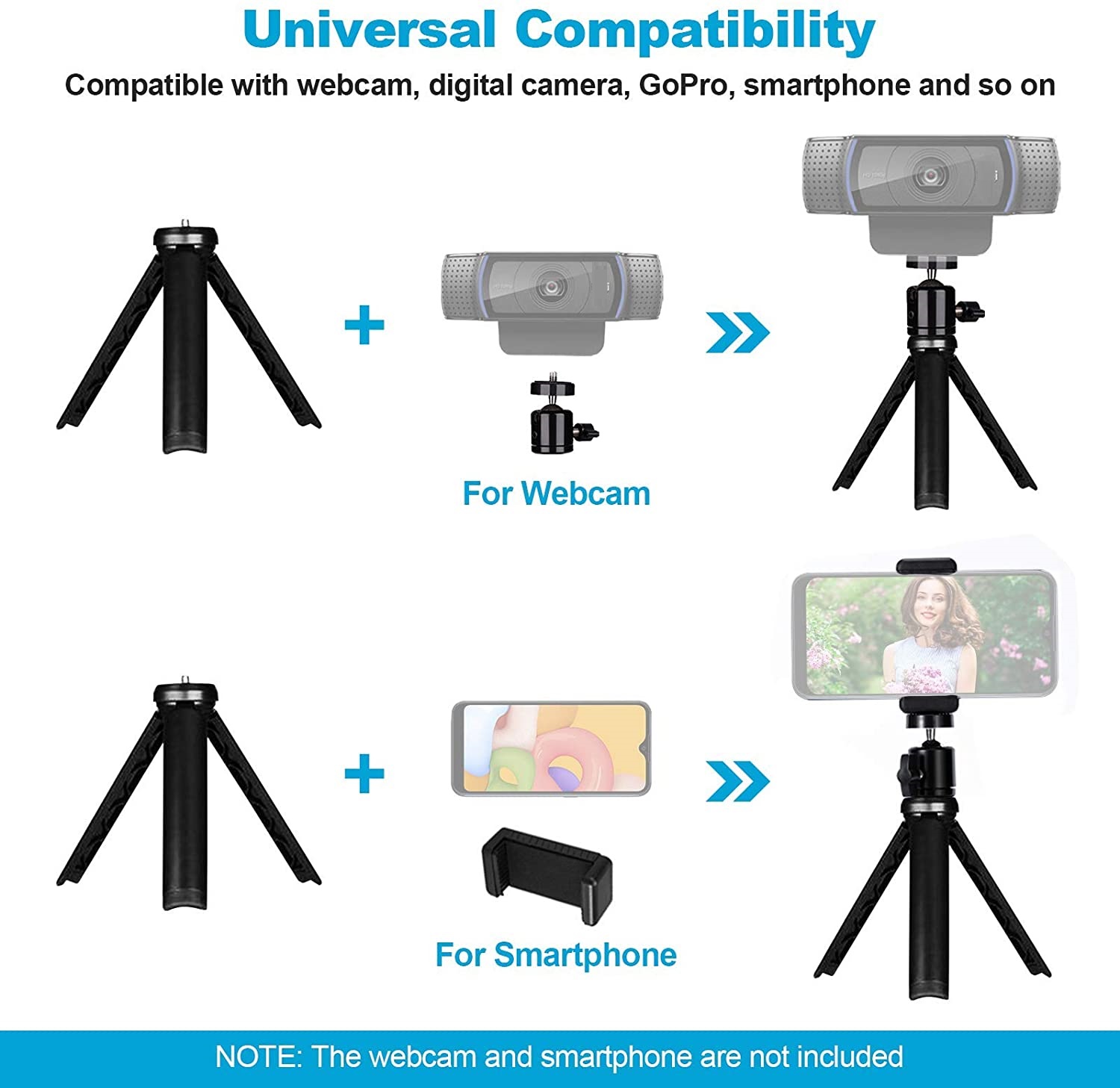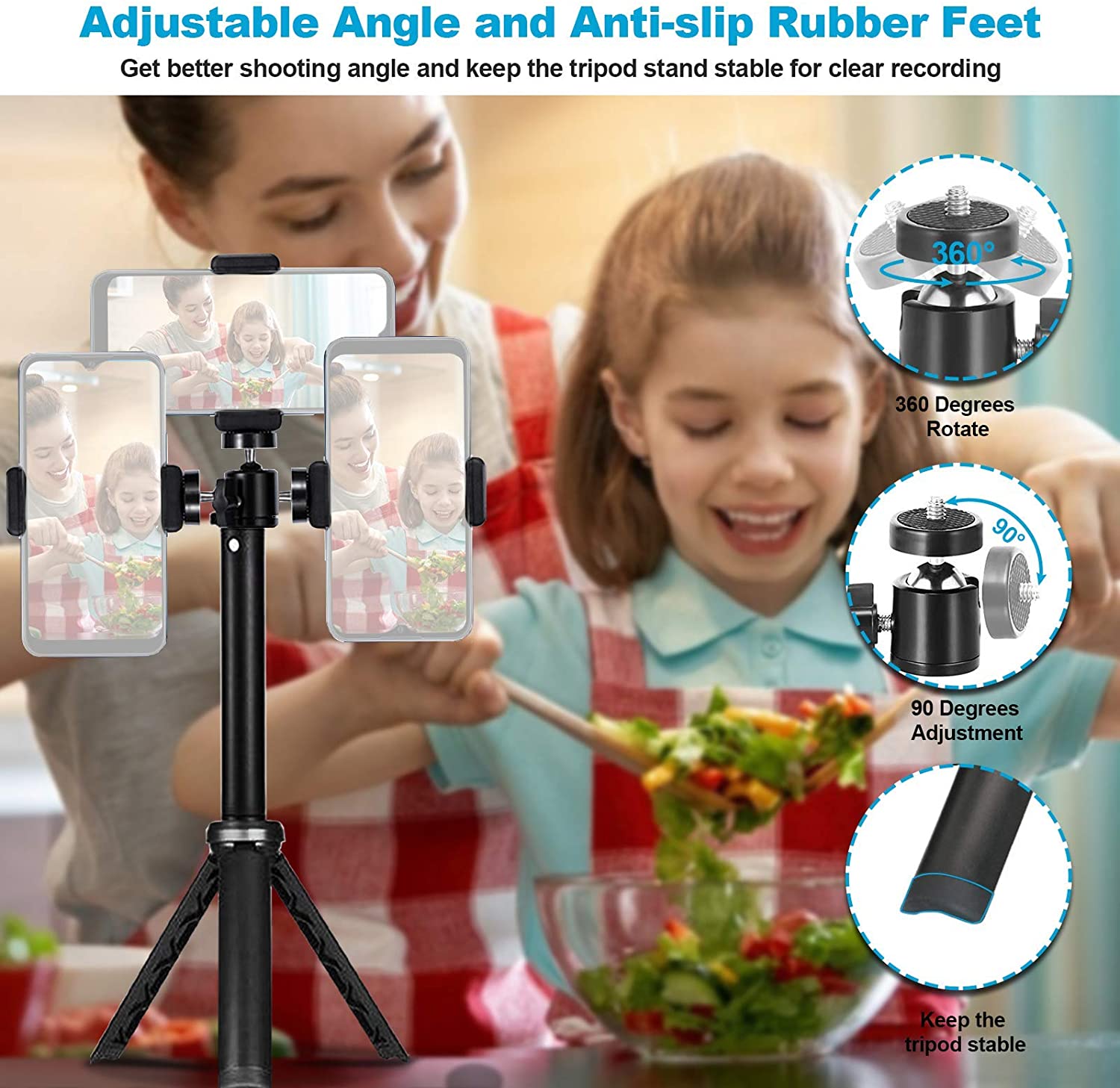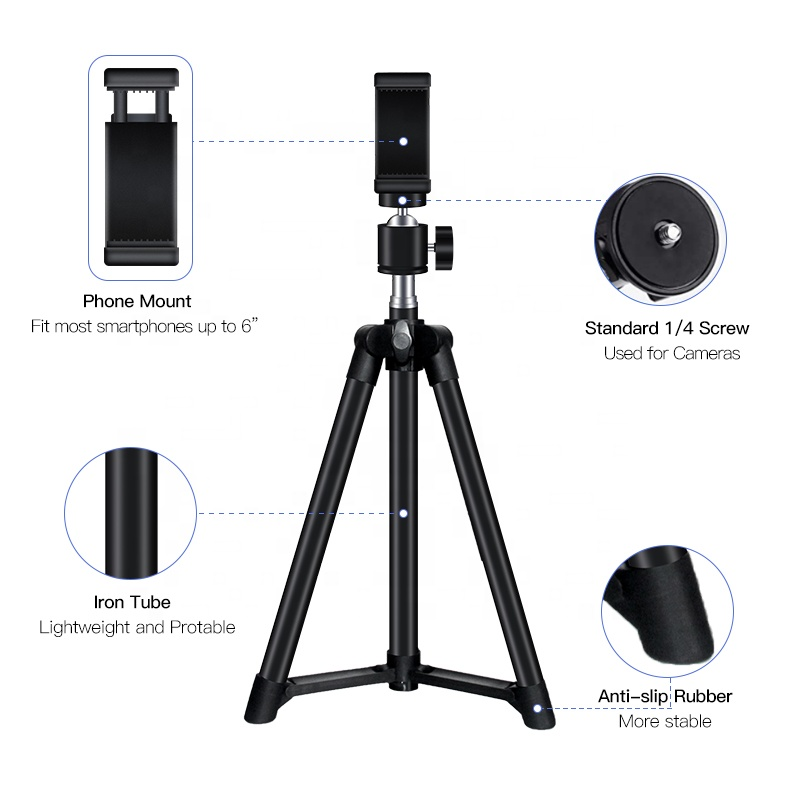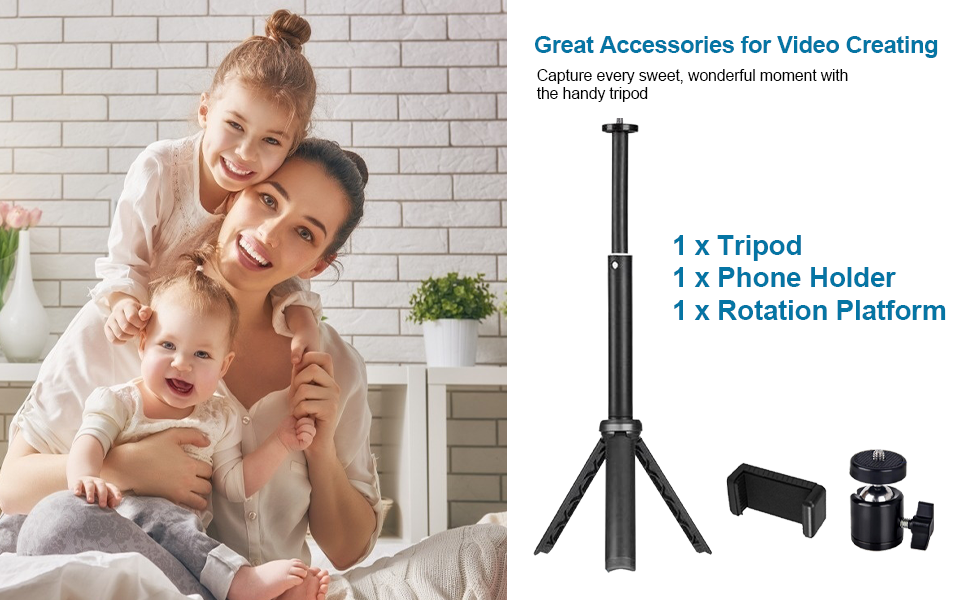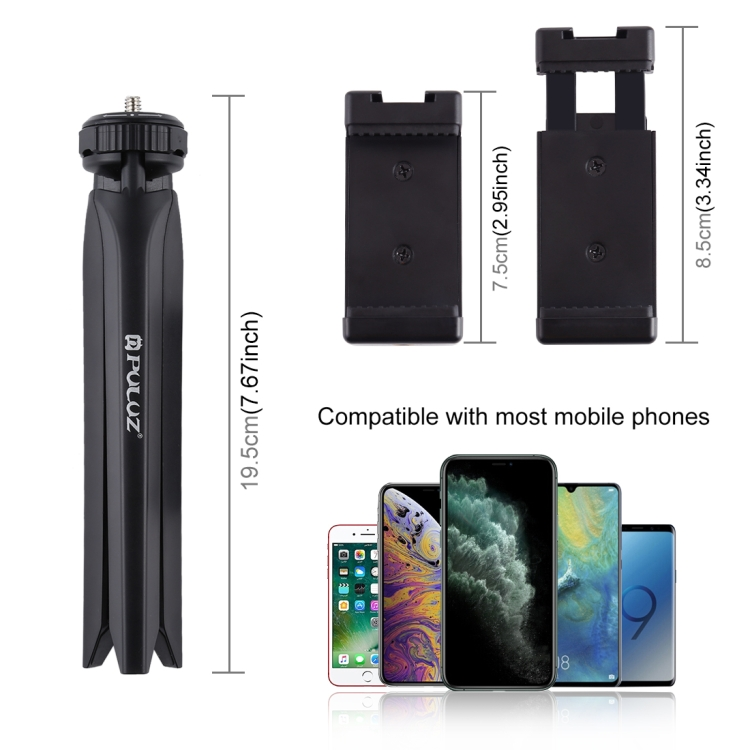 Welcome to our high-performance Desktop Mini Tripod! Whether you're a content creator, vlogger, or professional photographer, our tripod is designed to elevate your camera, phone, or webcam experience to new heights.
Q1. What makes our Desktop Mini Tripod stand out from the rest?
Our Desktop Mini Tripod offers a versatile, reliable solution for capturing steady, professional-quality shots. Its compact and portable design makes it perfect for on-the-go shooting, and its extendable legs ensure stability on any surface.
Q2. Can this tripod accommodate different devices?
Absolutely! Our Universal Extendable Tripod Stand is compatible with various devices, including webcams, iPhones, Android phones, and cameras. This flexibility makes it an essential accessory for all your multimedia needs.
Q3. How easy is it to set up and use this tripod?
Setting up our Desktop Mini Tripod is a breeze. With its user-friendly design, you can effortlessly extend the legs and adjust the height to your preferred angle. Plus, it has a secure phone holder to keep your device in place during shooting.
Q4. Is this tripod suitable for live streaming and online meetings?
Definitely! Our Phone Stand Holder for Vlogging, Live Streaming, and Zoom Meetings ensures a stable and hands-free experience, allowing you to focus on your content or interact seamlessly during online sessions.
Q5. Can I use this tripod for both landscape and portrait orientation?
Absolutely! Our Desktop Mini Tripod's adjustable phone holder allows you to switch between landscape and portrait mode effortlessly, providing greater creative freedom for your photos and videos.
Q6. How durable is this tripod?
Built with high-quality materials, our Universal Extendable Tripod Stand is designed to withstand frequent use and deliver long-lasting performance. Its sturdy construction ensures that your valuable devices are secure during operation.
Q7. Can I carry this tripod with me on my travels?
Absolutely! Our compact, lightweight Desktop Mini Tripod is perfect for travel photography and vlogging. It easily fits into your bag or backpack, so you can take it anywhere and capture stunning shots on the go.
Q8. Does this tripod come with a warranty?
Yes, we stand behind the quality and performance of our Desktop Mini Tripod. We offer a manufacturer's warranty to ensure your satisfaction and peace of mind.
Experience the convenience and stability of our Desktop Mini Tripod for Camera/Phone/Webcam. Elevate your content creation and capture unforgettable moments with ease. Embrace versatility and creativity with our reliable tripod today!