Description
Bluetooth Earbuds, Colorful Earphones Baggage Luggage Shape Charging Case, Trending Products True Wireless Stereo Earphones Headphones Touch Control with Charging Case for Girl Gits Sports Fitness Gym Office
Specification:
Features:
1)Power display
2)application: Andord/Apple/P
3)Clear MIC function & Dual call
4)voice& phone call
5)stereo surround sound
6)small & light, easy to store and carry
7)wireless & fast charging
8)ANC-auto noise cancelling
9)waterproof & durable use
10)auto pairing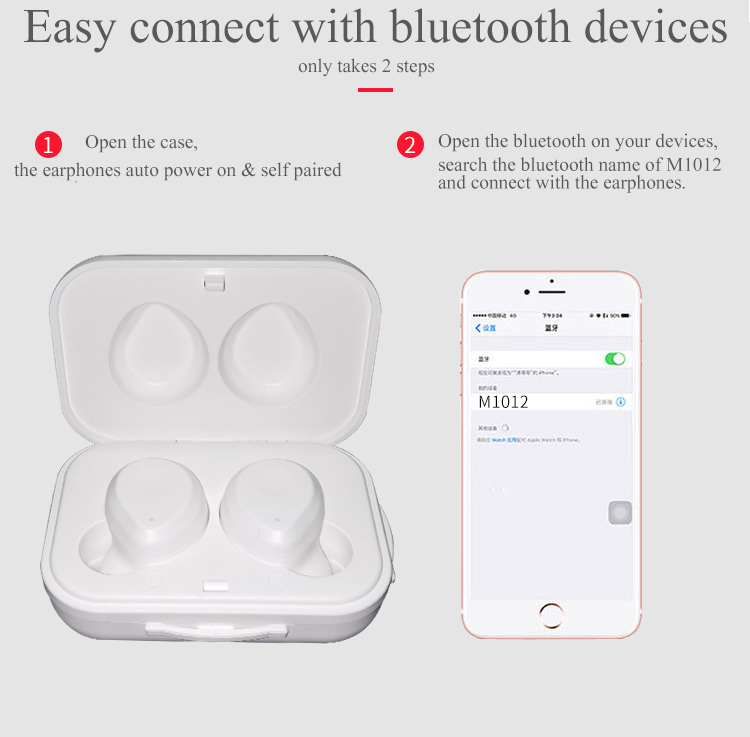 Introducing our Bluetooth Earbuds, the epitome of stylish audio technology that elevates your listening experience to new heights. With their eye-catching luggage-shaped charging case and advanced features, these earbuds redefine how you enjoy your favourite music and calls.
Q1. What makes our Bluetooth Earbuds stand out from the crowd?
Our Bluetooth Earbuds stand out with their colourful and trendy design, making a bold statement wherever you go. Embrace the perfect blend of style and functionality in one irresistible package.
Q2. How does the True Wireless Stereo (TWS) technology enhance your listening experience?
Equipped with True Wireless Stereo technology, these earbuds deliver immersive sound, allowing you to lose yourself in the richness of your favourite music, podcasts, or calls with unparalleled freedom.
Q3. What's special about the Luggage Shape Charging Case?
The Luggage Shape Charging Case protects and stores your earbuds and adds a touch of fashion to your accessories. It's a fashion-forward statement piece that sparks conversations.
Q4. How does the Touch Control feature simplify usage?
With touch controls, managing your music, calls, and voice assistants becomes effortless. Adjust volume, skip tracks, answer calls, and more with a simple touch.
Q5. Are these earbuds an ideal gift for girls and women?
Absolutely! These Bluetooth Earbuds make a thoughtful and exciting gift for girls and women who appreciate a blend of technology and style. Surprise your loved ones with this charming gift.
Q6. Can these earbuds keep up with an active lifestyle?
Indeed! Our Bluetooth Earbuds are designed for an active lifestyle. Whether at the gym, in the office, or on the go, these earbuds provide a secure fit for all your activities.
Q7. How long does the battery last on a single charge?
Our Bluetooth Earbuds offer hours of uninterrupted playtime, ensuring you never miss a beat. The charging case provides extra power for extended use.
Q8. Can I use a single earbud independently?
Absolutely! The earbuds can be used independently, allowing you to enjoy music or take calls with a single earbud while the other stays safely in the charging case.
Q9. Are these earbuds compatible with all devices?
Our Bluetooth Earbuds are compatible with many devices, including smartphones, tablets, laptops, and more. Experience seamless audio connectivity on your favourite gadgets.
Q10. How does the ergonomic design enhance comfort?
The ergonomic design ensures a comfortable fit, making these earbuds perfect for extended wear. Experience music and calls with maximum comfort throughout the day.
Embark on a vibrant sound adventure with our Bluetooth Earbuds, where colourful design meets exceptional audio performance. Say goodbye to tangled wires and embrace the freedom of true wireless technology. Whether you're a fitness enthusiast, a music lover, or a trendsetter, these earbuds are the perfect companion for your daily journey. Unlock the world of sound in style and indulge in your audio moments with our stunning Bluetooth Earbuds today!