Description
Bike Phone Mount, Waterproof Bike Cell Phone Holder for Motorcycle/Bike Handlebars, Bicycle Phone Case bag with Touch Screen Fits for Outdoor Riding Under 7″ Phone Mount.
Features:
【2021 BRAND NEW DESIGN】 this bicycle mobile phone holder adopts height adjustable arm & 360° rotatable ball joint design.Freely adjust your phone to any angle and height that suits your preference. The phone holder could work both in portrait & landscape positions.

【WATERPROOF PROTECTION 】 The support adopts a fully enclosed design, and professional waterproof adhesive tape is used at the sealing and fitting place to provide an IPX6 level of waterproof performance. Worrying about the rain and snow marl damaging your mobile phone is unnecessary.

【SENSITIVE TOUCH SCREEN】Made of high-quality TPU material, the touch screen's transparency and sensitivity allow you to keep your phone visible during riding. You can watch the screen and operate the smartphone by recording routes, making calls, etc.

【WIDE COMPATIBILITY】This bike phone mount 100% fits any smartphone with 4″ ~ 7″ screens. It works well with iPhone 12 Pro Max/12/12 Pro/X/XS/XS MAX/XR/8/8 Plus/7/6, Samsung Galaxy S10/S10e/S10 Plus, etc.

【Easy Installation】The unique structural design of this bicycle phone stand makes it easy to install quickly and without tools. It is unique locking structure and magnetic suction device makes it very convenient to quickly pick up and let go of the phone.
Waterproof Bicycle Handlebar phone holder bike mount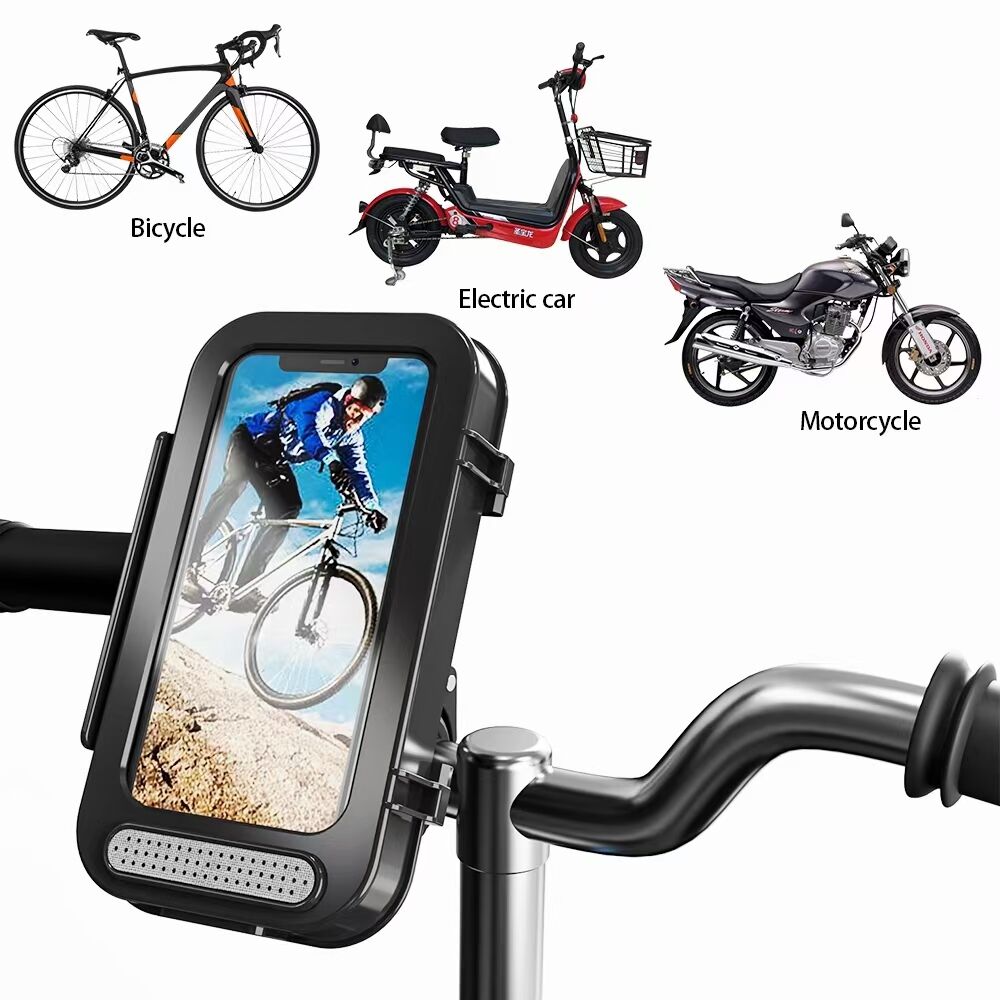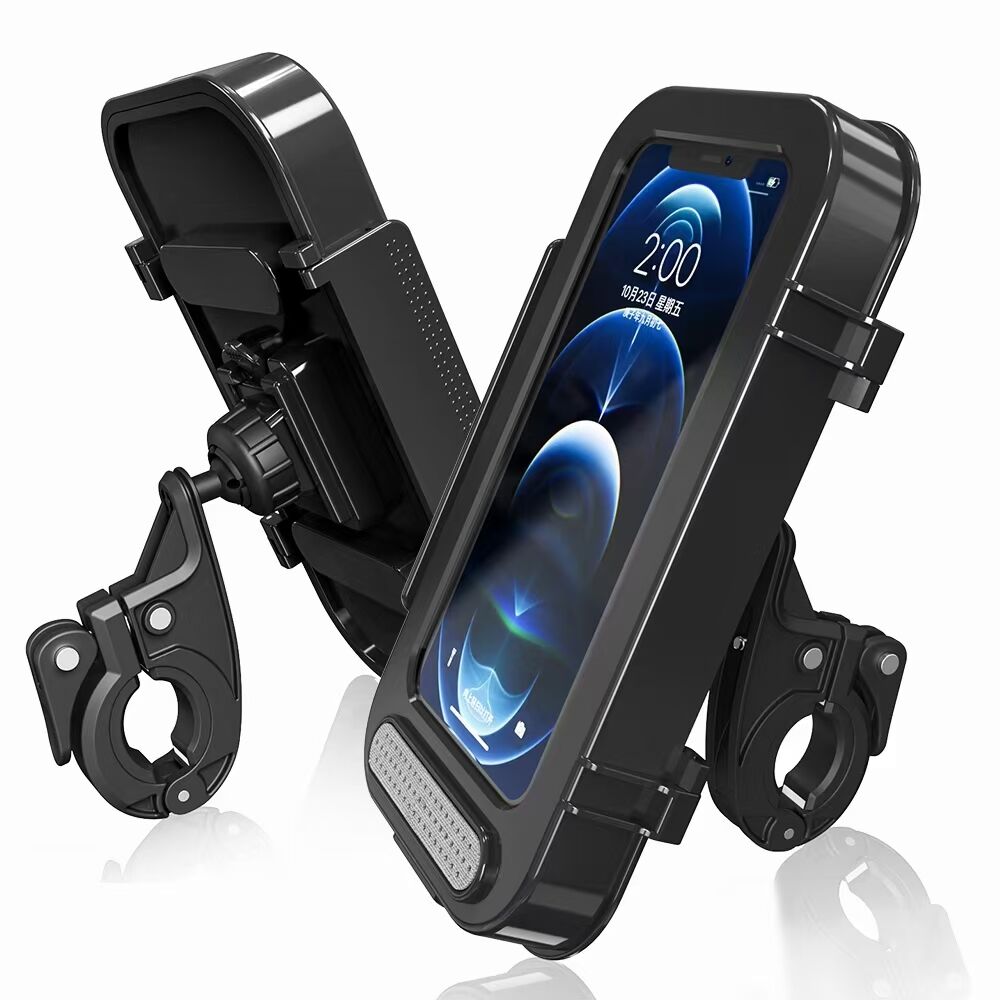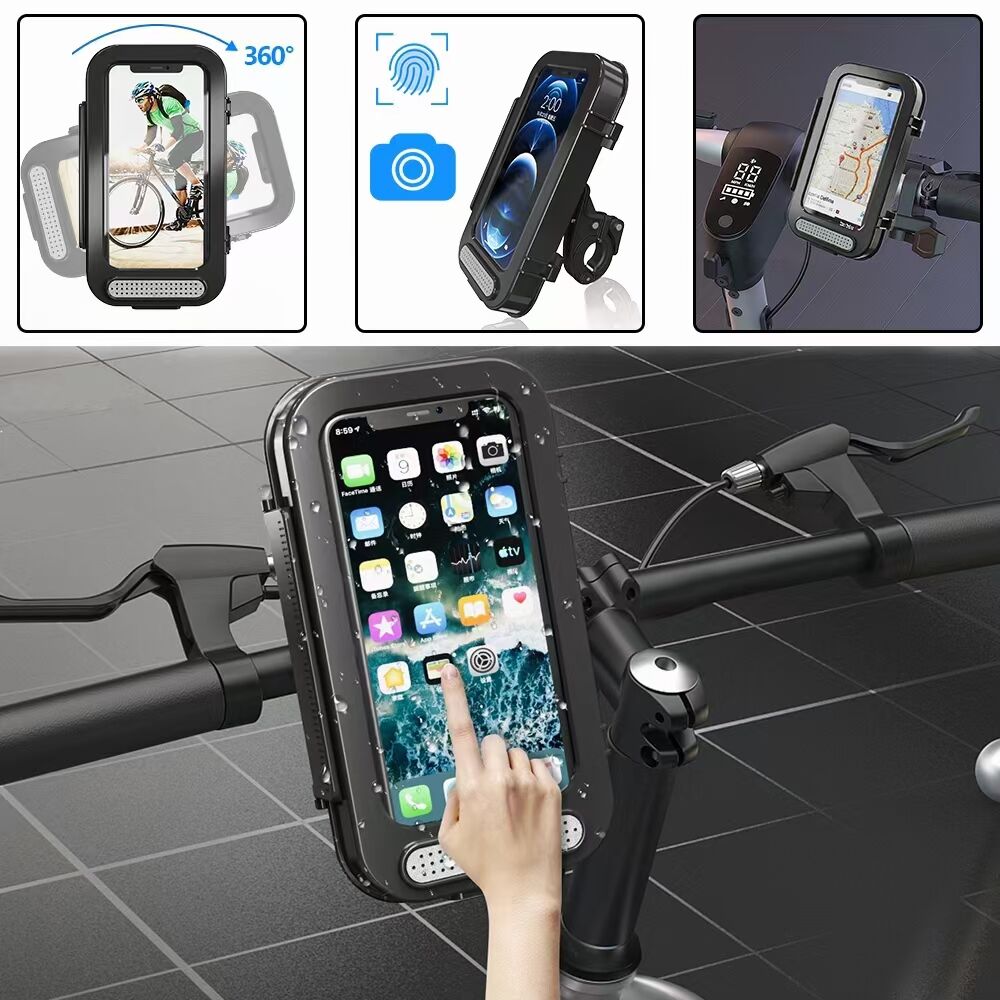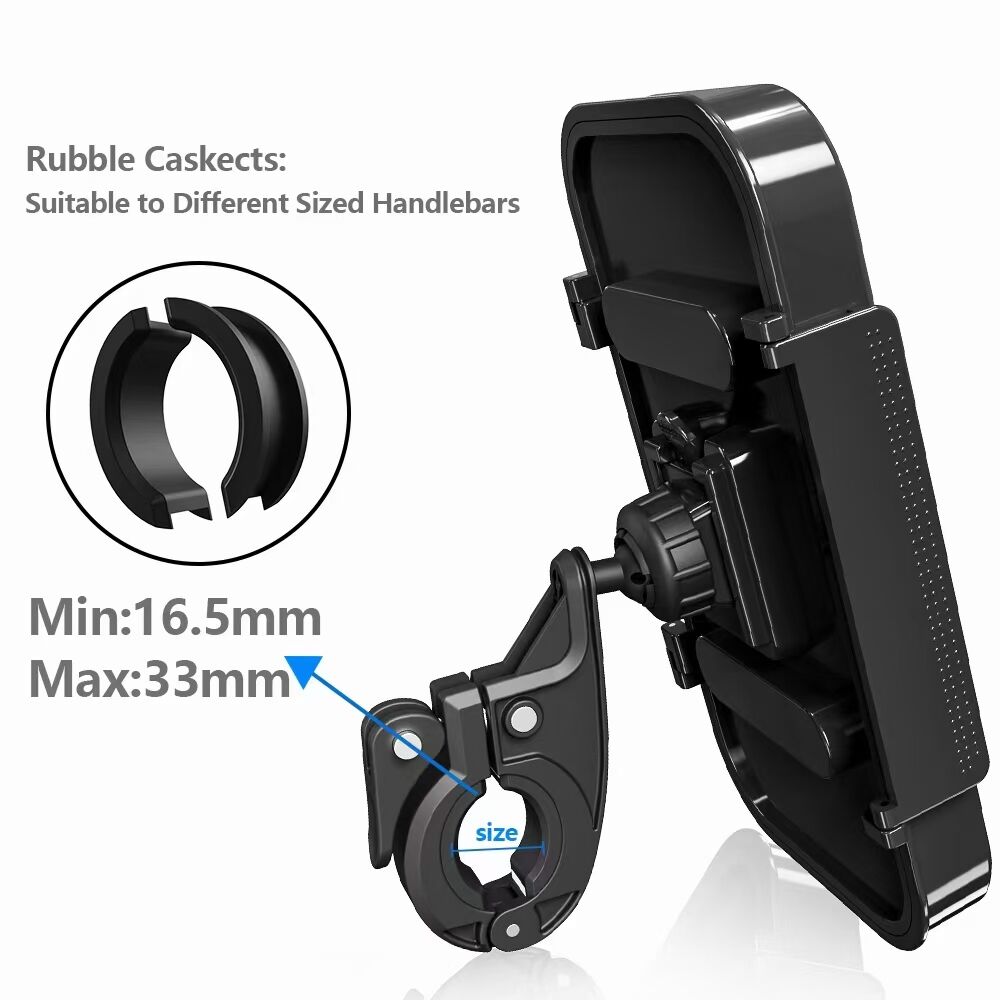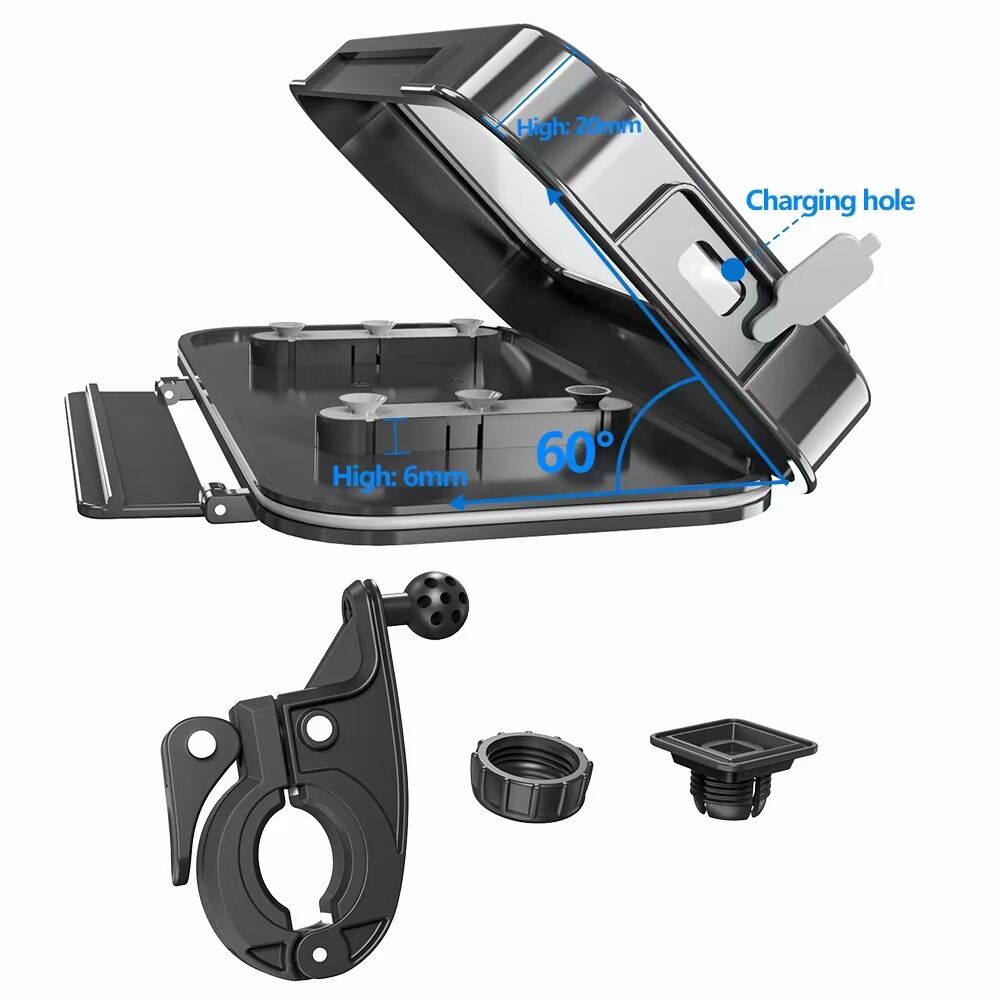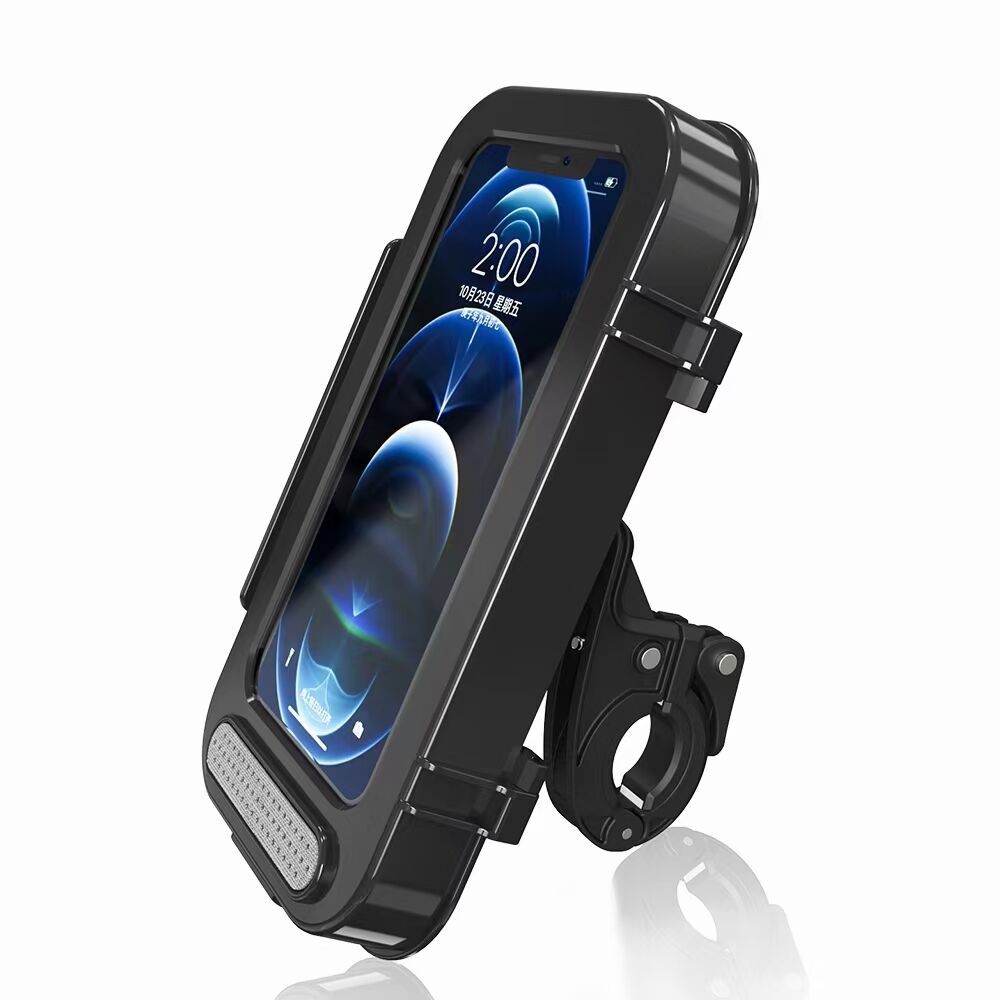 Welcome to the ultimate biking companion – the Waterproof Bike Phone Mount by GCC ELECTRONIC. Designed to withstand any outdoor adventure, this innovative bike cell phone holder ensures that your smartphone stays securely in place while you focus on the ride ahead. Say goodbye to worrying about your phone during your cycling trips!
Q: What makes the Waterproof Bike Phone Mount stand out from other bike holders?
A: The Waterproof Bike Phone Mount is crafted with precision and durability in mind. It has a robust and waterproof design, protecting your phone from splashes, rain, and unexpected weather conditions. The touch-sensitive screen allows easy navigation, so you can stay connected without stopping.
Q: Is this bike phone holder suitable for different handlebar sizes?
A: Absolutely! The Waterproof Bike Phone Mount is engineered with adjustable straps that fit most motorcycle and bike handlebars. Whether you have a mountain bike, road bike, or motorcycle, this versatile holder ensures a snug and secure fit.
Q: Can I access my phone's features while it's mounted?
A: Yes, of course! The bike cell phone holder features a clear and sensitive touchscreen window, enabling you to access your phone's features effortlessly. Whether you want to use GPS, change music tracks, or answer calls, everything is just a touch away.
Q: How does the waterproof feature work?
A: The Waterproof Bike Phone Mount is made from high-quality materials that protect your phone from water and splashes. The secure seal ensures your phone stays dry, providing peace of mind during rainy rides or off-road adventures.
Q: Is it compatible with all smartphones?
A: The Bike Phone Mount is designed to fit smartphones under 7 inches, making it compatible with most devices on the market. This holder accommodates various smartphones, from iPhones and Androids to other brands.
Q: Can I use this bike phone holder for other outdoor activities?
A: Absolutely! While the Bike Phone Mount is perfect for biking, its versatile design allows you to use it for other outdoor activities such as hiking, camping, and more. Keep your phone secure and accessible wherever your adventures take you.
Elevate your biking experience with the Waterproof Bike Phone Mount, your perfect companion for outdoor riding. Ride confidently, stay connected, and easily explore the world around you. Whether for personal use or OEM, wholesale, and bulk orders, GCC ELECTRONIC has you covered.