Description
Portable Sterilizer light Rechargeable Anti-gravity Induction LED UV Disinfection Lamp Light
Product Specifications
| | |
| --- | --- |
| Product name: | UVC Ultraviolet Sterilizer |
| Colour: | White/Black |
| Size: | 125*30*15mm |
| Weight: | 40g |
| Power source: | USB Charge |
| Application: | Car, Kitchenware, Door Handle, Pet Mat,  Mask, Smart Device ETC |
| Certificate Standard: | CE RoHS FCC |
| UV Wavelength: | 200~275nm |
| Charger: | 5V |
| Rated Power: | 5W |
| Rated Current: | 1A |
| Working Time: | 3 hours |
Description
1. Portable UV LED light sterilizer, safe and convenient, bring a healthy life
2. Lightweight, easy to carry, can easily be stored in a wallet, briefcase, handbag or suitcase
3. Ultraviolet rays can destroy the molecular structure of microorganisms, thereby rapidly killing pathogens, suitable for spring and autumn and bacterial breeding season.
4. High-brightness hot cathode lamp
5. Sterilization time is less than 6 minutes
6. Ultraviolet C-band sterilization effect
7. 5 minutes for one-time use
8. Sterilization once every 2 days, can be used for 40 days on a single charge specification
9. Ozone concentration:> = 0.01ppm = <0.05ppm
10. Working environment: 0-60 degrees Celsius
11. Relative humidity: 10-75%
OEMs are Welcome! we can print customer's artwork and logo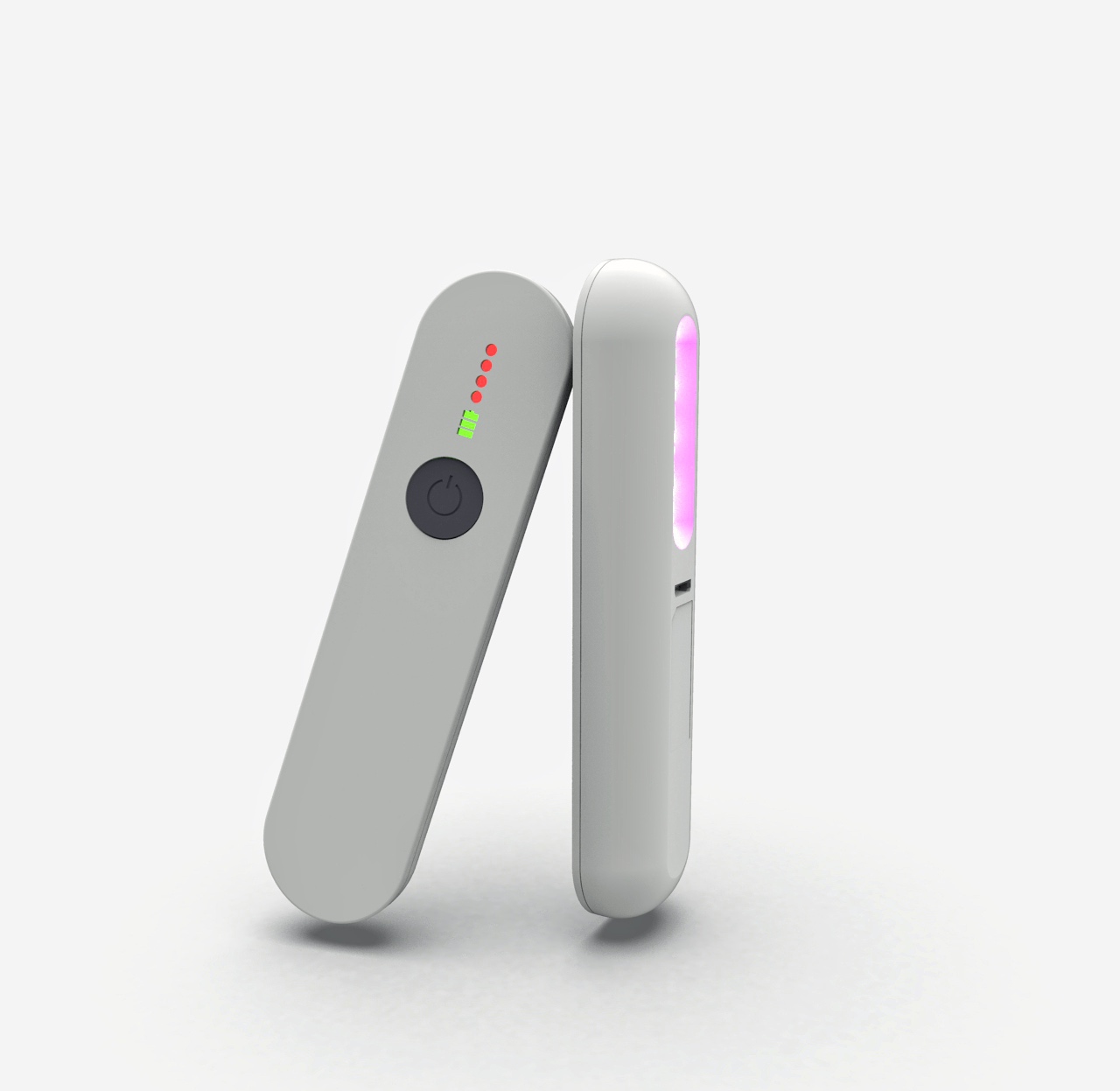 Q1. What is the Portable Sterilizer Light, and how does it work to keep us safe and germ-free?
The Portable Sterilizer Light is a revolutionary device designed to ensure a germ-free environment wherever you go. Harnessing the power of UV-C light, this handheld disinfection lamp effectively kills germs, bacteria, and viruses on surfaces, providing a layer of protection against harmful pathogens. Its compact and portable design allows you to carry it easily, making it an indispensable tool for maintaining cleanliness and hygiene.
Q2. How does the Anti-Gravity Induction feature enhance the usability of the Portable Sterilizer Light?
The Anti-Gravity Induction feature is a game-changer in the realm of UV disinfection. This smart feature automatically turns off the UV-C light when the device is turned upwards, ensuring that the UV rays are not exposed to the user. It prevents accidental exposure and adds an extra layer of safety, making the Portable Sterilizer Light user-friendly for all.
Q3. Is the Portable Sterilizer Light rechargeable?
Absolutely! The device has a built-in rechargeable battery, allowing you to use it conveniently without needing constant battery replacements. Simply recharge the device using the included USB cable, and it will be ready to use again, providing you with peace of mind and uninterrupted disinfection power.
Q4. How long does the UV disinfection process take with the Portable Sterilizer Light?
The duration of the disinfection process depends on the size of the surface being treated. However, the Portable Sterilizer Light is designed to efficiently disinfect surfaces in seconds. Its powerful UV-C light quickly eliminates harmful microorganisms, making it an efficient and time-saving solution for maintaining cleanliness.
Q5. What are some common applications of the Portable Sterilizer Light?
The Portable Sterilizer Light has versatile applications. You can disinfect objects and surfaces, such as mobile phones, laptops, doorknobs, light switches, steering wheels, etc. It is an ideal companion for travel, offices, homes, and public spaces, ensuring a germ-free environment.
In conclusion, the Portable Sterilizer Light is a powerful and portable tool that brings the benefits of UV-C disinfection to your fingertips. Its smart Anti-Gravity Induction feature, rechargeable battery, and rapid disinfection capabilities offer an effective and user-friendly solution for maintaining hygiene. Embrace the power of UV disinfection with the Portable Sterilizer Light and take control of your environment's cleanliness and safety.