Since February 24, the UK has lifted all restrictions on the new crown epidemic, and the economic situation has continued to improve. Consumption will be the main driver of expected future growth, with business investment continuing to increase. However, rising global energy bills, persistent inflation, a decline in production due to labor and material shortages, and increased pressure on households and businesses will put the UK economy at a disadvantage in 2022, but professional analysts say the UK economy is recovering. Professionals expect economic growth to reach 4.5%-5.1% in 2022. The International Monetary Fund expects the UK economy to grow by 5% in 2022, higher than the 4.9% expected for the global economy as a whole.
01. Changing social trends
In the weekends of 2021, the flow of people on the streets of the UK has basically returned to the pre-epidemic level, while working days (especially Mondays) are still sluggish. Many migrant workers have started working from home during the epidemic, although some have returned to their offices. However, there is still a considerable base to maintain home office. In addition, the following points are also observed:
82% of migrant workers commute at least twice a week
· Return to mixed work mode on Tuesday, Wednesday and Thursday
In mid-October, commuter usage of rail transit was 45% of pre-fall 2019 levels
· Leisure travel returns, about 90% of pre-pandemic levels
In terms of visitor numbers, the number of people in and around Oxford Street, Regent Street, Bond Street and Mayfair was 13 per cent higher than in 2019. The tourism industry recorded 73% of sales in October 2021 compared to the same period in 2019, with around two-thirds of spending coming from domestic British tourists, a little more than half of pre-pandemic levels. Bookings for corporate Christmas parties and other events remained sluggish, but were around 80% pre-pandemic by the end of October 2021 and should be over 90% by December.
In 2021, the global e-commerce market will show a large-scale slowdown trend, but new shopping models driven by the epidemic, such as offline self-pickup and social media e-commerce, still show a good rise. In 2020, the UK e-commerce market will increase by 47%, and will drop to 21% in 2021. In 2021, 1 in 4 consumers will use social media e-commerce for shopping, and 57% of consumers choose offline self-pickup.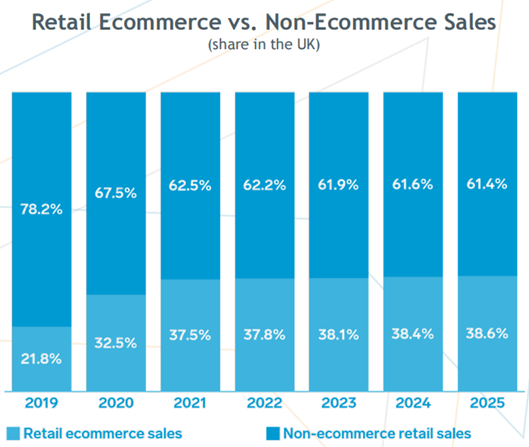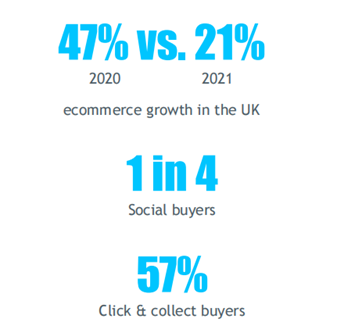 In addition, British households reduced their spending by an average of £109.10 (about 19%) per week during the epidemic. About 1/3 of migrant workers said their household income will fall throughout 2021, with the lowest income group rising from 20% to 42% (compared to higher income earners, this group is more likely to be fired than stay at home) office). While spending and incomes are falling for many British households, a minority are struggling to make ends meet. The proportion of reported fiscal deficits fell by 6 percentage points to 34% in the first 12 months of March 2020 and 28% in the first 12 months of March 2021.
(5) Social media is gaining momentum
The global activity of social media platforms has injected new vitality into the e-commerce business. Brands use social media platforms as their base to start the "enclosure movement" through activities such as posting, creating topics, and launching hashtag challenges. Social media is a collection of people. There are fans and corresponding "content leaders", that is, content creators or UP masters. What makes content creators special is the ability to use social media to market products or services more directly to more targeted audiences, or by driving these communities they build to other paid content platforms like Patreon, which makes money for paid members framework platform) for revenue generation. Cooperation with content creators may also bring other problems to brands, because over time, creators will want to make money directly from fans, such as creating a DTC brand. From the perspective of market competition, it can be regarded as a virtuous circle.
· There are about 50 million existing content creators in the world, about 46 million are amateurs and part-timers, and a small number of professionals are mainly active on Instagram, TikTok and YouTube.
Shopify's revenue grew at a compound annual growth rate of 70.2% from 2015 to 2020
59% of respondents said they have or are interested in using social media platforms to generate additional income in addition to their regular income
39% of respondents said they have or are interested in spending directly on social media platforms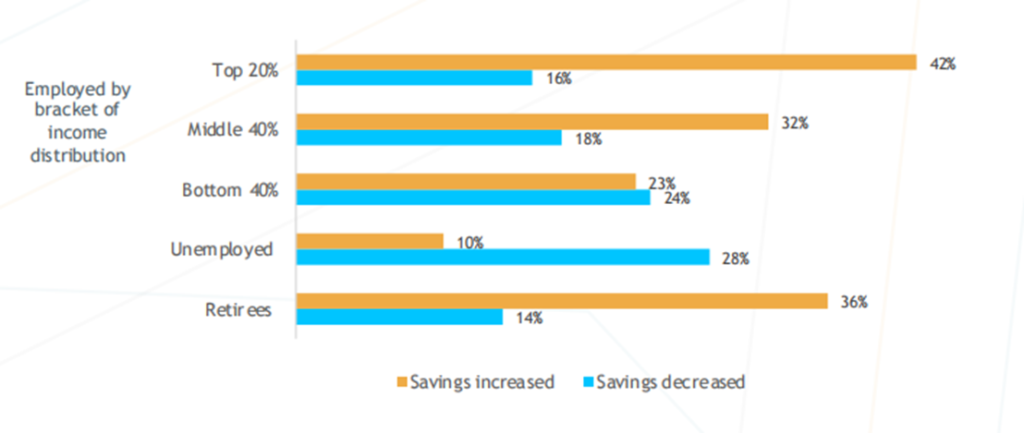 In 2021, the enthusiasm of British people to buy a house has reached unprecedented levels, and house prices have also hit record highs. The news indicates that house prices in 2022 will be the same as last year, but the real estate market will experience negative growth in the second half of the year. 2021 saw the strongest sales and price growth since 2007, the result of a combination of the state's ongoing reassessment of housing, lower mortgage rates and an extension to stamp duty filing deadlines.
House price growth in the UK is currently at 6.6%, with London having the lowest rate of house price inflation, the only region with growth below the five-year average. The north of England has seen the strongest house price growth, with Hamptons research showing that in the first half of 2021 homebuyers from London made big purchases in areas other than London, reducing demand for local property in London.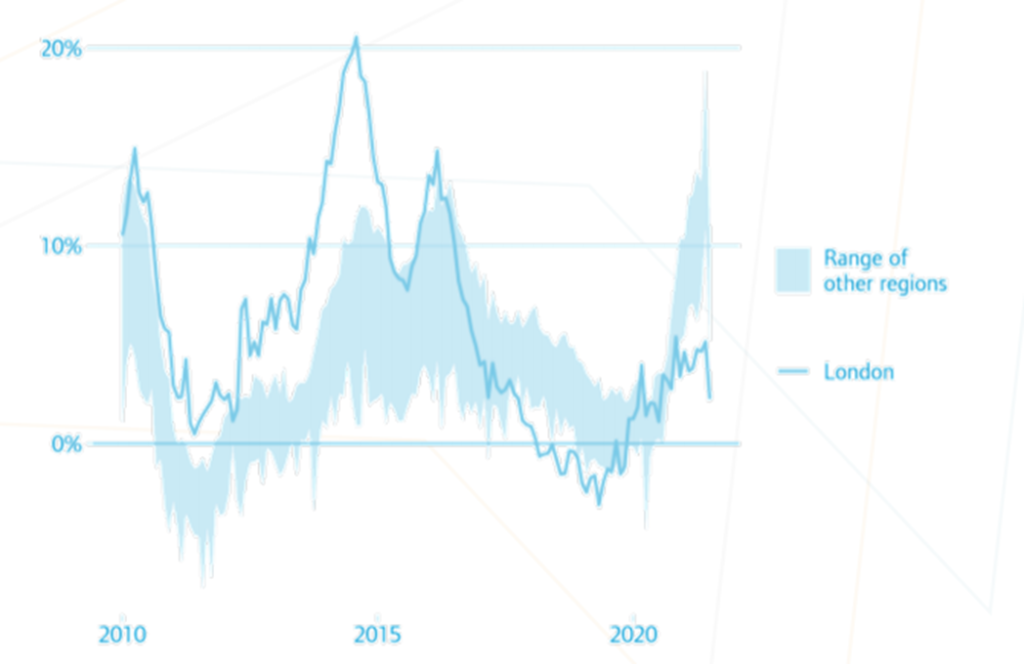 02. Changes at the level of consciousness
The negative impact of the epidemic is waning, and people want to enjoy life in different ways and discover new pleasures to make up for the travel plans they have been forced to abandon since 2020. These include immersive digital experiences, more intuitive sensory experiences, and activities that were previously considered more "Buddhist". Driven by the epidemic, outdoor sports and hiking have gradually set off a craze, and the starting point of the people is no longer "poetry and distance", which means that a once-in-a-lifetime trip may no longer be to go to a distant place, because this is still the case for many people. It is very cumbersome and expensive. On the basis of the existing environment, such as the suburbs, or even playing another wonderful game at home has become the voice of most people.
YOLO is no longer about over-consumption for large-scale experiences, but more about spontaneous or short-term planning. Story sharing and recommendations are also part of this trend. For example, finding a store with pasta stock during the epidemic, or finding a popular restaurant that offers takeout, sharing is already a kind of fun, and it is also a window to perceive the beauty of the world during the epidemic.
· 7 out of 10 consumers surveyed feel the need to seek new life experiences
42% of UK consumers hold the idea of ​​"like to learn or discover new things, places, experiences, ideas"
50% of UK consumers plan to spend more time experiencing the outdoors
17% of UK consumers say they are happy to participate in brand events (e.g. pop-ups)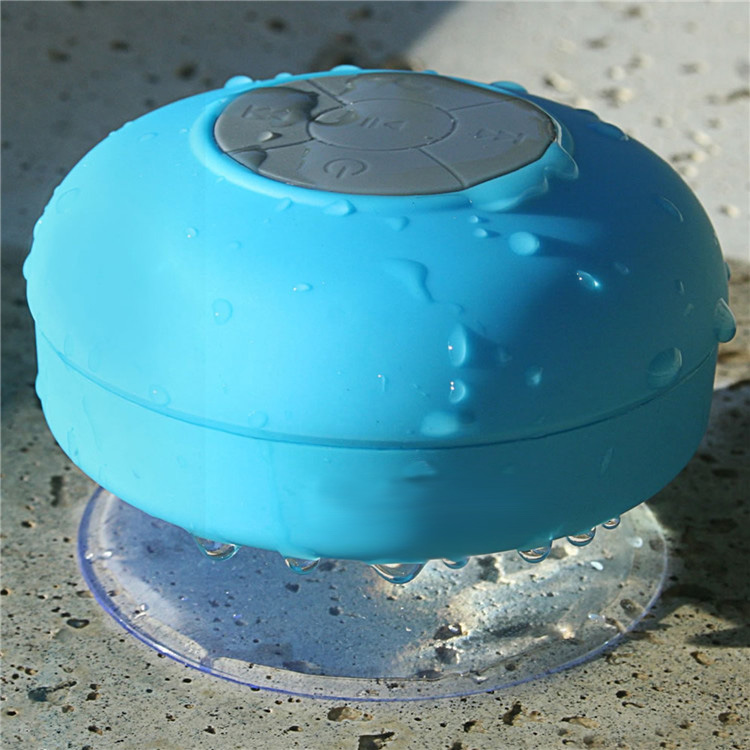 (2) Cautious consumption psychology
During the epidemic, the scene of panic buying of necessities left a deep shadow on many people. The anxiety caused by the uncertainty of the epidemic is reflected in hoarding goods, and in changing industries or even relocating. The impact of the epidemic on the world is now gradually becoming indifferent, and consumers are beginning to reflect on their past behavior. More uncertainty and anxiety are brewing under the pressure of rising necessities, fuel prices, car prices, and taxes. Consumers have become more hesitant to make major decisions and more conservative with their spending. Those brands that recognize this anxiety and can provide consumers with flexible shopping methods and actively shift the cost of the consumption process will undoubtedly have the upper hand.
The cost of living soared at the fastest pace in nearly a decade, reaching 4.2% in October 2021
40% of respondents feel at risk of financial hardship
33% of UK adult respondents say they are more cautious than before when making commodity purchases
(3) Consumers are no longer patient after the epidemic
Today, the lives of the British people have gradually returned to normal. Although the days at home have brought many inconveniences to life, the shopping experience under the mode of home delivery and offline pickup has completely changed the mood of some people. The performance is as follows:
24% of UK consumers describe themselves as "often impatient", rising to 30% among Gen Z and Millennials
· In the past 12 months, 57% of respondents made purchases through online ordering and offline pickup
Taxi booking company Gett reported more than 17,000 vacancies in the London area in a week, with more extreme shortages
(4) Health Revolution
According to the NHS (National Health Service), the epidemic has changed people's perceptions of health, and the focus has gradually shifted from treatment to prevention. The psychological problems exposed by the patients after being cured have surpassed the body itself to some extent. The psychological oppression and autism that may be caused during home isolation have gradually emerged, and the importance of preventive health measures has risen. To take preventive measures in advance, you must dig out the incentives that may lead to the status quo. Exercise, a varied diet, vitamin supplements, air purifiers, and ergonomic furniture products can all improve your health to some extent.
22% of consumers say they have used an air purifier in 2021, up from 14% in 2018
49% of consumers say they are interested in a customized service that provides health advice
42% of respondents said they would take vitamins and supplements in 2021, up from 33% in 2018.
(6) Circular economy
The circular economy is finally here, enabling reuse, recycling and zero waste. The explosive growth of second-hand commodity trading applications, and the activities of well-known brands such as trade-in and old-style recycling have helped to break consumers' original preconceptions about second-hand items.
How fragrant second-hand goods are is gradually being understood by more consumers. Common categories on second-hand trading sites include clothing, toys, and 3C, and the quality and choice are wider than ever. Online shopping has become a trend during the epidemic, prompting merchants who rely on traditional retail models to change their thinking and open online stores. At the same time, the drawbacks of the fast fashion industry have also awakened consumers' awareness, and second-hand goods with both use and environmental protection value are indeed worth more investment.
Declining interest in owning items for a long time, along with continued enthusiasm for clearing clutter, also means consumers are less keen to keep items, while the growth of delivery and pickup companies offers convenient sending options to help them transact. . It's a buying option that feels good on both sides, and sellers know they're avoiding their contribution to landfill and can reuse goods they don't need.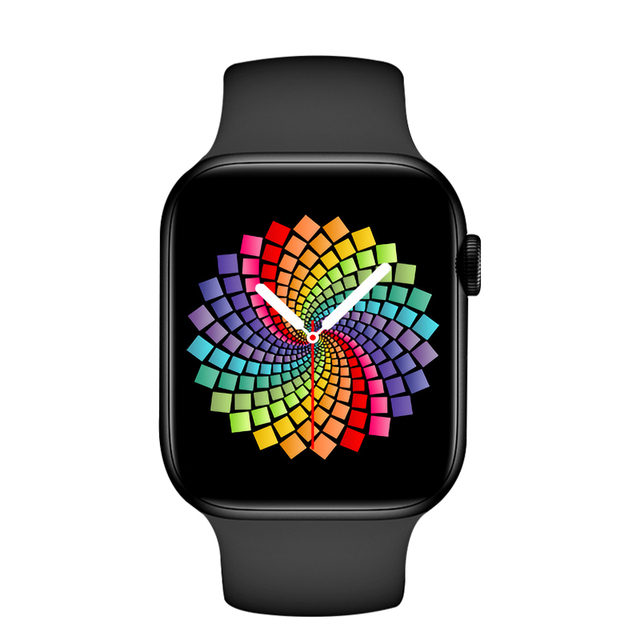 · 7/10 respondents who have no experience in second-hand clothing trading said they would try to buy second-hand goods in the future
· One in two millennials, Gen Z respondents said they would buy more second-hand goods in the next 5 years
42% of retail executives say second-hand trading will become a significant part of the market economy within 5 years
34% of consumers say they are more likely to buy from brands that sell second-hand products and also promote new products