Sellers of heating equipment have seen a recent surge in orders and are stocking up overnight.
Having just passed the hot summer, European consumers are already worried about the approaching winter and how to survive the cold winter under the energy shortage. To this end, a large number of European consumers began to stock up on coal, or buy energy-saving heating equipment produced in China. For a time, China's export orders for heating equipment such as electric blankets, heaters, and hot water bottles showed an explosive trend, and the industry's biggest seller, Superstar Technology, said that it has increased the amount of stock.
1. Heating equipment is on fire, cross-border big sellers hurry up to stock up
According to Eurostat, energy price inflation in the EU was 38.3% in the year to July, with gas and electricity price inflation at 52.2% and 31.1% respectively. Continued high energy prices have forced the Europeans to find another way.
Hugo's cross-border search on Google Trends found that the keywords of a series of heating materials such as firewood are particularly popular this year. Among them, in August 2022, the search peak reached 100.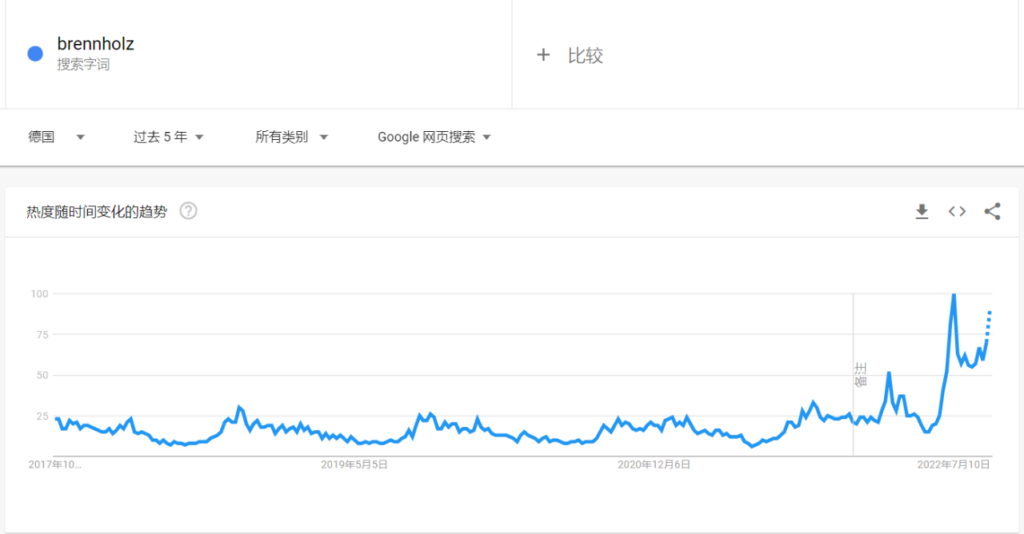 In addition to heating with raw firewood, heating products such as electric blankets with low power consumption and high cost performance have obviously become the best choice for European consumers.
Data from the China Household Electrical Appliances Association shows that while the export value of most home appliances to Europe in 2022 is declining, air conditioners, electric water heaters, electric heaters, electric blankets, hair dryers and other categories have grown against the trend, and the cumulative exports from January to July The amounts were US$1.99 billion, US$130 million, US$490 million, US$33.4 million, and US$160 million. Among them, the electric blanket is "one ride to the dust" with a growth rate of 97%.
Many old-fashioned small household appliance enterprises in China have also ushered in a production boom.
Some foreign trade factories are producing at full capacity after bursting orders one after another, and then replenishing orders without stopping. A person in charge of a foreign trade factory said that the factory's current production orders are mainly in November, and the previous production has been basically delivered. "The number of electric blankets exported to Europe is very large, and it is estimated that this wave of sales peaks will be during the Black Friday." said the person in charge of the above-mentioned factory.
According to industry analysis, the explosion of China's heating equipment exports this time is due to the shortage of energy in Europe and the high price of natural gas. Consumers must prepare in advance to survive the cold winter. On the other hand, under the influence of European inflation, consumers' purchasing power has declined, and they are more eager for cost-effective heating products.
2. Electric blanket sunset red industry? It might be too late to get in now
On the Amazon platform, most electric blankets are priced around 50 euros, and some are priced as high as hundreds of euros. Some cross-border sellers said that the sales of electric blankets have ushered in an increase recently. It is worth noting that the electric blanket industry was previously known as the "sunset industry". Due to its limited scale and slow development, it has now become a sunrise industry, which has also attracted the attention of cross-border sellers.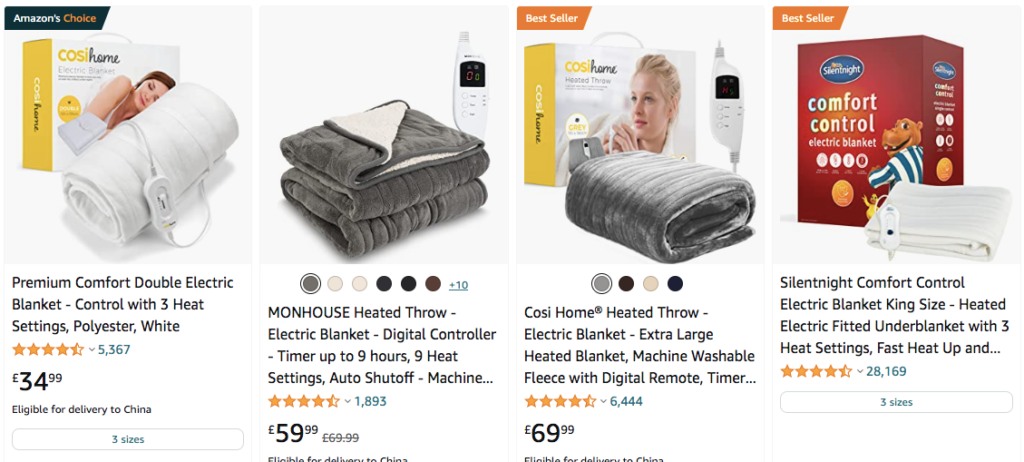 The data shows that in recent years, China's export of electric blankets has shown an overall growth trend, and the main exporting countries are the United States, Japan, the United Kingdom, Germany, Australia, the Netherlands, Canada, Chile, and Italy.
A cross-border seller said that the electric blankets exported to Europe are different in style from those in China. Moreover, electric blankets exported to Europe need to pass UL, 964 and other tests, and also need to obtain compulsory product certification and mark the CCC mark before they can be sold, so it is not easy to enter the market now.
It is understood that Chinese electric blanket certified enterprises are mainly concentrated in Sichuan, Shanghai, Shandong, Zhejiang, Guangdong, Liaoning, Hubei, Guizhou and other places.
In recent years, with the rise and popularization of heating methods such as small suns, air conditioners, and wall-hung furnaces, the living space of the electric blanket industry has been greatly squeezed. Although many cross-border sellers are jealous of business opportunities, they are also very aware of the market order.
"Those with discerning eyes have already made orders in June and July, and it is too late to think about entering the game. Moreover, there are still some thresholds for export certification of electric blankets. It is better to change your thinking and invest in other products. Heating products," said one seller.
A seller is targeting other heating products, such as hand warmers and power banks, and is ready to sprint. According to him, considering the high demand for cost-effective products in the cold winter in Europe, such products can be regarded as a breakthrough.
It is worth noting that the air source heat pump has also become a new opportunity point. It is understood that a heat pump is a renewable energy utilization device and the most efficient way of electric heating. It has significant energy saving and carbon reduction features and can provide heating, cooling and hot water for residential, commercial, industrial and agricultural industries.
According to statistics, in the first half of 2022, China's air source heat pump exports amounted to 3.8 billion yuan, a year-on-year increase of 65.6%. According to a research report released by CICC, the European region was affected by the shortage of natural gas, and the demand for heat pumps increased rapidly, bringing structural bright spots.
However, a senior seller suggested that although heating equipment has ushered in peak growth this year, the demand may not be too long, especially when cross-border sellers in Europe are affected by exchange rates, taxes, etc., and their profits are continuously compressed, the most It is better to consider the layout according to the actual needs of the market.